What It's Like to Be a Female Rockefeller
How Indré Rockefeller is putting the family name in the fashion history books.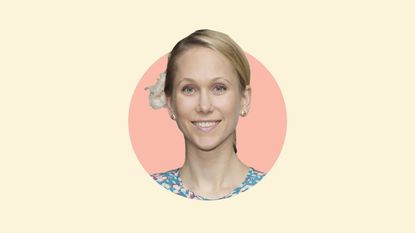 (Image credit: Design by Betsy Farrell)
For many people, a last name is a calling card—eliciting respect, fear, or intrigue with a mere utterance. The most prestigious are emblazoned on buildings and companies all over the globe: think Rothschild, Astor, Trump (opens in new tab), Oppenheimer, and Rockefeller. Let's pause at that last one for a second.
The New York City-based Rockefellers are one of society's most iconic broods, with John Davison Rockefeller Sr. said to be the wealthiest man in modern history (opens in new tab), as well as the richest American ever (though that fact still has a few disputers). Rockefeller Sr. founded the University of Chicago; his grandson was the CEO of Chase (opens in new tab); and men in the family have held coveted political offices as high up as Vice President. There's clearly enough power to go around, so what about the Rockefeller women?
Enter Indré Rockefeller. Married to Justin Rockefeller, she's proof that those born (or in this case wed) into privilege don't necessarily rest on their laurels. She's the very definition of a powerful businesswoman, and her self-driven quest for success lends new credence to the Rockefeller name.
With a resume that includes Delpozo and Moda Operandi, Indré is single handedly making her family's famous last name synonymous with fashion—and her success has nothing to do with the fact that she "married well." It's a product of Indré's passion, a passion which was initially born out of her love for dance. "A career in ballet gave me a strong foundation for starting a business," she tells MarieClaire.com. "Dancers develop incredible self discipline: they take class daily to refine their technique, and rehearse endlessly. I had to work hard, practice repeatedly, and listen to feedback in order to improve—all of which I find myself doing daily as I launch a new business. It provided me with the discipline and stamina needed in the entrepreneurial world."
In between dancing, graduating from Princeton, and her first official foray into fashion as an assistant to Anna Wintour, Indré casually got married to fifth generation Rockefeller (AKA Justin). She then continued the family tradition of entrepreneurship via education—much like Rockefeller matriarch Laura Spelman Rockefeller—and enrolled in Stanford Business School for an MBA.
"I was drawn to Silicon Valley and Stanford's entrepreneurial environment," she says of her choice. "Entrepreneurship and out-of-the-box thinking are in the DNA of the community. Above all, I was, and continue to be, in awe of my GSB classmates."
This ultimately led to Indré's newest endeavor, Paravel (opens in new tab) (a line of chic AF travel bags), which is further evidence that—while the Rockefeller name has long been associated with powerful men—the family's spine is held up by incredibly forceful and dynamic women. Women who balance their personal career goals with charity work, and, of course, the Page Six-ready appearances one would expect from someone that carries the Rockefeller name.

Indré has a bevy of social events to attend on a weekly basis—including front row appearances at Fashion Week ("It's a chance to support my friends and an opportunity to applaud the tireless work of so many creative people")—glam sessions with Prabal Gurung, and a child to raise. "I think being a mother and an entrepreneur is about balance and priorities," she says. "Every day poses both intense challenges and magical moments, so I always try to be flexible and approach life with a sense of humor."
Thanks to the many major political, social, and economic shake-ups in the last year (cough, Donald Trump's presidency, cough), the iconic families whose names line our biggest and shiniest buildings will presumably be spotlighted. Their dynastic and patriarchal power is certainly worthy of a critical eye, but in the case of the Rockefellers—it's comforting to see a woman steering the ship.
Follow Marie Claire on Facebook for the latest celeb news, beauty tips, fascinating reads, livestream video, and more.