Meet the Man Who Dresses Off-Duty Hollywood
How Rails founder Jeff Abrams got Beyoncé, Taylor, et al. into his not-so-basic basics.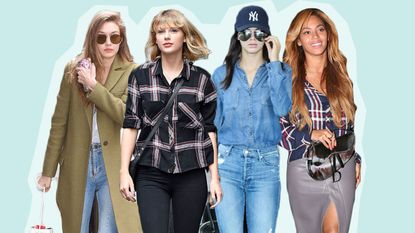 (Image credit: Getty, Splash, design by Betsy Farrell)
Who *hasn't* worn one of his whisper-soft plaid shirts or well-worn T-shirts? From Beyoncé to Kendall to Gigi to Taylor Swift (on her epic July 4th weekend (opens in new tab), no less), Rails (opens in new tab) founder Jeff Abrams has dressed them all. We sat down with the ultimate SoCal guy to find out how exactly he created his empire, L.A. coming into its own as a fashion capital, and bouncing back after you lose 3,000 tops in a truck robbery (really).
On starting his own company (with little industry background): "There is no blueprint for creating a successful fashion brand. It has been a combination of designing great products, supporting it with authentic marketing, building a talented team of people to help drive the business, and being relentlessly focused on improving the collections we deliver each season."
On styling the Rails button-down: "Rails' plaids are incredibly versatile. They have a cashmere-like quality but the wearability of an everyday shirt, and can be styled in many ways. They are great as layering pieces—worn casually, layered with a tank or with a jacket when the weather cools down."
On L.A. joining the fashion-capital family: "There's an innate effortlessness of Southern California blended with the sophistication of a metropolitan city, which has informed our brand aesthetic. I think that's been pivotal to our international growth because Los Angeles has become the forefront of fashion. This dichotomy resonates with many markets and reflects a fresh direction in the contemporary market. Many globally recognized tastemakers, designers, celebrities, and influencers reside in L.A., and have together helped establish the city as a creative capital alongside New York, London, Paris, Sydney, and Tokyo."
On what inspires you the most: "I spend a lot of time traveling and always take time to absorb the nuances of different cultures and aesthetics, including that of Los Angeles and its diverse neighborhoods. Being a visual person, I find inspiration in everything from architecture, landscapes, textiles—anything I'm surrounded by that catches my eye. Throughout the design process, we envision the Rails woman and how she will wear the finished product in her everyday life."
On the most surprising thing that has happened since you started: "In the beginning, I would get really worked up about things, but then I realized that the new challenges we face every day and the problem-solving that goes into them is what makes this business fun and keeps things interesting. You always have to be creative, even in a business context. There was a time in the early days when Anthropologie put in a 3,000-unit order. I hand-packed all 3,000 units, affixing stickers on boxes. A truck came, packed up the boxes, and I thought that was it. I got a call the next morning from the trucking company that the vehicle was robbed and the shirts were nowhere to be found. I was never able to reship the goods, so that could have put me out of business, but I found a way to survive, and here we are!"
On the "aha" moment of your career: "When I first started making shirts, almost all of the button-downs in the market were in some form of a stiff cotton fabrication. A real turning point for the brand was when I developed a unique Tencel-rayon fabric blend that would maintain the classic shirting heritage, but felt luxurious and created a feminine yet effortless silhouette. The fabric has a cashmere-like feel and created a new identity in the shirting category. Our luxe fabrication became the cornerstone of the brand and we quickly gained a cult following and loyal customer base–it felt like Rails was filling a gap in the market."
On where you see Rails in the future: "Over the years, Rails has grown from a domestic, category-driven line to a contemporary, global lifestyle brand. We are excited to further expand into new fabrications and develop the men's and children's categories into complete collections. We look forward to exploring new markets such as South America, the Middle East, and Asia, and are excited to work on creative projects, whether it be exclusive capsules or shop-in-shop opportunities, and plan to eventually open our first Rails flagship store!"
On who would he'd like to see wear Rails next: "We've been very lucky to see a number of amazing celebrities and influencers wearing Rails, but honestly, I absolutely love seeing anonymous girls wearing Rails in their everyday lives. I was incredibly excited the first few times I spotted Rails on my travels abroad!"
Follow Marie Claire on Facebook (opens in new tab) for the latest celeb news, beauty tips, fascinating reads, livestream video, and more.