Boy Wonder: Self-Taught Designer Simon Porte Jacquemus Is a Rising Star in Fashion
The French creator gets real with Nina Garcia.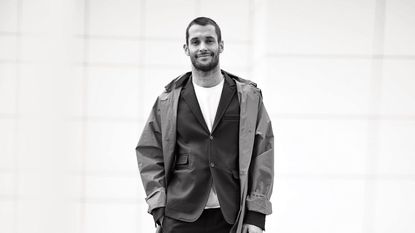 (Image credit: Vanni Bassetti)
Marie Claire Newsletter
Celebrity news, beauty, fashion advice, and fascinating features, delivered straight to your inbox!
Thank you for signing up to Marie Claire. You will receive a verification email shortly.
There was a problem. Please refresh the page and try again.
What's it like to go from the rural fields of southern France to the runways of Paris? Simon Porte Jacquemus lets Nina Garcia in...
Nina Garcia: What motivated you to start the brand?
Simon Porte Jacquemus: When I was 18, my mother passed away from an accident at just 42-years-old. I was in shock and had to rebuild myself. I realized life could stop at any moment. Losing her, I felt ready. I chose Jacquemus because it's her maiden name, which I also adopted.
NG: How would she feel if she could see you now?
SPJ: Proud and surprised. I see my collections as a way to speak to her, so in every one, there is something about her. I never have a muse or star in mind—it's always my mother.
NG: You're 27. Do you think your youth is an advantage?
SPJ: I think this is naïveté and initially not knowing the rules of the fashion system gives me an advantage—to just have fun without thinking about the business side. That's important, of course, but sometimes it breaks the dream.
NG: You're a self-taught designer. How did you learn the ropes?
SPJ: It's about knowing exactly what you want, not exactly how to do it. The buttons, the color of the leather, the music for the show. I've never been to fashion school, but I worked at the Comme des Garçons store in Paris to finance my brand, and I feel it was my school. It taught me about clothes, and how to be sure of who you are, treat your people, and approach your customer.
NG: How did you get the word out?
SPJ: My attitude was "You're not going to forget me." I e-mailed all the editors in Paris: "Hello, I'm Simon, I'm 19, this is my first collection, you have to look at it, thank you." I had no money, nothing; I just had my heart. I'm not afraid of anyone.
NG: What inspires you?
SPJ: French films. When I was young, I was obsessed by girls on TV. In my mind, it's not a collection—it's a film: I know what she eats, where she eats, the camera angles, the music. All of my collections are named after old French movies. It's a Jean-Luc Godard way to think. I feel it's really important to bring people into my universe.
NG: What do you think is missing in fashion today?
SPJ: Poetry. Even a white T-shirt, you have to come to it with a story. I hope that in the world of Jacquemus, there is poetry. It's not cold; it's always something very positive that reminds you of your childhood. I fight for smiles.
NG: Do you decorate like you design?
SPJ: I never publish pictures of my place because it's the only place I like to keep private. It's a colorful mess. It's blue and orange mixed with Marrakech pottery and ceramics. It looks like I'm 10 years old.
NG: Had you not become a designer...
SPJ: I might have been a dancer. I used to do it at a very high level. I stopped at 12, the year I was supposed to enter the ballet. But I still go out and dance with friends a lot.
This article appears in the March issue of Marie Claire, on newsstands now.
Celebrity news, beauty, fashion advice, and fascinating features, delivered straight to your inbox!