Rachel Zoe and Rodger Talk Spring 2012 and Skyler Morrison's First Fashion Week!
Rachel Zoe talks to us about her Spring 2012 collection and, more importantly, about life with her newborn son.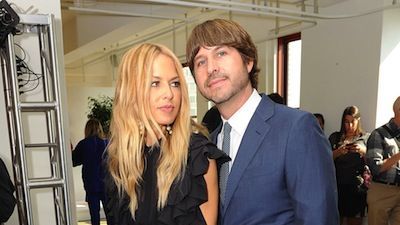 (Image credit: Getty Images)
Rachel Zoe — stylist, reality-TV star, designer, and new mommy — presented her Spring 2012 collection in a sun-drenched showroom yesterday afternoon, and while a good portion of the crowd was probably there to rub elbows with Team Zoe and its famous clients, the clothing certainly stood out on its own. The 30-piece collection stayed true to Zoe's signature bohemian, relaxed aesthetic while proving her range as a designer.
From safari-themed separates, to evening gowns, to airy maxi dresses and perfectly-tailored suiting pieces, the contemporary line has something for everyone — Zoe was going for "effortlessness" for spring, and with looks that are so easy to mix and match, we'd say she pulled it off. "Our original collection was much more suited for each full look to be worn together and I think we broke out of that a little more," Zoe's husband and business partner Rodger Berman said. "We're just finding things that can work well together, and she tries to make things very feminine."
The new season of the couple's show, The Rachel Zoe Project, just premiered last week, and the most discernible difference from this season to the last — aside from some staffing changes and a new Chanel tweed jacket or two — is that Rach and Rodg seem sublimely happy. This giddiness comes out when they gush about life with their son, Skyler Morrison, who is tagging along with them all through Fashion Week — and he sounds like quite the trouper. "He's having the best time ever! Are you kidding," Rachel laughed. "He loves Fashion Week! He loves sequins! Every time he sees models in sequins he's like 'ahhh.'"
Both Rachel and Rodger agree that their hectic schedule hasn't changed much since Sky arrived, except that they have their little buddy with them all the time. "He's like our company mascot," Rodger explained. "The kid's never going to be able to be alone again — there's usually, like, 20 beautiful women cooing at him. He's getting a lot of attention and he's just a wonderful baby. I think he's having a good time."
Zoe has had to make some minor stylistic changes since becoming a mom, however. "I'm wearing a lot more black these days because it's easy to get spit up off of," Rachel told us. "I have to wear darker colors and a lot less hardware when I'm with Skyler because obviously he's snuggling with me all the time and I don't want him to get scratched."
As you could probably expect, she has a ball dressing her baby boy up, although Rodger isn't always completely on board with Rachel's sartorial choices for their son. "Oh my God! The way she dresses him… I think it's clear she was hoping for a girl," he told us. "She dresses him probably a little on the feminine side, but she makes sure that when she puts him in super feminine outfits — like those bloomer things or frilly French pieces — she at least makes sure it's blue so she can justify it to me. She'll say, 'Look, it's blue!' And I'm like, 'Baby, but women wear blue, too.' But she doesn't really want to hear that."
But will they try for a girl? "We're thinking about thinking about it," Rodger said with a smirk.
Oh, and just in case you are curious, baby Skyler was hiding in the back, dressed in Ralph Lauren.