Editors handpick every product that we feature. We may earn commission from the links on this page.
The Best Summer Sneakers to Go With Everything in Your Closet
Styles so classic, you never have to worry about them being "out."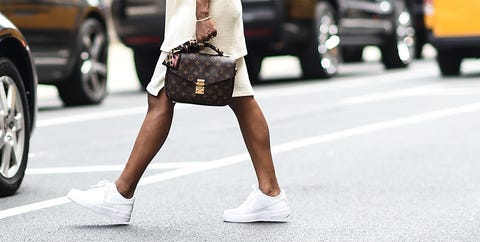 Daniel Zuchnik
Getty Images
Sandals, schmandals—there's not just one summer shoe, ya know. Let's talk summer sneakers. When your everyday flip-flops just can't compete with the best shoes for walking all day or running to catch narrow connecting flights on your way to paradise, you need to diversify your warm weather footwear. The beloved summer sneaker is more than a wardrobe staple, it's the insurance your hardworking feet need to feel happy and supported at their puffiest, leaving you fully able to concentrate on enjoying the best part of the year, sans blisters. These months are simply too precious to give any time to discomfort! From the best pair of white sneakers under $100 to reinvented twists on cult favorites, we've rounded up our top 12 kicks that will carry you from Memorial Day well into fall outfit planning before the changing of the leaves. These curated go-to's specifically transcend trends, meaning we've taken the worry out of wondering if any of these are "still in" after you pull the trigger (RIP The Dad Sneaker). Who ever wants to feel buyer's remorse from a sneaker? And if you still haven't mastered the nuanced styling of sneakers and puff-sleeve dresses à la Copenhagen street style stars, don't panic: These picks each blend well with basically everything you already have in your wardrobe, but are classic enough to experiment with unexpected pairings. Click through to get going on the easiest summer dressing of your life. You can thank us later!

This content is created and maintained by a third party, and imported onto this page to help users provide their email addresses. You may be able to find more information about this and similar content at piano.io