40 Times Celebs Forgot to Wear Pants and Totally Pulled It Off
An argument for leaving your jeans at home.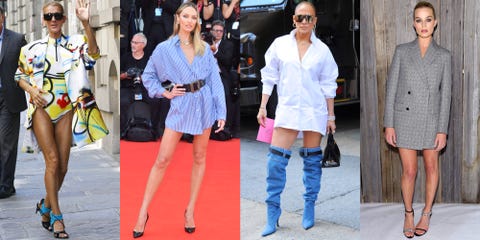 Pants, even your comfiest most worn-in pair of jeans, can be annoyingly suffocating. Thus, we understand the desire to sometimes skip wearing a pair altogether. Celebrities, it seems, love no-pants outfits and they s0mehow effortlessly pull the style off, whether on the red carpet or running errands. Need some pants-less outfit inspo? Let Ariana Grande, Margot Robbie, J.Lo, and more, be your guide, ahead.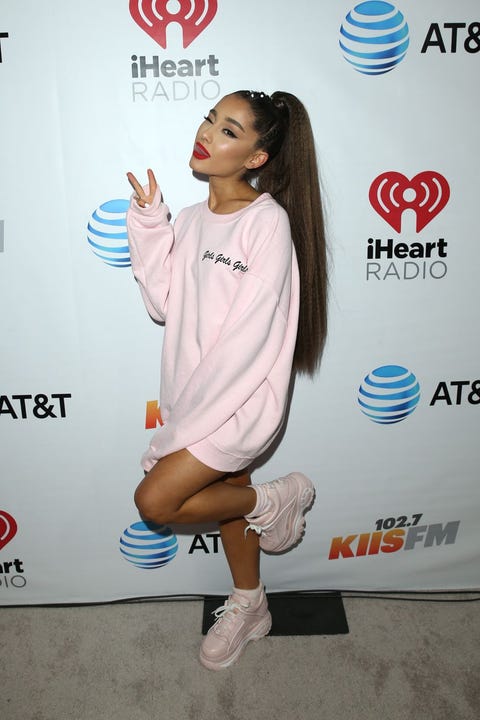 Ariana Grande
The oversize sweatshirt and sneaker/boots look is an Ariana Grande style signature. Here, the pint-size singer posted backstage at the 2018 iHeartRadio Wango Tango by AT&T in head-to-toe pink.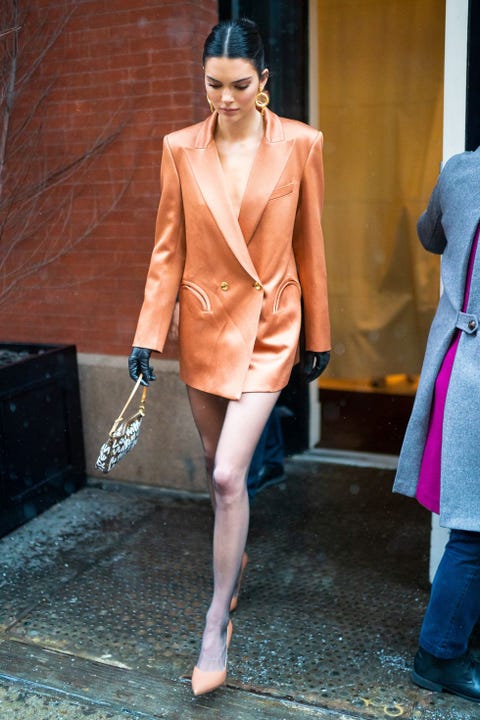 Kendall Jenner
Jenner didn't have to wear pants to look pulled together in this oversize Blaze Milano blazer in February 2019. The buttery leather outerwear plus gloves and heels made this outfit feel posh and sophisticated.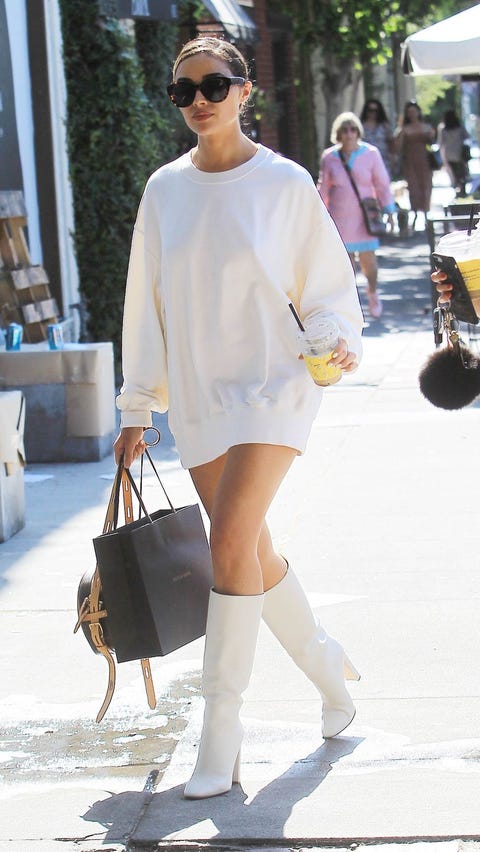 Olivia Culpo
The perfect all-white outfit for fall: an oversize pullover with white knee-high boots. Be sure to carry a stain remover pen around...just in case.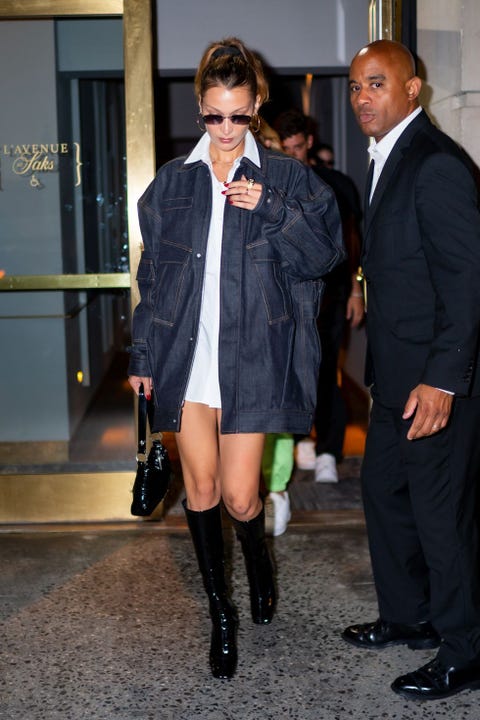 Bella Hadid
The model left her hotel in July 2019 dressed down in a button-up shirt and a large denim jacket. The loose and oversize lewk is a celebrity favorite.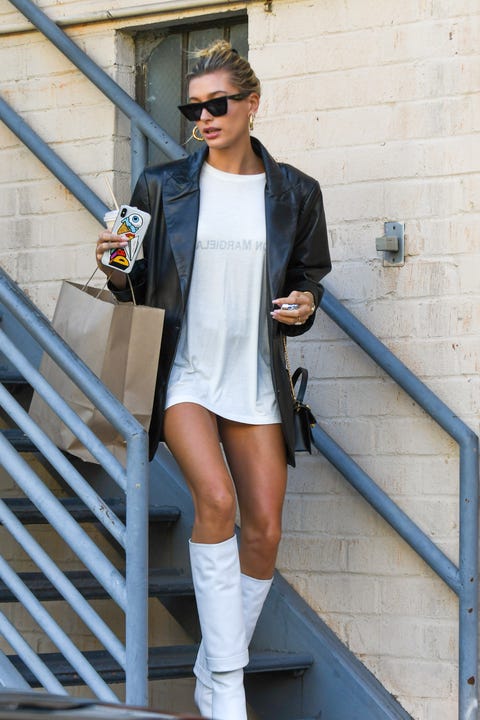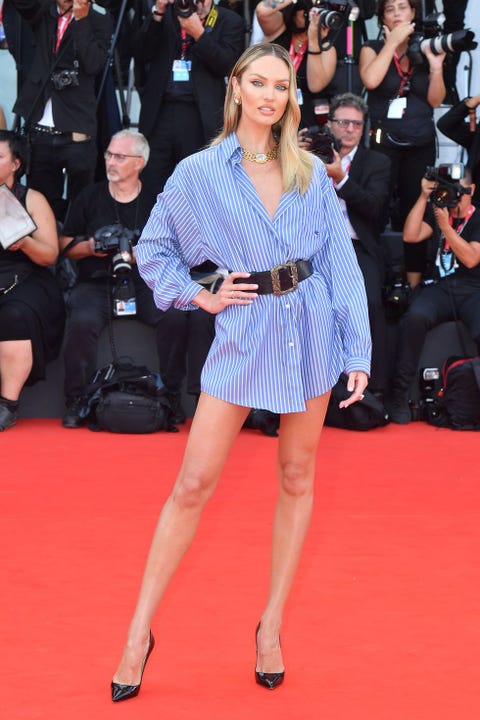 Candice Swanepoel
Celebrities in show-stopping gowns at the Venice Film Festival are a given, so when Swanepoel decided to be a little more low-key and wear just a button-up shirt with a belt and heels, she definitely stood out. The model showed off her statuesque frame without the hassle of pants.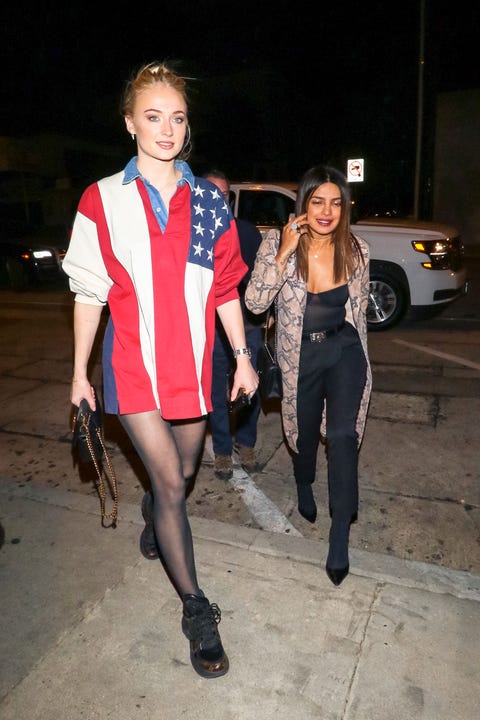 Sophie Turner
Turner and Chopra had a girl's night out in January 2019. Turner wore an American flag shirtdress by Tommy Hilfiger and sneakers while Chopra slipped into a black ensemble with a snakeskin coat.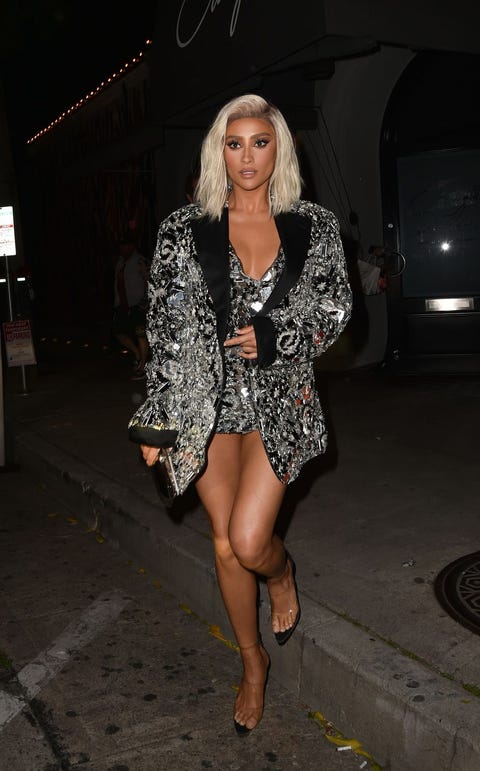 Shay Mitchell
The actress wore a minidress so short, it could have been mistaken for a top in March 2019. She compensated for the shortness, however, with a (slightly) longer matching embellished blazer.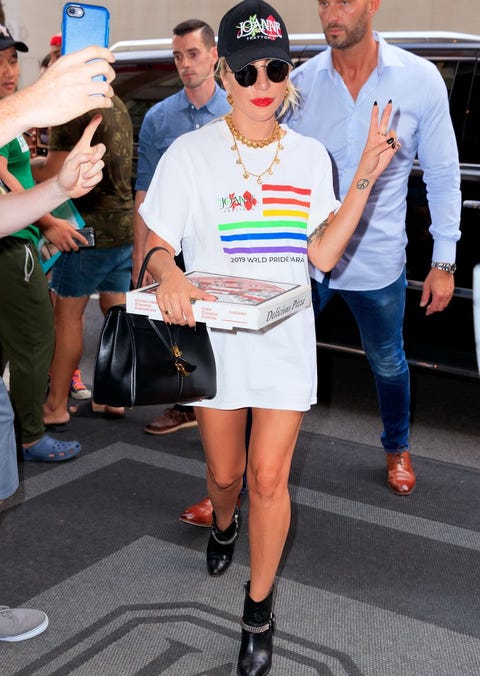 Lady Gaga
The singer looked like she was on her way to chill out and eat pizza in a T-shirt sans pants in June 2019. We fully support this comfortable look.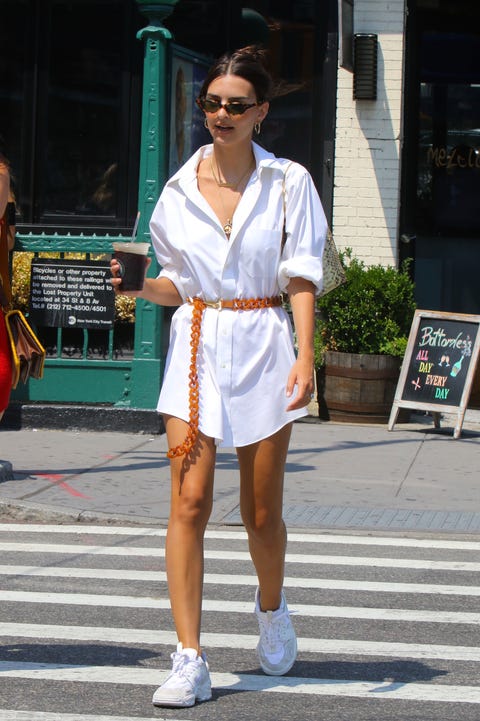 Emily Ratajkowski
Emrata was spotted in the LES of NYC in July 2019 wearing a button-up shirt and dad sneakers. The star was almost unrecognizable thanks to her laidback attire and sunglasses.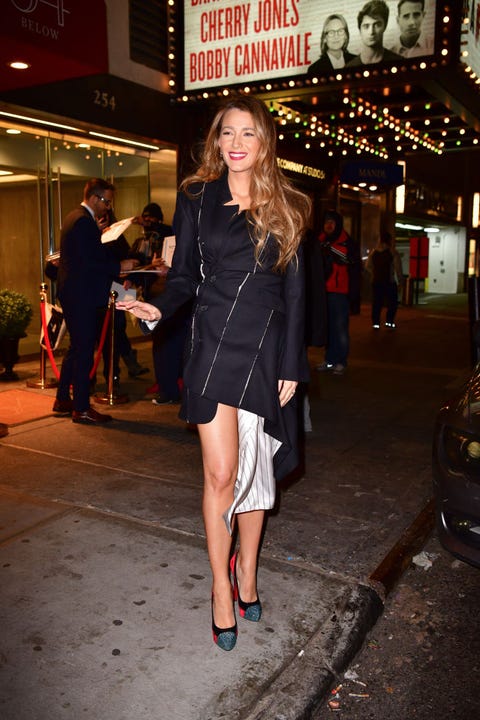 James Devaney
Getty Images
Blake Lively
Lively braved NYC's wintertime chills without pants in this Monse ensemble while leaving Feinstein's/54 Below in January 2019. The actress actually glowed, whereas we would have been shivering and pale with discomfort.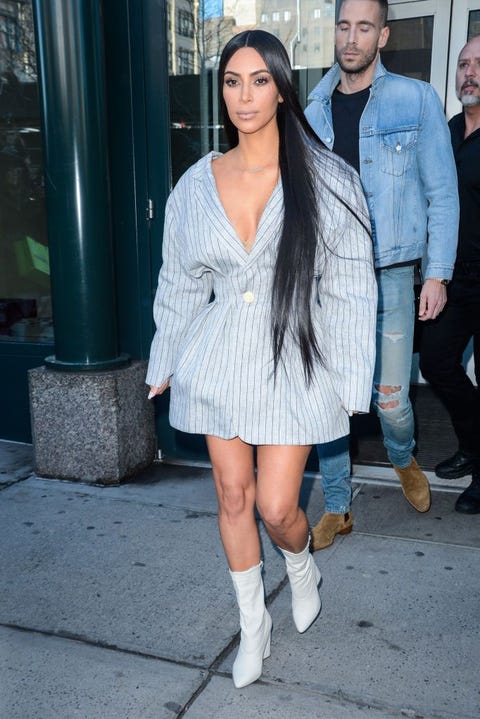 Kim Kardashian West
The reality star left her SoHo apartment in a voluminous blazer-like dress and white sock boots in February 2017. Some celebrities don't seem phased by the NYC cold at all.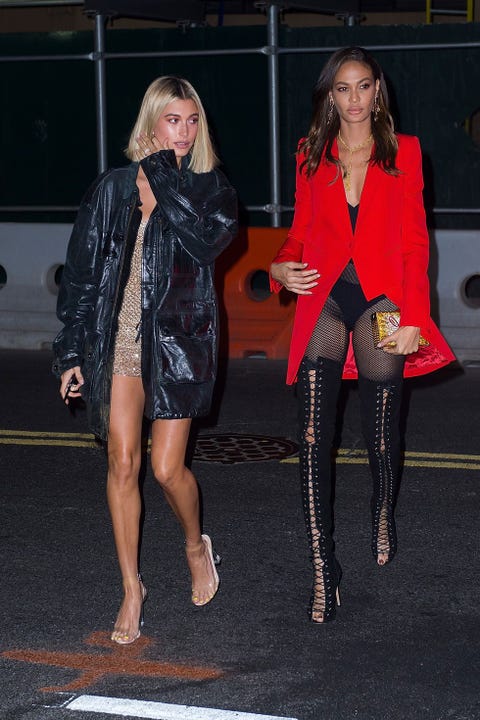 Hailey Bieber and Joan Smalls
Smalls showed up to a birthday party on April 2018 in nothing but a red jacket and tights (catsuit?) that revealed her undergarments. She wore a pair of thigh-high lace-up boots to make this ensemble party-ready. Meanwhile, Bieber is maybe wearing a minidress under that oversize jacket? Could be a shirt. Either way, no pants!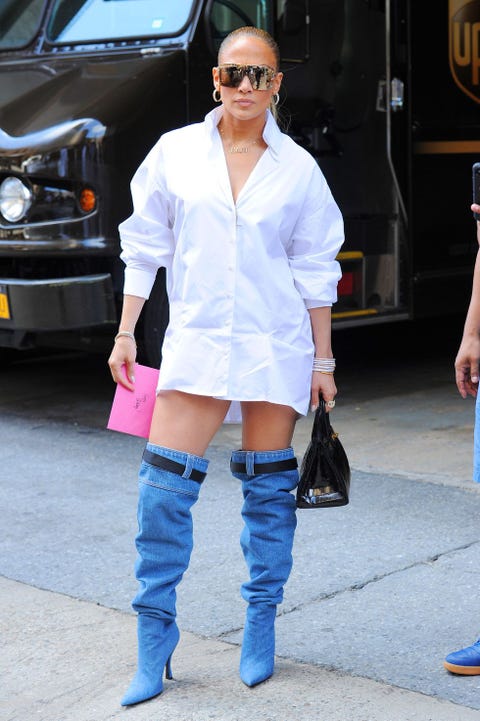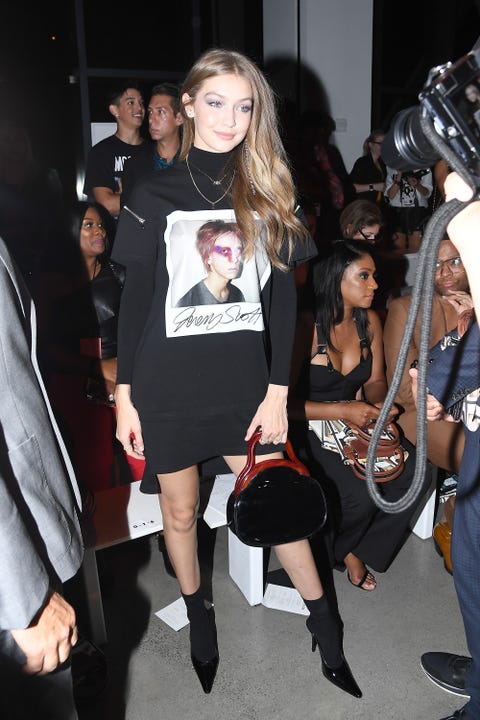 Gigi Hadid
The model is used to walking the runways during fashion week, but took a break to enjoy the action from the front row in September 2018. She repped a design by Jeremy Scott while checking out his latest collection.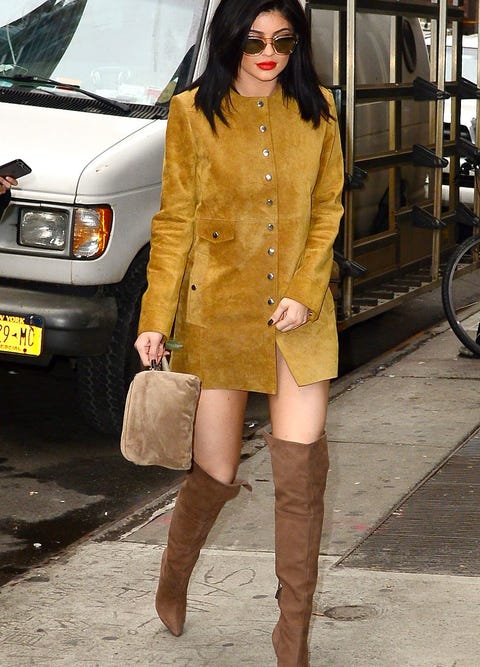 Kylie Jenner
Almost all the Kardashian-Jenners have tried the no-pants look, including youngest sister Kylie Jenner. The star was seen in NYC in February 2016 in a suede jacket dress and knee-high brown boots. (We're guessing winter puffers aren't really a thing for celebs coming in from the west coast.)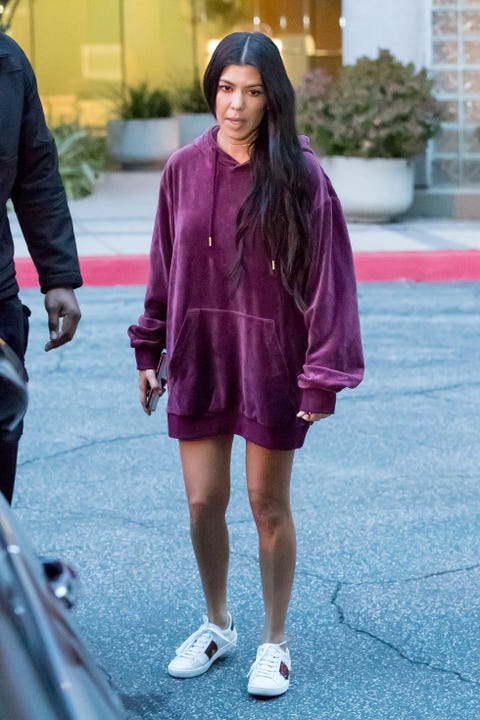 Kourtney Kardashian
The 5'1" reality star pulled off this plum-colored velour hoodie as a dress while out in Los Angeles in February 2017. Try this look yourself, maybe with boots, the next time you don't know what to wear.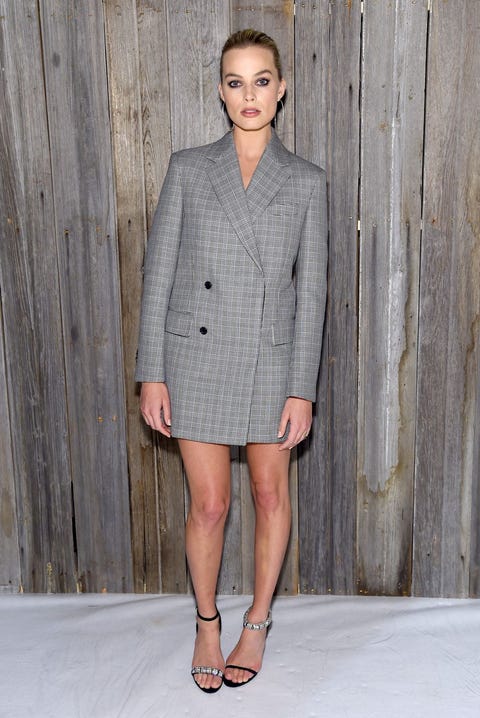 Jamie McCarthy
Getty Images
Margot Robbie
The actress arrived in a full Calvin Klein look for the show in February 2018. We hardly even noticed the no-pants moment as her fabulous mismatched embellished heels caught our attention first.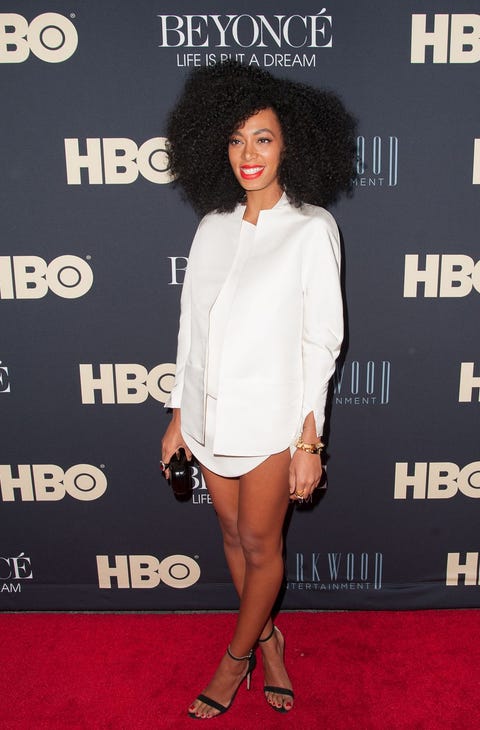 Dave Kotinsky
Getty Images
Solange Knowles
The singer attended the premiere of her sister's autobiographical film "Beyonce: Life Is But A Dream" in NYC in February 2013. She wore a crisp all-white ensemble that gave the illusion of not wearing pants.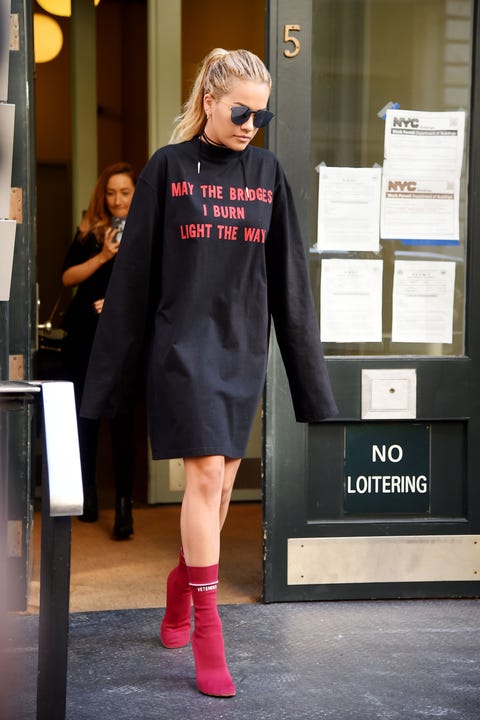 Rita Ora
The singer made a fashion statement in July 2016 when she wore a long-sleeve Vetements shirt that said "May the Bridges I Burn Light the Way." The length went down almost to her knees, so Ora didn't need pants. Win-win!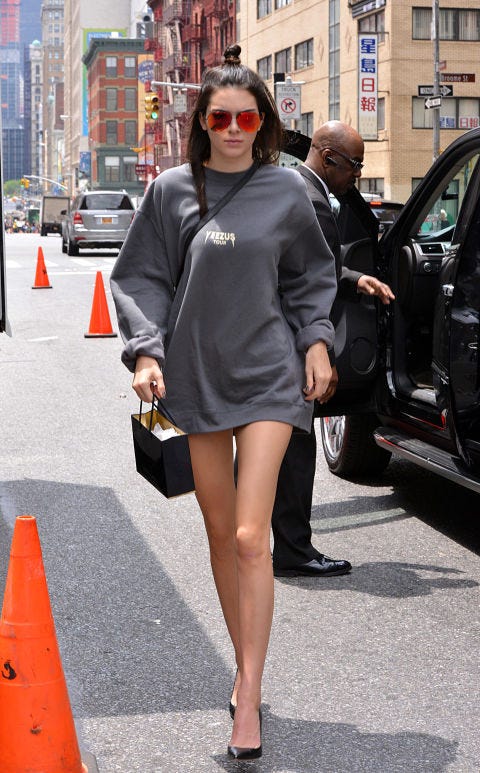 Kendall Jenner
Instead of a sundress, Jenner simply throws on a Yeezus Tour sweatshirt and heels.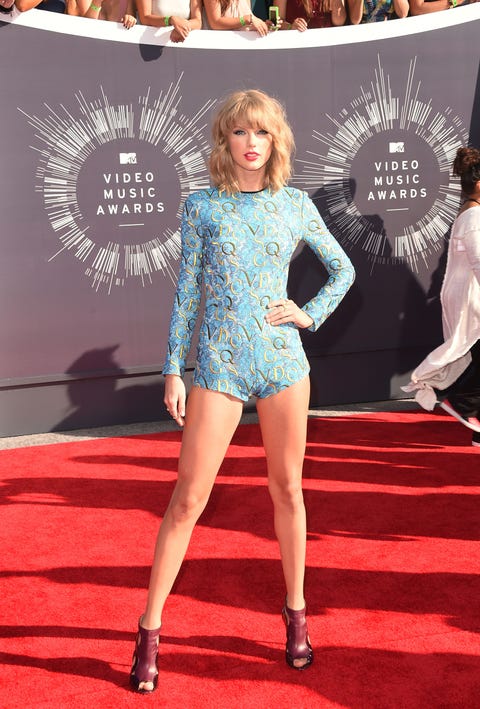 Taylor Swift
At the 2014 VMAs, Swift decided to let her lengthy stems shine in this embroidered Mary Katrantzou onsie.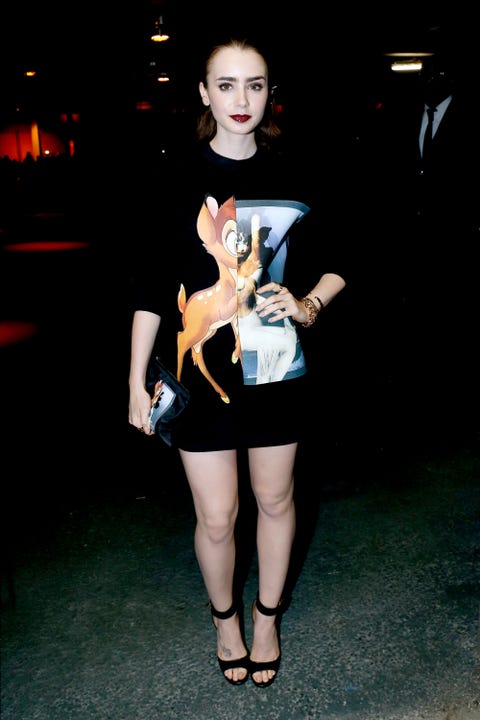 Lily Collins
Collins was so into her Bambi-emblazoned Givenchy sweatshirt, she ditched bottoms and just went with strappy black heels.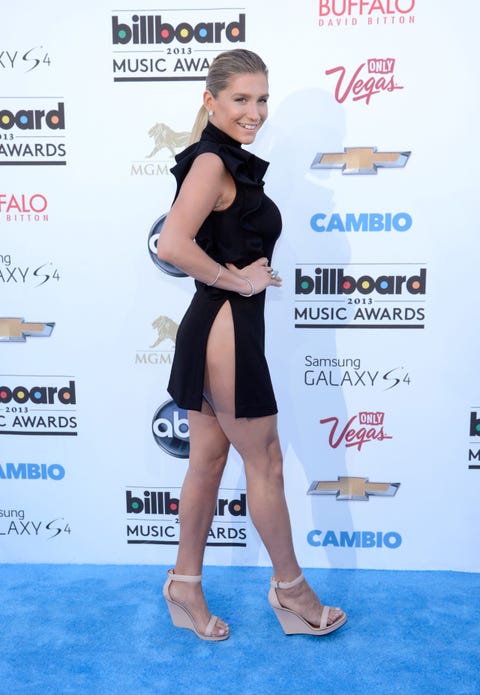 Kesha
For the 2013 Billboard Music Awards, the singer opted for a tunic-like top boasting a high, side-butt-bearing slit.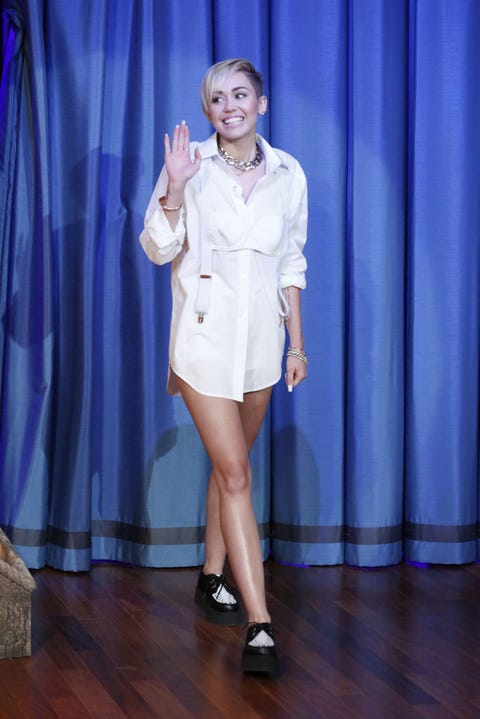 Miley Cyrus
On Late Night with Jimmy Fallon, Cyrus wore an oversized white button-up shirt as a dress.
Lena Dunham
Never one to shy away from showing off what her mama gave her, Dunham's teal peasant top hold the pants shows off her legs.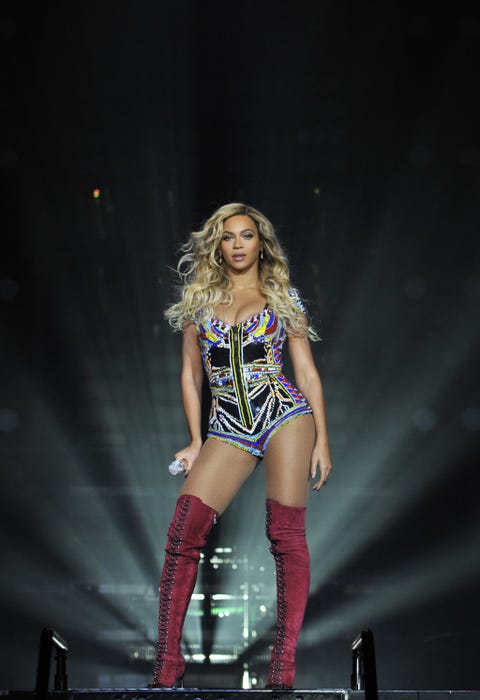 Beyoncé
We can't remember the last time Queen Bey wore bottoms for a performance and we're not mad, especially because it's in favor of epic, jewel-encrusted bodysuits.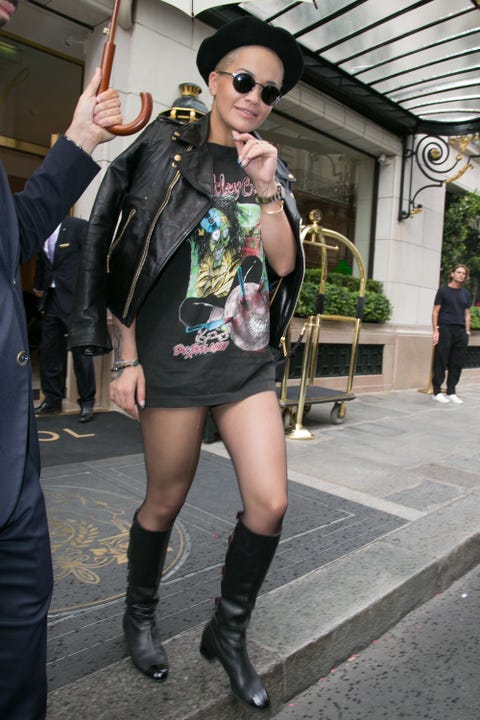 Rita Ora
Rita Ora knows there's nothing more rock 'n' roll than forgetting your pants at home.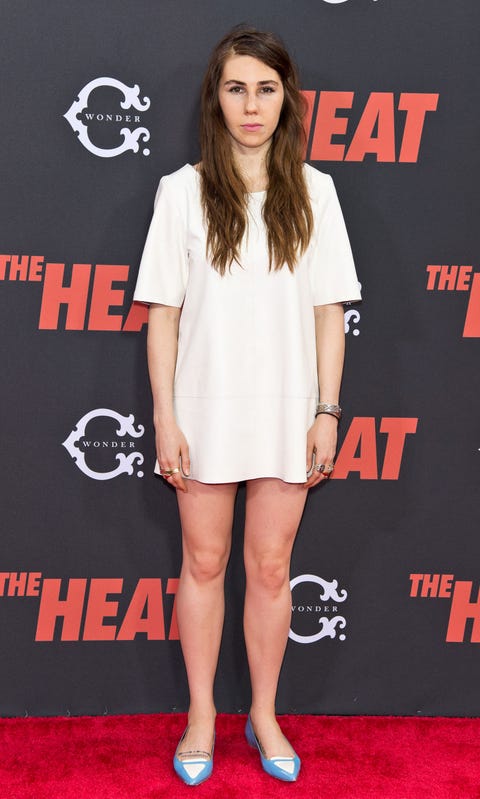 Zosia Mamet
The Girls star is always one for an off-kilter look and we're loving her white shirt dress with an up-to-there hemline.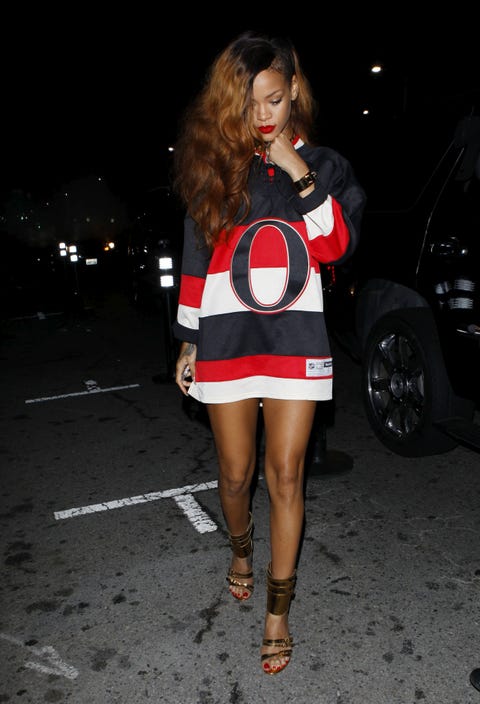 Rihanna
Whether you're a diehard fan or not, a mesh jersey can totally double as a dress as told by RiRi.
This content is created and maintained by a third party, and imported onto this page to help users provide their email addresses. You may be able to find more information about this and similar content at piano.io