10 Delicious Non-Alcoholic Drink Recipes
There's nothing quite like a tall glass of cool lemonade to hit the spot on a super-warm day. Drink up these 10 simple, summer cocktail recipes courtesy of Delish and enjoy the balmy weather R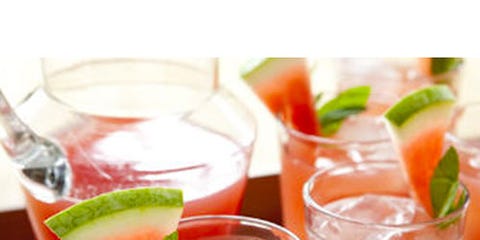 There's nothing quite like a tall glass of cool lemonade to hit the spot on a super-warm day. Why settle for that tried-and-true powder mix when you can whip up a refreshing spritzer or iced punch in the same time? Drink up these 10 simple, summer cocktail recipes courtesy of Delish and enjoy the balmy weather — you can thank us later. Cocktail hour over? Get an idea for dinner tonight with our round-up of unique burger recipes for both meat-lovers and vegetarians alike, and chow down on these tasty summer side dishes, too.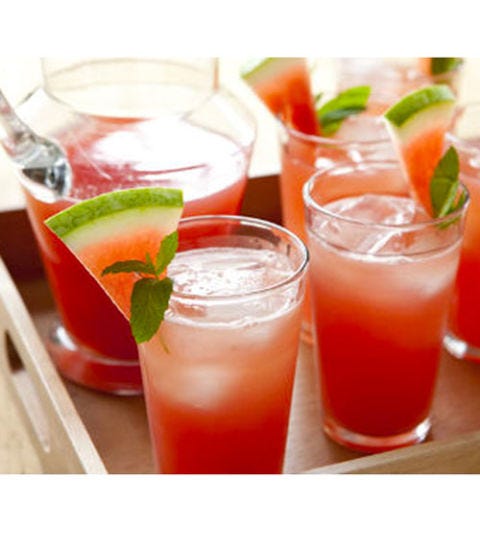 Sparkling Watermelon-Lemonade Spritzers
Ingredients
1 (6-pound) seedless watermelon, cut into 1-inch chunks (8 cups)
1 can (12 ounces) frozen lemonade concentrate
1 can (12 ounces) pink lemonade concentrate
Chilled seltzer or club soda
Lime slices, for garnish
Directions
Puree watermelon, in batches, in blender until smooth. Pour into a 2-quart pitcher. Stir in lemonade concentrates until completely melted. Cover; refrigerate overnight.
When ready to serve, fill 10-ounce glasses with ice cubes and 1/2 cup of the watermelon mixture; top with seltzer or club soda and garnish with lime slices.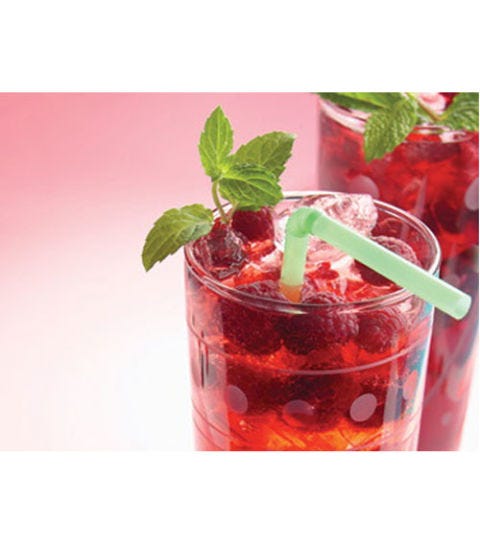 "Courtesy of KitchenDaily"
Raspberry Spritzer
Ingredients
2 cups seltzer
2/3 cups frozen raspberries
2 sprigs fresh mint
3 ounces raspberry-flavored syrup, or Chambord
Ice cubes
Directions
Combine seltzer, raspberries, mint and raspberry-flavored syrup (or Chambord) in a small pitcher. Pour over ice.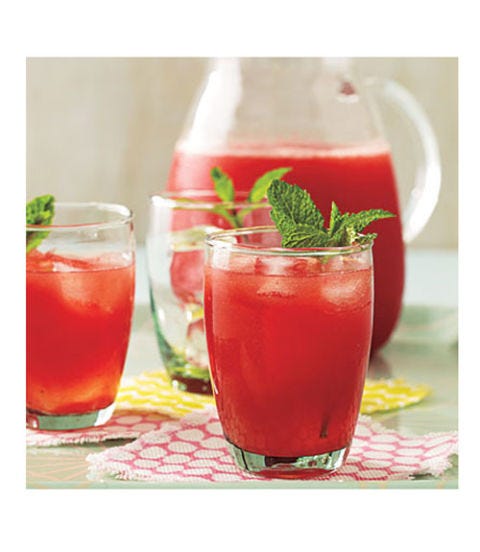 "Courtesy of Cooking Light"
Watermelon Agua Fresca
Ingredients
8 cups cubed seeded watermelon (about 6 pounds with the rind), divided
1 cup water, divided
1/3 cups sugar, divided
1/4 cups fresh lime juice
1 club soda, or seltzer water, well chilled
Lime slices, for garnish
Directions
Combine half the watermelon, half the water and half the sugar in a blender; puree. Pour through a coarse strainer into a large container. Repeat with the remaining watermelon, water and sugar. Stir in lime juice. Refrigerate until well chilled, about 4 hours.
To serve, stir in club soda (or seltzer) and garnish with lime.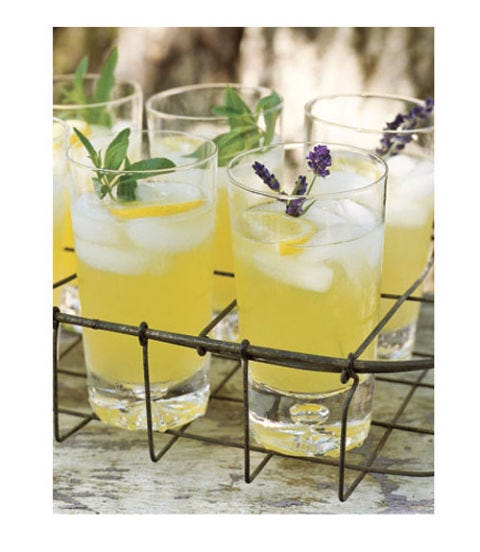 "Courtesy of First Coast Weddings"
Pineapple Cooler
Ingredients
1 large (about 4 pounds) fresh pineapple
1 1/4 cups sugar
11 sprigs fresh lavender, rosemary, or lemon verbena
1/4 cups fresh lemon juice
Directions
Cut the peel from the pineapple, remove the core, and cut the fruit into 1-inch pieces.
Place the fruit in a food processor fitted with a metal blade and pulse until the pineapple is crushed but not pureed. Transfer to a large nonreactive pot, add the sugar, 4 cups water, and 3 herb sprigs.
Bring to a simmer over medium-high heat. Reduce heat to medium-low and cook for 15 minutes. Strain the mixture through a fine mesh sieve.
Gently press the solids to extract the juice. Cool and stir in the lemon juice. Serve over ice garnished with the remaining herb sprigs.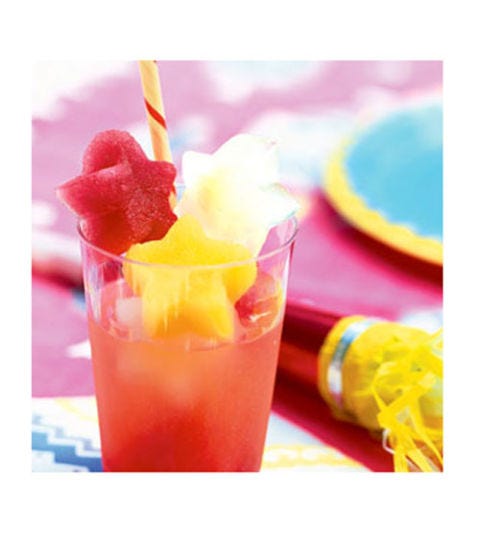 "Courtesy of Country Living "
Iced Fruit Punch
Ingredients
6 cups assorted fruit juices
3 cups ginger ale
3 cups seltzer water
Directions
Make the ice:
Freeze juice in ice trays. When solid, release from molds and store by flavor in sealable freezer bags for up to 1 month.
Make the punch:
Fill an 8-ounce glass to the top with about 1/2 cup assorted flavored ice cubes, add 1/4 cup ginger ale and 1/4 cup seltzer, and serve immediately.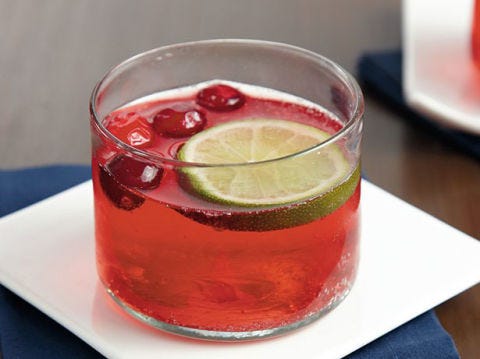 "Courtesy of Betty Crocker"
Cranberry and Ginger Tea Punch
Ingredients
1 pieces (3-inch) fresh ginger, thinly sliced
3 cups cranberry-raspberry juice
1 1/2 teaspoons lemon juice
1 tablespoon orange juice
6 slices lemon
6 slices orange
Directions
Make the ginger tea:
Bring the ginger and 3 1/2 cups of water to boil in a medium saucepan. Remove from the heat and steep for 2 hours. (Tea can be made up to a day ahead and refrigerated.)
Mix the punch:
Strain the tea into a large pitcher and stir in the remaining ingredients. Serve over ice.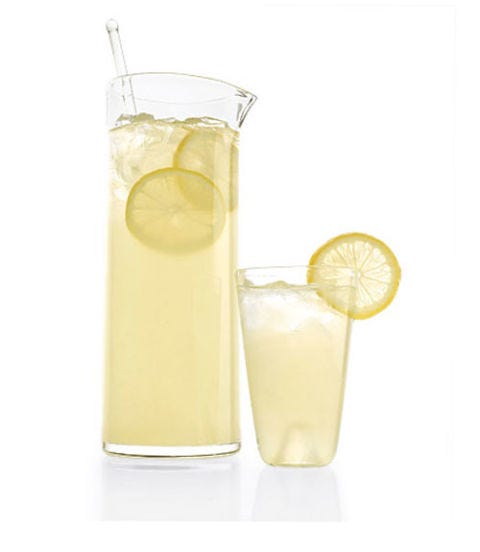 "Courtesy of Martha Stewart Living"
Classic Lemonade
Ingredients
1 cup sugar
6 large lemons, seeded and juiced
Directions
Bring the sugar and 1 cup of water to a boil in a small saucepan. Stir occasionally until sugar dissolves completely. Cool.
Stir the syrup, unstrained lemon juice, and 4 cups of cold water together in a large pitcher.
Chill. Serve over ice.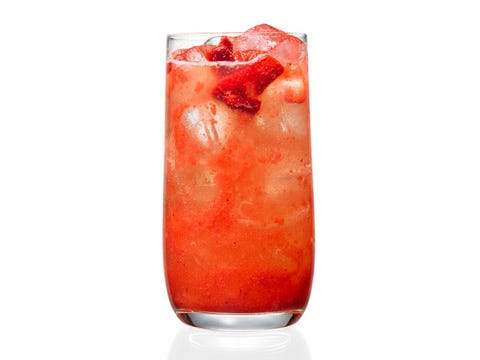 "Courtesy of Food Network"
Strawberry Lemonade
Ingredients
12 ounces (2 cups) strawberries, hulled
2 quarts homemade or store-bought sugar-free lemonade
Directions
In blender, puree strawberries. Strain through fine mesh sieve (you should have about 1 c. strained puree). Stir strawberry puree into lemonade. Chill before serving.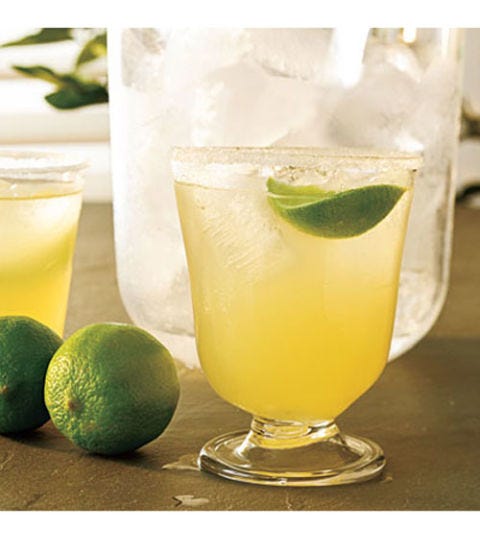 "Courtesy of Cooking Light"
Limeade
Ingredients
1 1/2 cups fresh lime juice
1/2 cups lemon juice
6 cups water
1 cups superfine sugar
Directions
Combine the lime juice and lemon juice with the water and sugar. Serve over ice in a glass with a sugared rim and garnish with a lime wedge.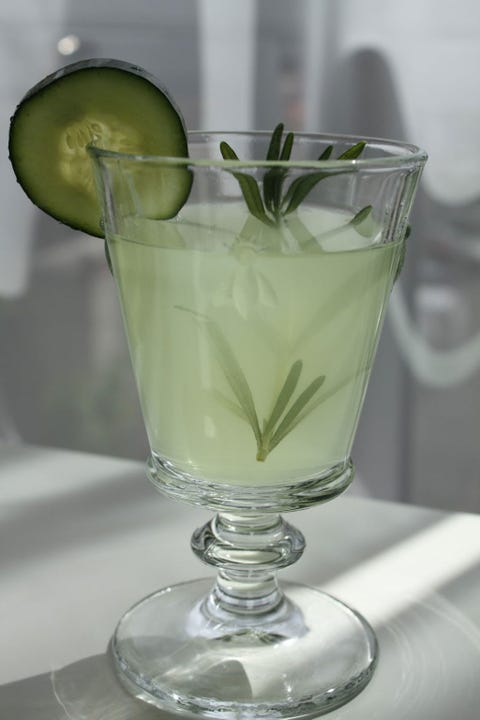 "Courtesy of The Art of the Occasion"
Rosemary-Infused Cucumber Lemonade
Ingredients
3 large cucumbers
1 tablespoon chopped fresh rosemary, plus 4 sprigs for garnish
1 cup water
1/2 cups lemon juice
3 tablespoons agave syrup
Directions
Cut 12 thin slices of cucumber for garnish.
Peel and chop the rest of the cucumber; transfer to a food processor, add rosemary, and puree. Pour the puree through a fine-mesh strainer set over a medium bowl or large measuring cup. Press on the solids to extract all the juice. Add water, lemon juice, and agave syrup to the cucumber juice; stir until the agave is dissolved. Divide among 4 ice-filled glasses. Garnish with cucumber slices and rosemary sprigs.
This content is created and maintained by a third party, and imported onto this page to help users provide their email addresses. You may be able to find more information about this and similar content at piano.io