How to Pick Wine *Not* Based on the Pretty Label
Not like we do that or anything. (Ahem.)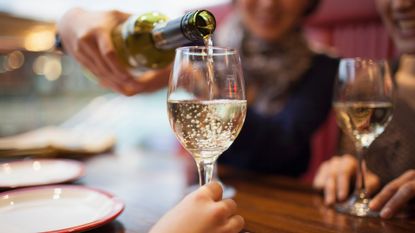 (Image credit: Getty Images)
We're not really sure when the transition from drink-all-the-vodka-sodas-you-can-muster to we-should-probably-just-order-a-bottle happens, but it does. But when it does, unless you're like Hallie from The Parent Trap who grew up around vintages and varietals, you're left kind of fumbling around, swirling whatever you ordered at the restaurant in the glass and smelling it in an attempt to seem like you know what the hell you're doing. Even worse? The wine store, where all wino knowledge goes out the window in favor of a bright bottle with some cool calligraphy on its label. (That means it's fancy, right?)
BUT NO MORE. You are an adult, goddammit, and you should A) at least have a working knowledge of varietals, AKA the type of grape used for the wine, lest you become one of those poor fools who, thanks to Waka Flocka Flame, goes into a bar to order Moscato only to realize it's a sweet wine, and B) talk about something you imbibe on the regular with some kind of authority.
We caught up with Michael Turley, manager and wine director of NYC's Irvington restaurant, for the easiest-to-remember tips on choosing a great wine. ('Cause we know you're not going to write this down.)
*Read* the label
I know, I know. We just said we're not going to look at the label, but we're not talking about looking for a cute font. Read, young grasshopper. While wines that say "table wine" or "California wine" might be perfectly delicious, they also raise red flags. "These wines are composed of grapes from a very large region (a state or even an entire country) and, although sometimes just fine in quality, tend to be noticeably bland or unbalanced," says Turley.
Recognize why something's on sale
While your local wine store might just have crazy deals all the time, most stores put wine on sale for two reasons, according to Turley. 1) The ideal consumption window for the vintage has come and gone, or 2) the wine just isn't selling and the store wants to clear out inventory. Neither of these things necessarily equal a bad wine, but it's something to look out for before stocking up on that Pinot Noir just because it's marked down 10 bucks.
Know your adjectives
This is a big distinction—especially for those who say they hate "sweet wines." "There is a difference between a sweet wine and one that is fruit-forward," notes Turley. "Sweet wines, like a port or some Rieslings, tend to be more syrupy, which is wine's way of exhibiting sweetness. But a wine may have a nose of tropical fruit and honeysuckle but, upon tasting, are crisp, clean and wash out the mouth in a quick flush." So stop with the vague terms, friends. (And know which one to ask for.)
Choose easy pairings
Pairings—this is when things get interesting. As Turley notes, there are two schools of thoughts when it comes to wine and food pairings: complementary and contrasting. Neither is wrong. (So if someone tries to argue with your Twinkies and Gewürztraminer, remind them that it they are both sweet and pull a Jan from Grease: "It says right here, it is a dessert wine.") If going the complementary route, just remember light with light and rich with rich. Meaning seafoods and chicken pair amazingly with crisp white wines and red meats and cheeses pair well with full-bodied reds. As for a great contrasting pairing? "Classic oysters with a New World Sauvignon Blanc, such as a great option from New Zealand," says Turley. "The salty brine of the oysters is balanced by the fruit-forward expression of this grape. Think of it like peanut butter and jelly."
When in doubt? Go for a rosé
I know you're probably saying "whaaaaat?" but it's true. "A crisp, dry rosé will have refreshing acidity and lively effervescence to help accent most dishes," says Turley. "Rosés also work especially well with cheese plates." Turley recommends a *sparkling* rosé. (Ooh la la.)
If all else fails, download an app
"I am a committed fan of the Wine Spectator app, which has a comprehensive database of wine ratings organized by price points and varietals," says Turley. "Comparing ratings with prices can help make the decision a no-brainer."
Still have no idea what you're doing? Here are Turley's top 5 picks (you're welcome)
Indaba's 2014 Western Cape Chenin Blanc; $7 "Round and lush, with a great, long finish."
Layer Cake's 2013 Central Coast Chardonnay; $16 "Classic varietal expression with ripe apple and honeydew melon flavors."
Bodegas Ramón Bilbao's 2011 Garnacha Rioja; $20 "Rich berries, chocolate, and spices PLUS great structure and style? This a go-to big red."
Charles & Charles' 2013 Columbia Valley Post No.35 Cabernet Sauvignon-Syrah; $11.99 "Lush berry and plum notes are guided through by easy tannins and a confident finish."
Ameztoi Rubentis' 2014 Txakolina Rosé; $21 "Full of strawberry and watermelon juiciness, while remaining dry and fresh on the palate. A perfect springtime-in-the-park or summertime-by-the-beach wine."
You should also check out:
According to the World's Best Study, Red Wine Burns Fat
7 Classic Cocktails Every Sophisticated Girl Should Know
I Have Sad News: That Hangover-Free Wine Is Not Hangover-Free
Celebrity news, beauty, fashion advice, and fascinating features, delivered straight to your inbox!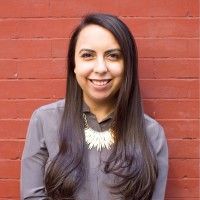 Samantha Leal is the Deputy Editor at Well+Good, where she spends most of her day thinking of new ideas across platforms, bringing on new writers, overseeing the day-to-day of the website, and working with the awesome team to produce the best stories and packages. Before W+G, she was the Senior Web Editor for Marie Claire and the Deputy Editor for Latina.com, with bylines all over the internet. Graduating from the Medill School of Journalism at Northwestern University with a minor in African history, she's written everything from travel guides to political op-eds to wine explainers (currently enrolled in the WSET program) to celebrity profiles. Find her online pretty much everywhere @samanthajoleal.