The New Vodka Cocktail Recipe You Need in Your Life
Chic, easy, and I went all the way to Sweden to find it.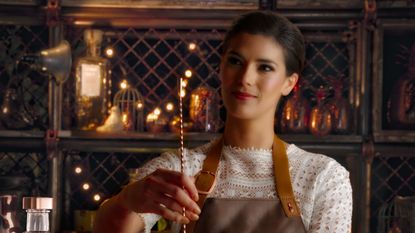 (Image credit: Courtesy Absolut Elyx)
The town of Åhus, Sweden is about as idyllic as they come—in fact, it's one of the best preserved medieval towns in the entire country. The exteriors of most houses, with tiled roofs and colorful front doors, are covered in bright flower blossoms. The sailboat-lined waterfront is a quick walk on the cobblestone streets from almost anywhere in town. The Baltic Sea is only a few minutes further. It's an ideal place to relax in the summertime.
I, however, was in Åhus to drink. Absolut Vodka is headquartered in the town, and I was visiting on a press trip to learn about Absolut Elyx, the brand's single-estate handcrafted luxury vodka. I also came with a personal goal: to a find a new go-to drink that's easy to make and to order. (I am, for better or for worse, a vodka soda devotee. No hangovers!)
The trip was a dream, structured around eating delicious Scandinavian food and drinking a seemingly endless array of cocktails with my favorite spirit as a base. We also learned about how Elyx is made from start to finish, beginning in the sprawling wheat fields near the brand's lakeside hunting lodge.
The second morning of the trip, we toured the Elyx distillery, which concluded with a 12:30pm vodka tasting at its top-floor bar. (Good morning!) We then took a martini masterclass, where I learned that my favorite martini garnish is, surprisingly, one spring onion.
It wasn't until the last night, at a dinner hosted at Elyx's castle-like Rabelof Estate, when I discovered my favorite drink of the trip.
With just three ingredients, the Crimson Vesper is, just as I had hoped, not difficult to prepare. And since the other two ingredients are gin and Lillet Rouge, you don't have to be nearly as much of a vodka enthusiast as I am to love this drink. It pairs well with nearly any meal, and is a perfect summer to fall transitional drink: light but flavorful, tangy and slightly bitter, with only a hint of sweet. Cheers!
Crimson Vesper
Ingredients:
Vessel: Cocktail couple
Garnish: Orange zest
Method: Stir over cubed ice and strain into a chilled cocktail coupe.
Follow Marie Claire on Facebook for the latest celeb news, beauty tips, fascinating reads, livestream video, and more.
Celebrity news, beauty, fashion advice, and fascinating features, delivered straight to your inbox!
I'm the features editorial assistant at Marie Claire. Before working at MC, I spent time in the production department at The New Republic and writing about politics for Bustle. When I'm not writing, you can find me museum-hopping, practicing mediocre yoga, and stalking pugs on Instagram.