Holiday Punch Recipes That Will *Make* Your Next Party
Ain't no party like...a party with a punch bowl. For real.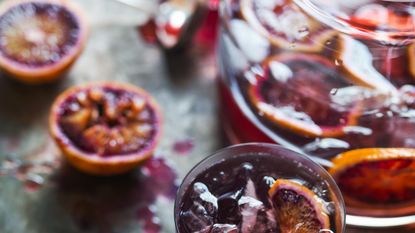 (Image credit: Archives)
Marie Claire Newsletter
Celebrity news, beauty, fashion advice, and fascinating features, delivered straight to your inbox!
Thank you for signing up to Marie Claire. You will receive a verification email shortly.
There was a problem. Please refresh the page and try again.
We asked women killing it at the bar for recipes for your next get-together, whatever your poison or guest count
GIN: Wintertide Punch by Charlotte Voisey, award-winning mixologist
INGREDIENTS (serves 10):
15 oz. Hendrick's Gin
5 oz. fresh lemon juice
5 oz. demerera simple syrup (equal parts demerara sugar and water, fully dissolved)
5 oz. fresh pineapple juice
5 oz. sparkling wine (or sparkling water)
Orange(s), cinnamon sticks, and freshly grated nutmeg, for garnish
METHOD:
Combine ingredients in punch bowl over a large block of ice. Stir well then garnish with fresh cut orange wheels. Finish with cinnamon sticks and freshly grated nutmeg.
"Balanced, fresh, and approachable. These spices are specific to the season, and they aromatize the punch and season the bright pineapple."—Voisey
RYE WHISKEY: Hesitant Elephant by Nandini Khaund, spirit guide at Cindy's Rooftop in Chicago
INGREDIENTS (serves 20+):
1 bottle Rittenhouse Rye
8.5 oz. Brugal Anejo Rum
17 oz. Averna Amaro
17 oz. Campari
4 1/4 oz. Letherbee Besk (or absinthe)
8.5 oz. fresh orange juice
8.5 oz. fresh lemon juice
1/2-1 bottle of cold brew coffee
17 oz. ice water
1-2 bottles of Great Lakes Edmund Fitzgerald Porter (add at the end, to taste)
METHOD:
Mix all ingredients (the day before is fine if kept in the fridge). Top with Great Lakes Edmund Fitzgerald Porter when ready to serve.
"This drink sounds insane and it's a bit of a circus... but the flavor is so intriguing. The richness of the Sicilian amaro and brown sugar are countered by citrus, giving way to a hint of roasted coffee with a zippy finish of anise and aromatic bitters. Plus, having a little caffeine in your party punch keeps everyone's spirits up. Everyone wins."—Khaund
RUM: St. Elizabeth Punch by Alicia Walton, co-owner of San Francisco bar The Sea Star
INGREDIENTS (serves 15):
1 bottle of signature blend Appleton
16.5 oz. Glögg
12.5 oz. Gentian Amaro
12.5 oz. sherry
12.5 oz. lemon juice
4.0 oz. honey syrup
20 oz. water and large ice cubes to dilute
Lemon slices, cinnamon sticks, cardamom pods, and sage, for garnish
METHOD:
Combine ingredients and water in a large vessel. Add to punch bowl with ice. (The ice will dilute the alcohol further as it sits in the bowl; replenish as needed.) Garnish with lemon sliced into half moons, cinnamon sticks, cardamom pods, and sage.
"This holiday punch is savory, herbaceous, and refreshing. Rum always welcomes the holidays, and the Glögg adds a fall flavor of cinnamon and clove, while accenting the nuttiness and date components of the sherry."—Walton
BRANDY: Ponche de Navidad by Lynnette Marrero, beverage director of the Llama Inn in Brooklyn
INGREDIENTS (serves 20):
4 bottles red wine, such as Malbec or South American Pinot Noir

1 bottle apple brandy, such as Laird's apple Jack, Black Dirt applejack or calvados
1 bottle Macchu Pisco

1 cup sugar
4 oranges
6 oz. pineapple juice

4 lemons, thinly sliced, seeds removed

2 tsp. grated nutmeg

4 pieces star anise

3 cinnamon sticks

1 cup water
Apple slices, for garnish
METHOD:
In an 8-qt. pot, bring red wine and apple brandy to a boil over medium-high heat. Reduce heat to medium-low and stir in sugar along with orange and lemon slices, Pisco. Simmer, stirring occasionally, for five minutes. Transfer to heavy heatproof bowl or pitcher. (To serve cold, let punch cool, then refrigerate.) Garnish with apples, star anise, cinnamon, grated nutmeg. To add flair, using a plastic Tupperware (quart size) freeze a large block of ice with star anise, and winter citrus fruit.
"In Latin cultures, it is popular to have a punch for the holidays. This punch includes South American wines and Pisco with American apple brandy. The winter spices give warmth whatever or not you serve this punch hot or cold."—Marrero
MEZCAL: Original Sin Punch by Erin Goodman, bar manager at Roofers Union Restaurant & Bar in Washington D.C.
INGREDIENTS (serves 8):
2 cups apple cider
8 oz. chai tea
8 oz. mezcal
6 oz. apple brandy
6 oz. Pedro Ximenez Sherry
4 oz. lemon juice
4 oz. simple syrup
2 oz. walnut liqueur
METHOD:
Combine all ingredients in large punch bowl and mix together. Pour into glasses filled with ice and serve.
"I wanted to pair the apple with the dried stone fruit qualities and the sweetness of the sherry, while adding some seasonal spice with the walnut and chai tea. The mezcal plays well with the spiciness, sweetness, and citrus from the other ingredients, subduing the aggressive smokiness. I love playing with Mezcal because it's a spirit most people fear. Use it in the right way and the smokiness can add a wonderfully complex element."—Goodman
SPARKLING WINE: The Chandon Merry Whatever! by Pauline Lhote, winemaker for Domaine Chandon
INGREDIENTS (serves one):
3 oz. Chandon Brut
1 oz. elderflower liqueur
Twist of lemon or mint, or even thyme, for a bit more of a holiday feel
METHOD:
Top liqueur with Chandon. Garnish with lemon and mint or thyme.
"Keep things super simple: two ingredients, no punch bowl necessary. Top with a fun festive stirrer and your choice of garnish."—Lhote
A version of this article appears in the December issue of Marie Claire, on newsstands now.
Celebrity news, beauty, fashion advice, and fascinating features, delivered straight to your inbox!