These Are All Your Favorite Celebs' Signature Drinks
*Insight*, via alcohol.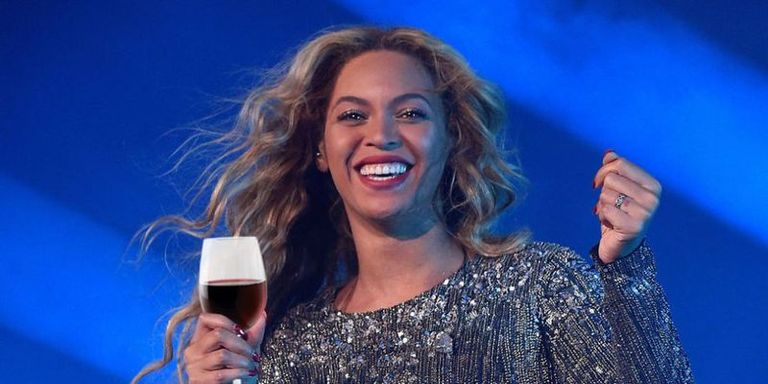 (Image credit: Getty Images)
Stars—they like alcohol just as much as the next guy. But what do they actually order at a bar? Just in case, you know, you're out one night and find yourself next to Beyoncé and you want to know what to offer to get her? Or because you just want a little more insight into your most beloved stars and knowing their bev of choice feels so *insidery*? Here, your answers.
1. Jennifer Aniston = a Margarita
It just feels right that Aniston goes for a good ol' marg. "Justin actually makes the perfect margarita with Don Julio 1942, because there's no agave, no sugar, no mix. It's pure tequila, lime juice, and a squinch of Cointreau. It's delicious," she told Yahoo.
2. Scarlett Johansson = Champagne
ScarJo likes her drink simple and classic—and it makes sense, given that she's been in ads for Moet and Chandon.
3. Oprah = a Moscow Mule
Oprah's gone on record many times saying that her favorite cocktail is a Moscow mule, a cocktail of vodka, ginger beer, and lime juice. Simple, refreshing, and even better when served in its signature copper mug. (Check out our favorite recipe here.)
4. Jennifer Lawrence = a Piña Colada
Okay, full disclosure: This is her *vacation* beverage of choice. But girl loves her libations—she's also partial to tequila, champagne, and plain ol' beer.
5. Mindy Kaling = a Dark & Stormy
Mindy Kaling is all about the rum and ginger beer drink known as the dark and stormy. (Because it's delicious.)
6. Kate Moss = a French 76
A take on the French 75—with vodka instead of gin—is Moss's drink of choice. She's been known to order them at the Hemingway Bar at The Ritz in Paris. "I've been staying at the (Hotel Ritz) since I was 17, and I've spent a lot of time in the Hemingway Bar," she told Playboy. "So my drink is the French 76, which is vodka, lemon juice, and sugar topped with champagne. Love! Two of those and you're like, 'Oh, life is amazing.'"
7. Madonna = a Pomegranate Martini
Madonna's love of a pomegranate martini has been well documented, and who wouldn't love a strong drink with a sweet, fruity finish? (Answer: no one.)
8. Beyoncé = Red Wine
Beyoncé has been known to dump sparkling wine into a hot tub, but she's also known for loving the red stuff. We're with you, girl. (On the red wine thing, not on the dumping-champagne-into-a-tub thing. We would prefer to drink that thankyouverymuch.)
I'm Sam, the senior editor at MarieClaire.com. I love shining a light on awesome people doing things that matter, cool products and hacks for everyday life, and advice you'll actually use. I'm pretty much always looking for the perfect GIF for any situation. When I'm not trolling the internet, I can be found dancing like a weirdo or napping like it's my job. Right now, I'm probably eating or drinking something filled with sugar or booze. (Sorry, mom.)