Editors handpick every product that we feature. We may earn commission from the links on this page.
The 63 Best Dog Toys That You and I Both Know Your Pup Deserves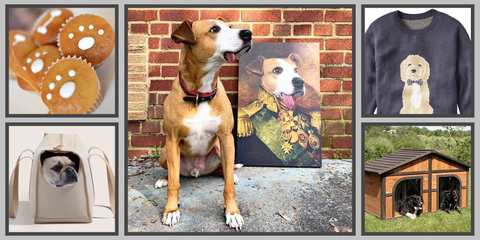 Amazon/Sweater Hound/Wild One
I'm calling it: Buying a dog a gift is the most selfish, and yet selfless, way to inject a shot of joy into your day. I don't care how much your dad loved that tie you bought him—nobody will ever be as excited to receive a gift as a dog (any dog!), who will immediately become obsessed with it. I should know: I've long been hooked on the dangerous high of bringing a gift home for my dog, who treats his new item with the joyous reverence I'd give a Chanel 2.55 bag. I've taken the time to test almost all of the products below (yes, my job is very hard; yes, my dog is very spoiled), so I feel confident in saying that these 63 products are the best (or, in your dog's language, THE !!!! BEST !!!!) gift ideas for dogs out there, whether you're looking for something cozy, delicious, cool, personalized, or just utterly ridiculous; whether it's for a dog birthday, a "gotcha day," or just an average Tuesday. The things I do for you guys.
This content is created and maintained by a third party, and imported onto this page to help users provide their email addresses. You may be able to find more information about this and similar content at piano.io