"To Say He Wants to Bully Women Is Absurd": Kelley Paul Speaks Out About Her Husband's Presidential Bid and Latest Moves
The potential future First Lady and new author talks to MarieClaire.com.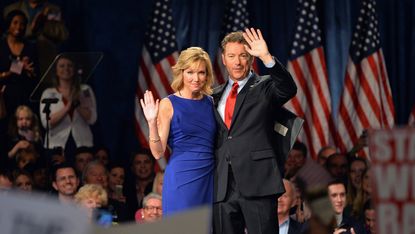 (Image credit: Archives)
Marie Claire Newsletter
Celebrity news, beauty, fashion advice, and fascinating features, delivered straight to your inbox!
Thank you for signing up to Marie Claire. You will receive a verification email shortly.
There was a problem. Please refresh the page and try again.
Kelley Paul laughs when I bring up husband Rand Paul's recent "mansplaining" incidents with female news anchors, in which the Kentucky senator-cum-Presidential-candidate has ruffled feathers for a seemingly patronizing attitude towards women.
For the record, Kelley does not think Rand has a woman problem. "I feel like the whole gender side of that was a little unfair," she says. "I think it's legitimate for someone to criticize his techniques in that interview, and whether or not they think he was overly prickly or rude—that's legit. But suddenly to take it a step further and to say he's like this with women..."
Kelley, who's been married to Rand for 24 years, is already well-versed in the art of his defense. "People need to understand two things about Rand," she continues. "One, for his entire professional career his partner was a female surgeon—a very strong, very accomplished, very high-achieving prominent female surgeon in Kentucky who's now a huge political supporter of Rand and a friend." She goes on to enumerate the other women he's worked with, with mutual respect, and to list the strong female presences—doctors, veterinarians, a chemical engineer—who surround him at home. "So to say he wants to bully women or that he has a problem with strong women is absurd. There is no one who is more respectful of or more of a champion for women than Rand."
Pundits have occasionally wondered just how much power Kelley wields when it comes to shaping her husband's views. The New Yorker's Ryan Lizza wrote last year that she plays a "protective role in her husband's career," and quoted a former aide saying Kelley "eggs him on" and brings out his "worst instincts."
But according to Kelley, she's more about packaging his message than telling him what it should be. "I have some opinions, but I wouldn't say I affect his views as much I try to help him with his messaging," she says. "Rand has always had very strong political views. And he obviously grew up as the son of someone with strong political views." Rand's father Ron Paul, a former Republican Congressman and three-time Presidential candidate, is considered a founding father of the Tea Party Movement.
In fact, Kelley says she wasn't a "particularly political person at all" when she met Rand at an oyster roast in Atlanta in their 20s. "When he got into politics and decided to run, I had some experience working for two major telecommunications companies. I would write presentations and deliver them. I did some speech-writing there, too. So I helped him more with his messaging." She also worked at a Republican political consulting firm, one of whose clients was Texas Senator and eventual Presidential candidate Ted Cruz (she resigned last year). She has even worked with editors at Center Street, an imprint of Hachette Book Group, on her husband's books.
Before hitting the campaign trail, Kelley is promoting True and Constant Friends, her own book from Center Street/Hachette, out today. It may come as little surprise that the collection of essays—focusing on the most influential woman in her life, and in the lives of six of her closest friends from school days at Rhodes College in Memphis—began as a political speech.
Or, rather, it began as an apolitical speech. "About two years ago, I was getting requests to do speeches around the state. I wanted to stay away from the echo chamber you get when you're speaking at Republican events—it's kind of always more of the same," she says. "I wanted to not-really talk about policy. I wanted to tell some personal stories, and really write about the American dream. For me that person is my grandmother—her optimism and her bravery." Kelley's grandmother came to this country as a teenager in 1929, alone, and found work as domestic help for posh Manhattan families—including the owners of Saks Fifth Avenue. She was feisty, sophisticated, and loved beautiful things, like the jewelry and handbags she'd pass on to her granddaughter.
When asked if she's thought about her platform as First Lady, Kelley lets out another laugh. "First of all, I sort of hesitate to answer that because it sort of sounds a lot like measuring the drapes. That's way down the road, but I hope you will acknowledge that I certainly am not laying out my platform, because there is a long way to go even to get the nomination. But I'll say I am a big admirer of the work that Jill Biden and Michelle Obama have done with military families. I helped with a dinner that Jill Biden organized at Walter Reed for wounded warriors on Valentine's Day, and I was really touched by how many of them seemed to know Jill very well." Kelley, a Navy brat herself, called working with military charities "something that is near to my heart and something I would look into. But, again, please don't think I'm planning it, because I'm the first to admit this is a marathon. This is a long road."
Even still, Kelley has already come far herself: a fulfilling career, three sons, and now a husband running for President of the United States. "My mother just had a chance to read my book in full form," she says. "She was like, 'I know your grandmother would have loved every minute of this.'"
You should also check out:
Hillary Clinton Is Officially Running for President
Rand Paul Is Not Making Friends with Female Journalists
Sarah Palin Is "Interested" in Running for President in the 2016 Election
Celebrity news, beauty, fashion advice, and fascinating features, delivered straight to your inbox!
Maria Ricapito is a writer who lives in the Hudson Valley.