How Polyamory Made My Marriage Better
What non-monogamy has taught me about "moving apart without blame."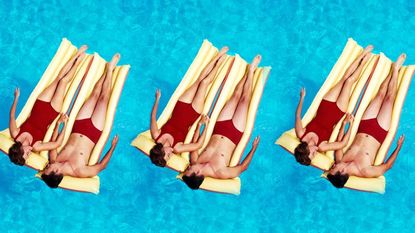 (Image credit: Getty Images)
A few years ago, my husband, Rob, and I converted our traditional marriage to a polyamorous one. It's been remarkably smooth. We're very happy with our choice. And yet eventually we'll probably divorce. Does this mean that polyamory failed us? Not at all.
Like many of our generation, Rob and I are children of divorce, and so when we got married a dozen years ago, we designed a quasi-Buddhist ceremony that made room for the concept of anicca, or impermanence. We wrote our own vows and left out the "until death do we part" and "forsaking all others" stuff: Instead, we spoke about the inevitability of change and pledged to support one another as we continued to evolve.
We meant it, but we had no idea what that might look like. We didn't anticipate that our evolution could involve the desire for sex and relationships with other people.
But that's what happened. In our previous relationships and with one another, we'd both been serial monogamists, but after we finished having babies, we looked around and realized that although many things about our marriage were stellar—close friendship, mutual support and admiration, compatible co-parenting—we weren't ideal for one another sexually. We never really had been. Our libidos don't match; I'm more "sex motivated" of the two of us. Our relationship had thrived despite a lack of romantic chemistry.
This is not an unusual revelation, of course, and in most marriages, it results in screaming matches, or swallowed resentment, or affairs conducted amidst lies and betrayals. But Rob and I didn't see our "problem" that way—we didn't even really see it as a problem. We saw it as a reality, and an opportunity for positive change. We became poly.
I look at it like this: Humans go through multiple phases over the course of a lifetime. It makes sense that our relationship needs shift, too. I wanted kinship, drama, and obsession with someone eccentric in my twenties; equality, worldliness, and stability with someone calm in my thirties; intimacy, attention, and adventure with someone exotic in my forties. Each phase has required partners with different personalities, interests, and energies. As I see it, it's unfair to expect one person to evolve over many decades on a precisely parallel path to my own. Which is why I also believe that we should stop thinking about the end of a marriage as a crisis and start thinking about it as a reality.
Maybe longevity isn't the best indicator of a relationship's success. Why not measure marriages by the level of satisfaction reported, or the self-actualization achievable, or how much the people respect one another even after it's over, rather than as an endurance test? In Gaga Feminism: Sex, Gender and the Edge of Normal,the cultural critic Jack Halberstam calls our culture's infatuation with long-term monogamy "the romance of permanence." In a 2012 interview, Halberstam suggested that rather than have weddings to celebrate the beginning of a union, we instead throw parties to honor milestones like getting through a difficult job loss or health crisis together, or to reward surviving the sleepless years of early parenting, or to cheer an amicable and fruitful separation.
Poly people tend to view divorce in a less binary way than mainstream culture does. Dr. Elisabeth Sheff, a sociologist who studies polyamory, has written about how, in contrast to a dominant worldview in which a "successful" relationship is one which is "the two people involved remain together at all costs," polyamorists have a broader and more flexible take on the demise of relationships. "Poly people," she writes, "ultimately define their relationships as both voluntary and utilitarian, in that they are designed to meet participants' needs." We understand that the relationship might have to change when needs change. One of the people Sheff interviewed called this "moving apart without blame." Maybe Gwyneth Paltrow, with her "conscious uncoupling," was onto something after all.
In this regard, monogamous couples could stand to learn a thing or two from those of us forging an alternative path. For Rob and me, our guess is that having spent the last few years living poly will actually make dissolving the husband-and-wife phase of our relationship a lot gentler than if we hadn't taken that left turn at Sexytown.
***
For the last few years, most days at my house look like this: my partner Mike, who lives with us, helps me with dinner while Rob tends to the kids. We all eat together, and then Mike and I put the kids to bed while Rob texts a woman he's met on OKCupid. Once the kids are down, the three of us sit on the couch for a movie and a cup of tea. Sometimes Rob stays home with the kids while Mike and I go out dancing. Sometimes Mike and I stay home while Rob travels for work or goes on a date. Sometimes Rob and I go out to a play while Mike stays home. Sometimes Mike and I take the kids camping and Rob spends the weekend combing bookstores. Sometimes Mike and Rob watch football together while I volunteer. Sometimes we all take a family vacation together.
Our arrangement wouldn't work for everyone. It helps that, when Rob and I first became poly, our kids were very young, young enough so that this has pretty much always been their normal. It also helps that Mike didn't have kids of his own, but is great with ours: my kids say they have two dads. And it helps that both these men are tidy Cancers who share a love for progressive politics and sports blogs; they are also guys who have always enjoyed living with male friends. And they're wonderful, generous, thoughtful people who like each other, who love me, and who value the extra help and freedom that comes with having a third adult around: there's a symbiosis they have together. We might argue about stuff like what to feed the kids for lunch or who threw out the last of the conditioner, but I honestly can't remember a fight that stemmed purely from the fact of our poly arrangement.
Rob's turning 50 soon, and he recently said that he's thinking about the possibility of considering a shift within the next few years. We've been together for nearly two decades, and I know that his shifting need is not a reflection on me or an indication that I've fallen down on the job as his wife, any more than my relationship with Mike is an indication that Rob is somehow deficient as a husband. So we're having an ongoing conversation about whether this might mean that he'd move out, and if such a move is an economically wise for us, and where the best place to move might be, and if separate households might necessitate a legal proceeding like divorce. Nothing feels dire, and no one feels hurt or rejected.
Practicing polyamory has helped us refrain from seeing this as a failure: failure to be everything to one another, failure to be people we're not. Like many of the folks Dr. Sheff has reported on in her studies, we're able to see a shift in the parameters of our relationship as an inevitable change rather than a reason for guilt or anger or blame. We love each other and we want each other to be happy, and part of being happy means getting our needs met. We want to support—not stand in the way of—one another getting our needs met, even if those needs involve reconfiguring our partnership. We know we can still be close and loving, no matter our relationship status.
Arielle Greenberg is a poet and writer who lives in Maine; her book of personal micro-essays about style, shopping, and feminism, Locally Made Panties, comes out this spring.
Follow Marie Claire on Instagram for the latest celeb news, pretty pics, funny stuff, and an insider POV.
Celebrity news, beauty, fashion advice, and fascinating features, delivered straight to your inbox!