Neighborhood of the Week: Santa Barbara, California
Neighborhood of the Week: Santa Barbara, California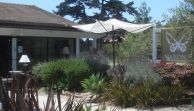 (Image credit: Archives)
Most of us have come to terms with the arrival of winter. It's fun at first to bundle up in chunky knits and new puffer jackets, but the novelty wears off pretty quickly, and we start to long for sunshine. There are some spots where it's summer all year round. And one of those places is stunning Santa Barbara (opens in new tab) Here you can get bikini clad like a Baywatch babe and hit the beach; go wine tasting at one of the area's legendary vineyards; and of course, stroll the shopping streets. Santa Barbara boasts two main shopping areas: On State Street, you can browse Michael Stars for a full selection of the brand's famous tees; check out Wendy Foster's four locations stocked with covetable designers from around the world; or find the sexiest, steamiest underthings at A Tropical Affair. Across town in Montecito, find polished resort wear at Kate and eclectic home decor at Maison K (opens in new tab) (pictured at left).
View and print our Santa Barbara Shopping map (opens in new tab) here - 14 stores!
Powered by Store Adore (opens in new tab), your personalized guide to the best boutique shopping around the country and online.
Find stores in:

Boston (opens in new tab)

New York (opens in new tab)

Los Angeles (opens in new tab)

Washington, DC (opens in new tab)

Ecommerce Available (opens in new tab)

Discounts (opens in new tab)