Your Guide to the Perfect Weekend in California's Secret Wine Country
Skip Napa and head straight to these wineries instead.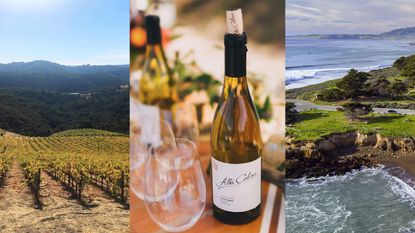 (Image credit: Archives)
DAY 1: CAMBRIADAY 2: PASO ROBLESDAY 3: Santa Ynez Valley
Much like the rest of humankind/people with taste buds, I enjoy drinking wine. And eating copious amounts of cheese, but sadly I've yet to take an entire vacation devoted to that particular passion. What I did recently do, though, is go on a gloriously boozy and beautiful adventure through California wine country—and I don't mean Napa. I mean the stunning and often overlooked wineries that pepper California's central coast (opens in new tab).
From Cambria to Los Alamos, this region is full of hidden gems with picturesque views and down-to-earth winemakers whose passion is the secret ingredient in every bottle. Here's your guide to the ultimate wine-filled weekend—including tips on where to stay, where to eat, and (obviously) where to drink.
Cambria is a gorgeous seaside town just off the famous Highway 1 (opens in new tab), which means you can enjoy one of the most scenic drives in the world and then reward yourself with a drink. On the way down, make sure to stop at the stretch of shoreline known as Piedras Blancas (right off the highway) to visit the elephant seals—it's a truly once in a lifetime experience, and their general demeanor is, as you can see, goals:
Where to Drink
That would be Stolo Family Vineyards (opens in new tab), also known as the most gorgeous place on earth. Stolo is less than three miles from the Pacific, which, for all you oenophiles out there, makes its wines unique, thanks to that cool ocean air. Their Syrah was ranked #12 by Wine Enthusiast (opens in new tab), and I'm here to tell you that it lives up to the hype.
But the best part about visiting this vineyard is seeing winemaker Nicole Bertotti Pope in action. Her enthusiasm and obvious skill are part of what makes Stolo such a standout. The other part? Why, this:
Where to Stay
Ocean Point Ranch (opens in new tab), which I can say with absolute certainty is one of the coolest hotels I've ever been to. Nestled among Cypress trees and Monterey pines, the place gives off major '60s vibes thanks to its retro refit, complete with shuffleboard and croquet courts, swimming pools, and fire pits for roasting s'mores. And the best part? Its seaside location.
BOOK A STAY (opens in new tab)
Where to Eat & What to Do
Start with Centrally Grown (opens in new tab), a tasty restaurant serving up local food, and, more importantly, THIS CASUAL VIEW:
If you have time, a visit to the famed Hearst Castle (opens in new tab) (the one-time home mansion of media magnate William Randolph Hearst) is also a must, as is a trip to Covell's California Clydesdale's Ranch (opens in new tab) for horseback riding in this pastoral setting:
Of course, a visit to Cambria isn't complete without a little time spent in the town itself, which is just a seven-minute drive from Ocean Point Ranch. And if you arrive hungry, feel free to eat at Robin's (opens in new tab). And uh, when I say "eat" I mean drink because their wine list is *chef's kiss* perfection.

About 30 miles inland from Cambria is Paso Robles, one of the most incredible wine regions in California thanks to a climate that mimics the Rhône valley in France. Expect exceptional Syrah everywhere you go.
Where to Drink
There are a lot of choices, but let's start with the best winery you'll visit on this entire weekend getaway: Alta Colina (opens in new tab). I know I'm going on and on about how pretty everywhere is, but Alta Colina's vineyards take it to another level. The winery is owned by a father-daughter team who will happily nerd-out with you about everything from wine to their cute dog, and good news: This is your view:
The vistas from Alta Colina's outdoor tasting spot stretch for miles, and get this...they have a collection of refitted trailers to rent, meaning you (yes, you!) can stay there. Like, how can you possibly resist this cuteness?
BOOK A STAY (opens in new tab)
Speaking of places that are irresistible, you're going to want to make room in your itinerary for the seriously impressive Halter Ranch, where your wine tasting comes with a Jeep tour (opens in new tab) around the expansive property—which includes underground caves. It's obvious this place was designed with the natural environment in mind: I literally saw a giant blue heron flying by as I sipped on wine and gazed dreamily at their 281 acres of vineyard.
BOOK A TASTING (opens in new tab)
But wait, there's more. I refuse to let you leave Paso Robles without checking out RE:FIND (opens in new tab), which is a) very conveniently next door to Alta Colina, and b) very boozy. Owners Alex and Monica Villicana make artisan spirits from grapes. As someone who is a huge baby when it comes to hard liquor, I am here to say that these drinks go down ultra-smoothly and are A+.
BOOK A TASTING (opens in new tab)
Where to Stay
You can't go wrong with the historic and perfectly located Paso Robles Inn (opens in new tab). The circa-1891 hotel is right downtown, and therefore right next to numerous tasting rooms—like the newly opened Justin (opens in new tab)—which is a nice way to kill an hour several hours before dinner.
BOOK A STAY (opens in new tab)
Where to Eat & What to Do
Really, everything you could possibly want is in Paso Robles' historic town square—including Il Cortile (opens in new tab), where you can go for homemade pasta and cheese, my two best friends. Also, if RE:FIND gives you a taste for hard liquor, pop into the town's very own Speakeasy 1122 (opens in new tab) for a craft cocktail. Because you definitely haven't done enough drinking on this trip. It's fine!
DAY 3: Santa Ynez Valley
The Santa Ynez Valley—an ideal spot for wine lovers to visit—is made up of several small towns, all of which are lovely, and all of which are within a 5 to 15 minute drive.
Where to Drink
Honestly, the choices are pretty endless in an area this well-known for wine, but this is a list of off the beaten path wineries, not a list of wineries that a million people have been to before you. Which brings us to Spear (opens in new tab), a quiet winery nestled at the bottom of a gorgeous hilly vineyard, where Kat Gaffney—another woman kicking ass in what's long been a male dominated profession—handles tastings...and wine-making...and just about everything else.

Actually every single winery I visited in Santa Ynez Valley was run by women, including D. Volk's (opens in new tab) charming single-vineyard wine tasting room in the heart of dreamy Solvang, and Story of Soil's (opens in new tab) gorgeous single vineyard/varietal tasting room in the possibly even more dreamy town of Los Olivos. Pro tip: Single vineyard allows winemakers to focus on one particular place (versus mixing and matching grapes from several vineyards in the area), and single varietal indicates that just one type of grape is used.
Where to Stay
Los Alamos is quite literally the chicest one-street town you'll ever visit. And towering above it atop a hill is the Skyview (opens in new tab) roadside motel, a place that's so aesthetically pleasing it basically qualifies as Instagram bait. Like Ocean Point Ranch, this is a newly renovated retro dream come true, with fire pits, a pool flanked by palms, and a hotel gift shop that I had a hard time not spending all my money in.
BOOK A STAY (opens in new tab)
What to Eat & Do
Pro tip: Just roll on up to Los Alamos and eat at every single place on its one main street. There's the French-inspired bistro food at Bell's (opens in new tab), the artisan baked goods at Bob's Well Bread (opens in new tab)(which I visited three times in one day due to sheer scone-related greediness), the delicious wine at Casa Dumetz (opens in new tab), and most importantly, the whole menu at Pico (opens in new tab)—a fine-dining restaurant that I would like to live in, please, due to the walls of wine, warm chocolate chip cookies, and burgers. I mean...
And that's just Los Alamos. There's the rest of the San Ynez Valley to explore (i.e. hungrily eat your way across), including Solvang's Root 246 (opens in new tab), where celebrity chef Crystal "Chef Pink" DeLongpre (she won Cutthroat Kitchen, it's casual) made me a fish dish that was so good, I'm traumatized I might never eat again due to currently being located in Brooklyn.
If you happen to be doing this trip with someone who isn't as enthusiastic about wine as you are, you can always do an olive oil tasting at Global Gardens. (opens in new tab)
1. This trip involves driving. And drinking and driving isn't smart. The good news is that pour buckets exist for a reason. It's totally possible to enjoy wine tastings without getting drunk, and the winemakers won't be offended if you don't finish your glass.
2. Fly into Monterey airport, pick up your rental car, and fly out of Santa Barbara airport at the end of your trip. That way you can enjoy the drive down the coast without having to drive back up (though, there are worse things in life than seeing Highway 1 twice...).
3. This one is important: Bring an empty bag to check. You'll likely be buying a lot of wine, and let's just say if you arrived with just a carry-on, you won't be leaving with just a carry-on. I didn't plan ahead and had to mail myself a box last minute. #regrets.
For more celebrity news, beauty and fashion advice, savvy political commentary, and fascinating features, sign up for the Marie Claire newsletter.
SUBSCRIBE HERE (opens in new tab)
RELATED STORY
Weekend Trip Guide: Where to Stay, Eat, and Drink in Rincón, Puerto Rico
Mehera Bonner is a celebrity and entertainment news writer who enjoys Bravo and Antiques Roadshow with equal enthusiasm. She was previously entertainment editor at Marie Claire and has covered pop culture for over a decade.