Editors handpick every product that we feature. We may earn commission from the links on this page.
7 Best Electric Car Blankets to Keep You Toasty at Every Tailgate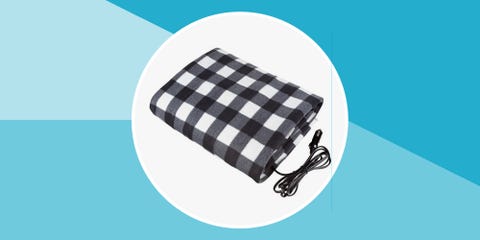 From tailgates and sporting events to your annual winter road trips, there are many reasons to keep an electric car blanket on hand once temperatures start to take a dip. With most options capable of seamlessly connecting to your car's 12-volt socket or USB port, transforming your car into an oasis of cozy comfort is as simple as the press of a button—not to mention much cheaper than splurging on a heated seating upgrade. We've rounded up seven picks that everyone from the energy-conscious to the littlest among us will love this winter season.
1
Best Overall
Stalwart Electric Car Blanket
The Stalwart electric car blanket has everything you're looking for—a long wire for easy use even in the backseat, a soft-to-the-touch fleece construction, a quick heat time, and an attractive under $25 price tag. Sounds like a winner to us!
2
Best Splurge
The Cozee Battery Operated Heated Blanket
If you're willing to splurge a bit, the Cozee is as top-of-the-line as it gets. Utilizing a rechargeable battery, this heated blanket is great for travelers who aren't too keen on wires or using their car's battery. With a soft, fleece interior lining and a convenient battery pack carrying pocket, this is the most portable option on our list.
3
Best Value
Roadpro 12-Volt Polar Fleece Heated Travel Blanket
Get the most bang for your buck with the Roadpro 12-volt heated travel blanket. Coming in at just under $30, this polar fleece spread has an 8 ft. power cord for easy maneuvering in any vehicle.
4
Best Settings
Sojoy 12-Volt Multifunctional Travel Electric Blanket
If safety and customization are your chief concerns, consider the Sojoy travel blanket. Equipped with a thermostat and a three-level heat control system, the Sojoy also features a timer with 30, 45, and 60 minute intervals that will safely turn the blanket off, preventing accidents and a drained battery.
5
Best for Kids
Car Cozy Heated Travel Blanket
Keep your little ones snug in the backseat with the Car Cozy. Complete with a safety auto-off feature, this soft-fleece blanket is large enough for up to two people, making it great for long-haul road trips.
6
Best Set
VaygWay Electric Heated Car Blanket Set
Ok, so not everyone likes to share a blanket. To make sure you have enough blankets to keep everyone warm, opt for this set from VaynWay. Coming with two cozy throws, this set will make sure none of your passengers go cold.
7
Best Powerless Pick
Mambe Extreme Weather Blanket
In an emergency, even the best electric car blanket can't come to the rescue. The Mambe Extreme Weather blanket is a great powerless alternative thanks to its heat-reflective lining that helps retain body heat to keep warm in even the coldest conditions. Great for road trips, camping, and misadventures on the road, the Mambe is also weatherproof.
This content is created and maintained by a third party, and imported onto this page to help users provide their email addresses. You may be able to find more information about this and similar content at piano.io