Why Meghan Markle Won't Have a Makeup Artist for the Royal Wedding
This is a very bold move for a very big day.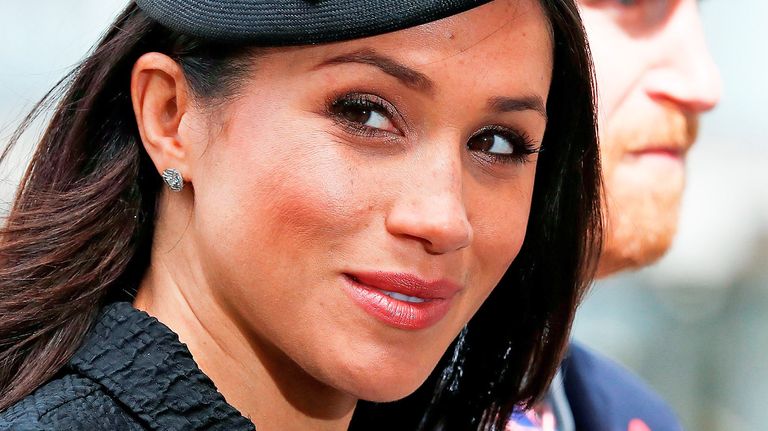 (Image credit: Getty Images)
In case you've been living under a rock in a desolate cave completely cut off from society, you already know that the royal wedding is just days away (i.e. this Saturday, May 19, y'all). And while we've been impatiently counting down, we've passed the time by speculating on how Meghan will wear her hair, who will be walking her down the aisle in place of her father, and, of course, how she'll do her makeup (opens in new tab). Now, thanks to a new report, we know who will—er, won't—be handling Meghan's beauty routine that day.
According to Express, Meghan has chosen not to have a professional makeup artist do her makeup for the wedding, but will instead enlist the help of two "close friends" to do her makeup for her. "She's got two friends doing it for her from America," said the insider. "They're not professionals—just close friends of hers." The source also added that the friends are "coming to stay at Windsor Castle ahead of the wedding, where they will be put up in the staff accommodation."

Though we don't know who, exactly, these friends are, Express notes that Meghan's close friend, Jessica Mulroney—who happens to be a stylist and bridal consultant—was recently spotted at Heathrow Airport in London. So my personal bets are on her.
Meghan's choice isn't too different from what her soon-to-be sister-in-law did for her own royal wedding. As we all—or, okay, maybe just me—remember, Kate Middleton famously did her own makeup for her 2011 nuptials, opting for a wash of rose-pink lipstick, flushed cheeks, and thick brows.
As for the actual look Meghan will opt for on Saturday, experts are speculating she'll keep the makeup close to home. We've already been told by MarieClaire.com's exclusive royal wedding expert Caroline Castigliano that Meghan will be able to "do as she sees fit" with regards to how she'll wear her hair and makeup. And that will probably be a style we've seen her rock in the past.
RELATED STORIES
"I don't foresee her stepping outside the box on a day that will be remembered forever, a day she wants to feel like the best version of herself," says Iconic London makeup artist Lydia Sellers (who has previously worked with Meghan on the set of Suits) in an interview with Zanna Roberts Rassi, Marie Claire's editor at large. "She will, however, want to wear lots of mascara, as she loves a big lash." (Meghan has previously admitted to loving Diorshow Iconic mascara (opens in new tab), along with regularly using RevitaLash (opens in new tab) to grow her lashes).
As for the rest of her makeup, Sellers says Meghan loves a classic, sultry, "subdued-glam" look, and will likely want to keep her foundation sheer and subtle, so her freckles stay visible, while playing up her eyes with "earthy" tones. "Using products with a bronze tint to them is the best way to make the eyes really pop," says Sellers. "She also has the most beautiful face structure, so adding some highlighter to her high cheekbones will definitely enhance them, as well."

Of course, only time will tell what Meghan will actually look like on Saturday—and who will be doing her makeup—but as we've seen in her past, she doesn't tend to experiment with too many daring looks. To see what beauty products Meghan might be using on her big day, check out her (previous) favorite lineup of makeup, below.
Behold: Meghan Markle's 7 Favorite Beauty Products
Image 1 of 8
Fresh Sugar Advanced Therapy Lip Treatment with SPF 15, $26
&#x201C;I have searched high and low and tried every kind of lip balm, but this is the very best,&#x201D; Markle said about this soothing formula in an interview with&#xA0;<a href="https://theladylovescouture.com/meghan-markle-interview-her-beauty-look-more/">The Lady Loves Couture</a>. &#x201C;Soft, kissable, buttery lips. I swear by it.&quot;
Yves Saint Laurent Touche Éclat Radiant Touch Concealer, $28
In the same interview, Markle noted that her all-time favorite beauty product is this classic, light-reflecting concealer, saying, "It blends, it's compact, and if you've worked a 17-hour day and have nothing else on, you will still look relatively alive. Relatively."
Decleor Aromessence Rose D'Orient Soothing Serum, $35
Makeup artist&#xA0;<a href="https://www.instagram.com/minminmadotcom/?utm_source=ig_embed&amp;action=profilevisit">Min Min Ma</a>, who worked with Markle on the set of&#xA0;<em>Suits</em>,&#xA0;<a href="http://www.eonline.com/news/843437/how-to-get-meghan-markle-s-signature-beauty-look">has credited</a>&#xA0;this ultra-calming, rose-infused oil serum as the key to smoothing Markle&#x2019;s skin before applying makeup.
MAC Eye Kohl Pencil in Teddy, $18
To &#x201C;amp up&#x201D; her eye look when she&#x2019;s going out, Markle&#xA0;<a href="https://www.allure.com/story/meghan-markle-suits-beauty-tips" target="_blank">praised</a>&#xA0;this smudgy, gold-flecked brown liner, saying it&#x2019;s what her makeup artist uses on Sofia Vergara, and &#x201C;who wouldn&#x2019;t want those gorgeous brown almond eyes?&#x201D;
Nivea Skin Firming Hydration Body Lotion, $14
&#x201C;I use this religiously; it&#x2019;s honestly my favorite lotion on the market,&#x201D; Markle told&#xA0;<a href="http://beautybanter.com/bathing-beauty-suits-meghan-markle" target="_blank"><em>Beauty Banter</em></a>&#xA0;about Nivea&#x2019;s body-tightening formula. &#x201C;It&#x2019;s so affordable, and makes my skin look and feel amazing. I would buy a case of this at a time if I could find it.&quot;
Charlotte Tilbury Matte Revolution Lipstick in Very Victoria, $34
<a href="https://www.marieclaire.com/beauty/a19619285/meghan-markle-wears-charlotte-tilbury-lipstick/">It&#x2019;s been reported</a>&#xA0;that Markle&#x2019;s iconic nude lips are the work of this cult-favorite matte lipstick in the rosy-brown shade of Very Victoria
​Oribe Dry Texturizing Spray, $46
&#x201C;When my hair is feeling a little weighted, Suanne, my hair artist on set, has me bend forward and she sprays a little Oribe Dry Texturizing Spray...to give my hair a little extra bounce,&#x201D; said Markle to&#xA0;<a href="https://www.birchbox.com/magazine/article/meghan-markle-suits-beauty-secrets??utm_source=linkshare&amp;utm_medium=affiliate&amp;utm_campaign=93xLBvPhAeE&amp;siteID=93xLBvPhAeE-oSBviiZO_wvMnSiH5l_frA"><em>Byrdie</em></a>&#xA0;about this root-boosting spray.
​RevitaLash Advanced Eyelash Conditioner, $150
If the idea of lash extensions scares you, never fear: Markle adds length to her natural eyelashes with RevitaLash growth serum, telling&#xA0;<a href="https://www.allure.com/story/meghan-markle-suits-beauty-tips"><em>Allure</em></a>, &#x201C;I swear [my lashes] are as long as they could ever be.&#x201D;
Chloe Metzger is the deputy beauty director at Cosmopolitan, overseeing the editorial content and growth strategy of the hair, makeup, and skin space on digital, while also obsessively writing about the best hair products for every hair type (curly girl here; whattup), and the skincare routines that really, truly work (follow her on Instagram to see behind-the-scenes pics of that magazine life). She brings nearly a decade of writing and editing expertise, and her work has appeared in Allure, Health, Fitness, Marie Claire, StyleCaster, and Parents. She also has an unhealthy adoration for Tom Hanks and would like to please meet him one day, if you could arrange that. Thanks.