Someone Painted Meghan and Harry's First Kiss on Their Lips and It's Insane
THAT DETAIL, THO.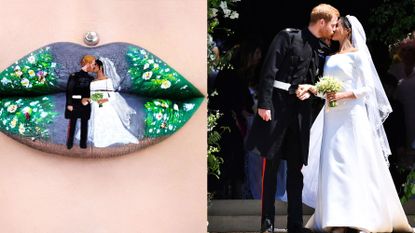 (Image credit: Instagram/Getty)
In case you, for some reason, avoided all social media over the weekend—ahem, the biggest weekend of the entire freakin' year—then let me inform you that the royal wedding happened (opens in new tab), Meghan Markle looked absolutely gorgeous in her chill wedding makeup (opens in new tab) and low, twisted-and-pinned updo (opens in new tab) (which, side note: only took 45 minutes to create (opens in new tab)), and that I'll be obsessively looking at the pictures every week until I die.
But I'm not the only one. Because less than 24 hours after Meghan and Harry tied the knot, the makeup gurus of the world began churning out some of the most insane royal wedding-inspired lewks. Enter: the re-creation of Meghan and Harry's first kiss—painted on someone else's lips. I mean, why the hell not?
Last night, makeup artist Jazmina Daniel posted a photo of her lip art masterpiece on Instagram (opens in new tab), and all I can say is WOW. I literally stared at this photo for a solid three minutes (which is a lifetime on social media, let's be honest). The Queen of Instagram-able lip art wrote, "Meghan Markle and Prince Harry Royal Wedding inspired lip art requested by you guys," and added a break-down of products she used to carefully craft the look, which included a mix of eyeliners and liquid lipsticks.
RELATED STORIES
Other users were just as shocked by her lip art, too, commenting, "The lip queen recreating the Royal wedding on her lips... the irony," and "Holy mother the DETAILS."

I honestly wonder if Daniel started painting her lips right after the new Duke and Duchess of Sussex (opens in new tab) first smooched? Because that amount of detail must have taken a crazy-long number of hours to do. Everything from Harry's scruffy, red beard (which he got to keep (opens in new tab) for the wedding, by the way) to Meghan's one stray hair in her updo is 100 percent spot on. And for that, I'm in love.
See the actual picture of the newlyweds' first kiss, below, for comparison, and prepare to stare for a whole three minutes like I did.
---
RELATED STORY
---
I'm currently working at Dotdash Meredith as the Celeb & Entertainment E-Commerce Lead contributing affiliate content for People.com and InStyle.com. I'm basically like your personal shopper, from writing about that cozy loungewear set you didn't know you needed to keeping tabs on the best sales and deals on the internet. I'm also a pro at finding affordable dupes for celebrity looks and I love to dig into the data to strategize content opportunities.