Why Naturopathica's Chill Full Spectrum CBD & Kava Balm Is Worth It
My honest take on why you should spend your money on this lotion.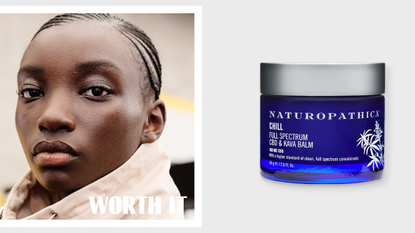 (Image credit: Design By Morgan McMullen)
Hi you beautiful human, welcome back to Worth It, my bi-weekly breakdown of the absolute best new beauty product I've tried. Sure, splurging on makeup or skincare is a risk, but trust that this beauty editor will only recommend something I wholeheartedly believe is worth every penny. Because you deserve the best of the best. Keep reading to discover the one product you do not want to miss out on, and catch up on the latest Worth It breakdown, here.
Naturopathica Chill Full Spectrum CBD & Kava Balm
THE PROMISE:
Sometimes, dry skin needs more than a simple lotion, especially during the winter. Growing up with intense eczema, I've endured the harsh elements of this extremely dry season my whole life. And I've come to know that I prefer heavier, weightier textures, like body balms, to get me through. This CBD-infused balm is exactly what the doctor ordered: a chill pill in a bottle.
CBD is hyped a lot lately, but Naturapathica doesn't use typical CBD. This balm is made with 100mg of non-psychoactive, isolate-free cannabinoids that have been carbon dioxide extracted, which the brand notes is one of the cleanest methods for creating highly potent, hemp flower–sourced CBD. It's accompanied by good-for-you ingredients, like vitamins, minerals, omega fatty acids, chlorophyll, and flavanoids.
If you're dealing with tense muscles, sleep deprivation, or just a damn stressful day, this silky balm will do the body (and mind) good. How you apply it is entirely up to you. You can give yourself a full rub-down or double-up on specific pressure points that need some extra loving. Expect to be zenned and highly moisturized when you're all done.
WHY I'M OBSESSED:
I've been considering going to a chiropractor or a physical therapist for a while. Computer posture and my perpetual bag-lady-lugging ways have not kept my back in the healthiest state. My body often feels tense and overworked. To relieve my stiff muscles, I treat myself to a massage monthly. Not only does my mind drift away into a deep state of relaxation, but my body is left feeling completely stretched and flushed-out. I experienced one of the best massages of my life at Naturopathica's new upper east side studio, thanks to this CBD Balm.
The massage therapist started by explaining the ways in which this balm would deeply penetrate my skin and instantly calm my muscles. She was right. I think my body and mind transcended to another, more blissful place during the massage, but what I know for sure is that, afterwards, my skin felt like the softest cloud had kissed it. My inherently dry skin drinks up moisture fast, but this balm provides the kind of hydration you can feel remnants of the morning after.
The honest truth: I'm not CBD-crazed. It's just not something I'm obsessed with and it's hard for my skeptical self to really believe that ingredient is actually doing something. Still, whether it's the CBD or something else, this balm truly works and I can't get enough of it.
For more stories like this, including celebrity news, beauty and fashion advice, savvy political commentary, and fascinating features, sign up for the Marie Claire newsletter.

MORE PRODUCTS I BELIEVE ARE WORTH IT
Maya Allen is the former Digital Beauty Editor at MarieClaire.com where she covered makeup, skincare, haircare, wellness, you name it! She has a 15-step skincare routine, owns over 200 red lipsticks, and enjoys testing the latest and greatest in beauty. On most weekends, you can find her at her happy place, which is her makeup vanity. There, she's usually blasting her speakers while singing along to lyrics at the top of her lungs, and making sure her highlighter is on point.