The Thigh Chafing Products I Swear By
It's the summer of fun! Not the summer of inner thigh rashes.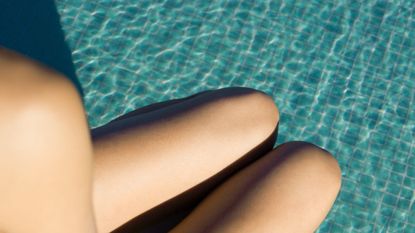 (Image credit: Frederic Cirou)
First things first, I love my thighs. I truly do! They just don't like each other—or, at least that's what I tell myself when I wear shorts and they inevitably meet and immediately give me a rash so painful I wonder if I'll ever bare my thighs of glory again. Plot twist: I do show off my thighs and will continue to do so, but that pesky thigh chafing also known as "chub rub" always manages to show up to the party uninvited.
Unfortunately, this happens to everyone—all body types included—and can be a real downer in the summer. Chafing: summer's worst woe, results from skin-on-skin contact, leaving your skin irritated and you with a pretty bad rash. There are tons and tons of products on the market that say they help with chafing, but what actually works? Ahead, I dive into my journey for bump-free summer skin, and tell you the five products that truly help me have a summer filled with memories, not thigh rashes.
This Vegan Powder
Back in high school, I confided in a close friend to see if he knew anything that would help end my chafing madness. Lucky for me, he did, and he introduced me to Lush's Silky Underwear powder. He said it was like fancy baby powder, but without the horrors of talcum found in some powders. Instead, this vegan product had a cornstarch and kaolin base that absorbs moisture ethically and leaves the softest touch.
I was sold and excited to get away from what I was using at the time (more on that later). I went home, shook the bottle about three or four times so the product would land in my hand, and then applied it where necessary. To my surprise: It worked! My skin in the inner part of my thighs felt as smooth as butter, while the jasmine and vetiver scent wasn't half bad either. Needless to say, this product has stuck around and become a staple in my skincare routine.
These Shorts
Alright, so remember when I said I was looking forward to getting away from that other option? This was it: These magical shorts from Jockey, which have a long, seam-free design that is a godsend in the fight against chafe. They were my go-to staple in middle school when I wore skirts or dresses to school because 1) helped with chafing 2) gave me extra security knowing half the school wasn't going to see my days of the week underwear if I magically tripped down the stairs.
These shorts have come a long, long way with their technology and now have a mesh wicking fabric with breathable mesh panels that would have definitely kept me cooler in the Texas heat. They're also more size-inclusive now then they were in my heyday and have a range from S-XXXL. From time to time, I still wear these, but when I want to get a little more ~flirty~, I stick to another option, thigh bands.
These Thigh Bands
Ah, thigh bands! These little sexy-looking tools are the sleeker option when it comes to minimizing the good old' chafe, especially if you're wearing shorter dresses and skirts. When I first tried them out, I was nervous about how they would hold onto my thighs all day because this girl is always on the go. (Oh, I miss those days.) So, imagine my surprise when I got my Bandelettes in the mail, and I realized they had silicone on the inside at top and bottom to prevent slippage.
They held up all day, and I would even barter sizing down by one just so they're extra tight, but they'll totally hold in your usual size too. The product runs from S-XXXL, just like our loyal Jockey's shorts. I've had mine for over a year, and they still hold up! So while the price of $20ish may seem steep for two pieces of fabric, know you're getting your money's worth.
This Original Tool
If your thighs rub together and you have internet access, you probably know of the deodorant trick. It's the most cost-effective tool since you're always using it for your underarms, who's to stop you from applying it to your inner thigh skin? This was everything to me when I was younger because I felt like I had found the world's best beauty hack, and it was all mine!
News flash: It wasn't, and this tip has been passed around for what feels like forever, making it the O.G. fighter in the battle against the thigh chafe. Just remember when applying, make sure you're skin isn't broken! Some things in deodorants aren't meant to get inside your skin, only rest on top. When your skin is broken, try using the two clothing options on this list.
This Holy Grail Stick
When I told everyone I was writing about my chafing woes, multiple people shouted out, "have you tried Megababe?" I indeed had not, but after one use on a hot summer day in Houston, I understood the fascination with the product. This non-toxic anti-friction stick is composed of aloe, grapeseed oil, and antioxidant-rich vitamin E that creates a barrier that sits on top of your skin. This allows your thighs to rub together in holy matrimony, and you can go on about your day pain-free.
It's a fantastic product that did require me to apply about two to three times throughout my sweat-filled day, but by the end of the day, I was left with no bumps! To get the most out of your product, make sure not to leave it out in the heat, for it will melt, as all good things do in the summer. Here's to another summer of being chafe-free!
RELATED STORIES
Celebrity news, beauty, fashion advice, and fascinating features, delivered straight to your inbox!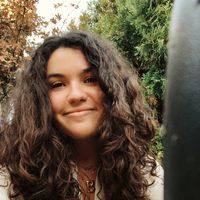 Bianca Rodriguez is the Fashion & Luxury Commerce Manager at Hearst Magazines, covering fashion, beauty, and more for Cosmopolitan, Elle, Esquire, Harper's BAZAAR, and Town & Country. She likes lounging about with a good book and thinks a closet without platform sneakers is a travesty.