Jenna Lyons Is Here to Style Your Life
From red lipstick to slicked hair the former J.Crew creative director and star of Stylish with Jenna Lyons shares her beauty routine for Beauty Around the Clock.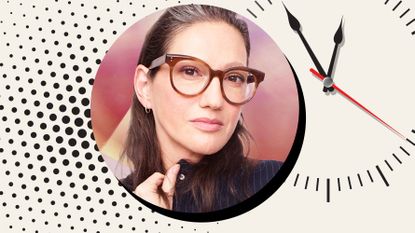 (Image credit: Mei Tao/Hanna Varady)
"I didn't want to make clothes anymore," says Jenna Lyons, the influential former president and creative director of J.Crew. And so, three years ago, she stopped. "I so appreciate having that moment to check in with myself and think, What do I actually enjoy? Now I'm really happy." Though she admits to fumbling around before figuring out her next endeavors, Lyons has spent 2020 in hustle mode: She just launched Loveseen, a beauty brand with makeup artist Troi Olivierre, is designing a furniture line and a boutique hotel in the Bahamas, and her eight-episode show, Stylish with Jenna Lyons, debuts on HBO Max on December 3. "I never thought I would do a television show. It was just because I took a meeting," she insists. "Don't be shy. I've had a lot of insecurity for a really long time. And I'm getting used to being scared." Here, Lyons shares a snapshot of her day.
The time I wake up? As late as humanly possible. Optimal hours of sleep: 14. Typical? Five to six.  The first thing I always do is check on my son and walk my pup. 
How long it takes me to get ready currently depends on my Zoom schedule, who I'm meeting [with], and how glamorous I know they're going to look—ultimately, whether they expect to see my face or not. Skincare is Arcona Brightening Gommage and Biologique Recherche Masque Vernix. I top it all with Creed Silver Mountain Water.
Makeup—first and foremost, I apply my LoveSeen lash in Cate in brown. I have barely any eyelashes so this is essential to make me look awake. Then it's red lips [Nars in Red Square], slicked-back hair. This is a formal PSA for M.O.P. to reinstitute Glisten because I buy it on eBay for, like, $80. Eyeliner is  liquid. Always.  Nails are bare or red, nothing in between.
Hair situation? A black rubber band. 
Iced latte. 
My favorite thing is Dior Airflash and a foundation sponge—it takes two seconds and makes you look ten times better. 
Favorite is a strong word. Something I do now is Melissa Wood Health [a low-impact, mostly body-weight workout], although I don't understand how she can do all of the things she does. What I miss the most is OrangeTheory. 
David Bowie

J.Crew/J.Crew
If it feels wrong, it's wrong. 
[Making] Pavlova.
Yoga instructor.
A Joanna Czech facial.
Always a navy smoky eye. And at night I up my lash to a fuller look with the Romy in black.
The Gap Band, Stevie Wonder, The National, Gil Scott-Heron, Curtis Mayfield, Billie Eilish, Florence and the Machine, Amber Mark, Lizzo, Rihanna, Unions, Frank Ocean, Jessie Ware, and Young T & Bugsey. 
Shower at night, always. I hate morning showers and like to go to bed clean. My hair dries better on my pillow. Favorite shampoo and conditioner are from Ouai and Le Labo. I find they work the best. 
Lip balm, eye cream, water. 

My typical bedtime is 1:30 a.m. The last thing I do before bed is check my schedule for the next morning. Then I pray to the Instagram gods.

This post has been updated to reflect the new premiere date of Stylish with Jenna Lyons.
RELATED STORIES