Christina Hendricks Spills Her Skin Secret Backstage During #NYFW
Kate Middleton's favorite designer drew an A-list crowd.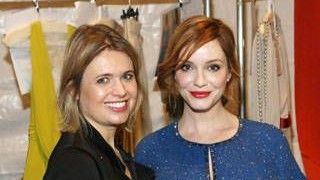 (Image credit: Getty Images)
What is more intimidating for a Sports Illustrated swimwear supermodel: Being photographed in a tiny bikini or walking the runways of New York Fashion Week?
"Great question!" said SI star Julie Henderson. "I'm a beach girl, so definitely walking the runway for all the editors is a lot scarier."
Henderson watched along with Christina Hendricks and Louise Roe as Jenny Packham sent a series of luxe gowns down her SS14 runway yesterday.
We chatted with Mad Men star Christina Hendricks, who, up close, has a flawless porcelain complexion. What's her beauty secret? "I moisturize like crazy," she said. "That's my big thing."
What did she think of Jenny Packham's collection? "Spectacular and fantastic," she enthused. Hendricks told us that her other shows this week included Christian Siriano, Zac Posen, Carolina Herrera, and Wes Gordon. "I'm only choosing designers that I'm really a fan of, so I'm excited."
As for a sneak peek at Mad Men's upcoming season, Hendricks told us that she didn't know anything at all. "If I said a word, I'd get fired, then shot. So it's better they don't tell me anything!"
Hendricks is currently on hiatus from Mad Men. "I start shooting a film called Dark Places on Friday. That's why I'm blonde right now." (Actually, strawberry blonde). The film, due out next September, is a thriller that also stars Charlize Theron, Nicholas Hoult, and Chloë Grace Moretz. In it, Theron plays a woman whose family was murdered when she was a child.
"Gilles Paquet-Brenner is the director," noted Hendricks, "And I play Charlize Theron's mother." But both actresses are the identical age—38!
Hendricks laughed, "It's not as bad as it sounds. I play Charlize's mother in childhood flashbacks."
Celebrity news, beauty, fashion advice, and fascinating features, delivered straight to your inbox!