Dolly Parton Used to Forage in the Woods for 'Natural' Beauty Products
Her first fragrance was mashed up honeysuckle.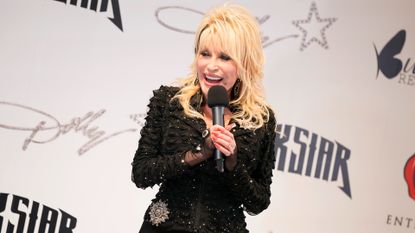 (Image credit: Getty)
A signature look doesn't necessarily take a village or array of fancy products to create. It can be as simple as the way you part your hair or do your eyeliner. No one knows this better than Dolly Parton, who knew exactly who she wanted to be—and what that version of herself would look like—from an early age. In her new book, "Behind the Seams: My Life in Rhinestones," the 77-year-old recounts the steps she took to beautify herself as a young woman growing up in rural Tennessee, including foraging in the woods for her own beauty products.
"If a girl has dreams and creativity, she can come up with all kinds of ways to look, and feel, pretty when she doesn't have the real thing. I used to squash up honeysuckle blossoms to make perfume," the Grammy winner writes. "And pokeberries! Pokeberries were major because you could mash them up and make a stain that—boy!—takes forever to come off. I would paint my lips with that." (Fun fact: Parton's Tennessee Sunset perfume features honeysuckle as a top note.)
A photo posted by dollyparton on
As for her hair, Parton would weave in flowers and twigs throughout to "look better or different." If she needed some jewelry, berries and other woodland finds could easily be strung along heavy thread with her mom's "big sewing needles."
When she'd exhausted the wilderness, the "I Will Always Love You" singer also turned to her home for her makeup needs, using flour as face powder and (don't try this at home!) antiseptics as lipstick.
"I also used household goods to make homemade cosmetics. I'd strike one of Mama's long wooden kitchen matches, put a little spit on the end of it, and use that to color in my eyebrows and my beauty mark. Mama always kept bright-colored Merthiolate or Mercurochrome to put on our cuts. Since I didn't have lipstick, I tried putting it on my lips. Merthiolate was more orangey and it burnt like hell. Mercurochrome was redder and didn't sting as much," she continues.
When she was told to take her makeup off, Parton would insist it was her natural color. While her parents saw through the lie, the "9 to 5" actress knew there was a glimmer of truth behind it. From an early age, she worked hard to look the way she saw herself.
"Much as the fictional characters that populate my songs uncover essential truths about me and the people I've known, my clothes and make-up also reveal the real me," she writes. "Maybe they're both 'made up,' but they reflect my innermost self, my own personal truth."
Marie Claire email subscribers get intel on fashion and beauty trends, hot-off-the-press celebrity news, and more. Sign up here.