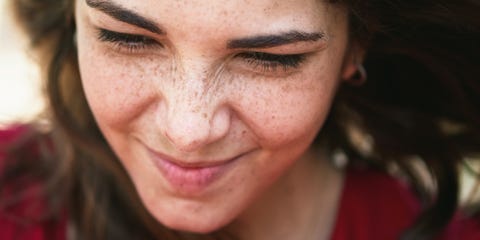 Acne straight-up sucks. And trying to find a fix can feel like a hugely overwhelming and impossible task, mainly because you've got approximately one-trillion drugstore options to choose from.
So we did the annoying work for you and found the top-rated, best-of-the-best products that real people swear by. And then, for good measure, we got their glowing reviews for you, too. Find your new clear-skin lineup, ahead, and finally feel like puberty is behind you.
1
These Fast-Acting, Pre-Soaked Acne Pads
Neutrogena Rapid Clear Maximum Strength Treatment Pads, $7
"Eight hours? Try eight MINUTES! I have a night-out planned, and, of course, a huge pimple just popped up this morning. After applying [this] to my whole face, I also held the pad to my honker for a couple of minutes, hoping it would increase efficacy. And within that time, my big white-head-that-still-won't-extract has completely deflated with no evidence that there was ever a bump to begin with.
I'm so impressed that I had to write my review immediately. For context, I am 28 with sensitive combination skin and very mild adult acne. There is a tingle, so if you are extremely sensitive, definitely patch test first! Haven't use Neutrogena since my early teens, and I cannot believe these results aren't from a luxury line!" —Claire M.
2
This Prescription-Strength Retinoid Gel
Differin Adaplene Gel 0.1% Acne Treatment, $12
"This stuff works! You just have to stick with it, even if you feel like crap when you break out the first month. You just wake up one morning with great skin. I've struggled with bumps under my skin and acne since I was 16. I'm 27, and this is the smoothest my skin has looked. Still purging all the very deep blackheads, but now I know I can trust it. I'm on week 6. Don't give up." —Melissa C.
3
The Natural Spot Treatment
Alba Botanica Acnedote Invisible Treatment Gel, $9
"I have adult cystic acne and whiteheads along my jaw and cheeks, and...I have never had great skin until now. I LOVE this spot treatment. I have had a few minor breakouts (a single pimple here or there), and this GREATLY minimized it and seemed to stunt its further growth, making the process nearly painless.
And those few pimples did not [scar like] previous breakouts would. If I see so much as an irritated area, or if I have extracted a whitehead, I sanitize the area and apply this, and it's always a huge improvement by end of day." —KC
4
This Willow Bark-Infused Spot Treatment
Burt's Bees Natural Acne Solutions Targeted Spot Treatment, $9
"This is my second bottle of BB's spot treatment, and it's my absolute favorite. It deals with sudden breakouts wonderfully, especially when used overnight. I tried a lot of topical treatments before, most of them gel-based, but they left shiny spots on the skin and didn't work all that well. If you do research on this one's ingredients, you'll see why it works so well!" —Kira
5
This Calming and Acne-Killing Toner
Thayers Alcohol-free Rose Petal Witch Hazel, $9
"This product is absolutely AMAZING. I've dealt with adult onset acne for the past few months, and this is the main reason why my skin is healing...This has changed my skin for the better! Its smell is soft and lovely—a light, clean, rose scent. I usually don't like rose-scented anything, but this is mild and oh-so fresh. I love it.
This product, if used ritually, will clean and tone your skin; I haven't had a pimple in over a week. I've tried cheap Target products, to prescriptions, to high-end expensive items from Sephora. Nothing compared to this!" —OhElleMarie
6
This Salicylic Acid-Spiked Gel
Clean & Clear Advantage Acne Spot Treatment, $6
"This stuff is great [and] my husband loves it, too. It's good for not only spot treatments, but for prevention as well. If I notice some clogging when a future breakout may occur, I apply this [and] it will clear the clog completely. It also has a nice smell. Highly recommend." —Nicolette S.