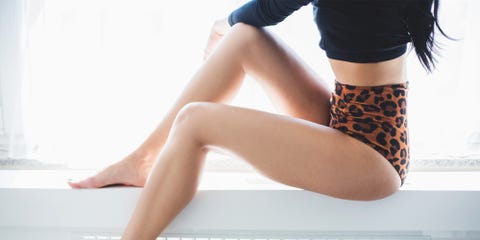 Call us lazy, but after experiencing the many pitfalls of shaving (ingrown hairs, redness, irritation, and speedy re-growth), we're contemplating alternative methods of hair removal this season. And since professional laser hair removal isn't the most budget-friendly option (initial sessions can cost upwards of $600), we're looking at the next best thing: at-home laser hair removal gadgets.
We need to reassert, though, that body hair is a completely natural, normal, wonderful thing, and you should absolutely not feel compelled to remove it if you don't want to—it's a personal choice. But if you're into the idea of laser hair removal, and you're a little freaked about the idea of doing it at home, we've got you covered. We chatted with two top dermatologists to break down the best devices that really, truly work.
1
Remington iLight Pro Plus Quartz Hair Removal System
Remington iLight Pro Plus Quartz Hair Removal System, $243
According to Rosemarie Ingleton, M.D., dermatologist and medical director of Ingleton Dermatology, the majority of at-home hair removal devices don't actually use lasers, but Intense Pulse Light (IPL), a technology that targets your hair's melanin to permanently destroy the hair follicle after repeated treatments.
Ingleton's favorite IPL device? The Remington iLight Pro Plus. "Not only does it give off a total of 30,000 pulses before it needs to be replaced, but its design allows for the easiest and fastest treatment of larger areas of skin," she says.
But, like many IPL and laser devices, the Remington iLight isn't safe for darker skin tones, she notes. "Most devices will actually block you from starting a treatment if your skin or hair color isn't the ideal mix," she explains, as darker skin tones are at a higher risk for burning, since the light can't differentiate between hair and skin.
2
Silk'n Infinity 400,000
Silk'n Infinity 400,000, $350
"The Silk'n Infinity also uses IPL light, but unlike the Remington, it's safe for all skin colors," says Dr. Ingleton. The petite, circular design allows for easy, all-over treatments, and it's also equipped with five energy-level settings for a genuinely customizable experience.
If the steep price tag turns you off, Dr. Ingleton adds that the Silk'n Infinity's lifespan makes it worth the investment to her. "It stores 400,000 pulses before it dies, so it's going to last significantly longer than most devices," she explains.

3
Tria Hair Removal Laser 4x
Tria Hair Removal Laser 4x, $449
Just short of $450, the Tria will cost you a pretty penny—but seeing that it's the first and only FDA-approved laser for at-home use, it's become a favorite among derms and patients for legit, professional-level results. "I'm a fan of this device because it has high energy levels and it's super easy-to-use," says Rachel Nazarian, M.D., dermatologist at the Schweiger Dermatology Group.
With five energy-level settings and an LED display that guides you through each treatment, the Tria is pretty much the ideal introduction to at-home hair removal. "As with all laser hair removal devices, I recommend working with clean, freshly shaven skin. Make sure that you aren't able to see hair above skin level," Dr. Nazarian says.
4
​Remington iLight Ultra Face and Body Hair Removal System
Remington iLight Ultra Face and Body Hair Removal System, $449
"The best part about this device is that you can use it on your face," says Dr. Ingleton. Look to this gadget to target hair on you chin, neck, upper lip, and sideburns, but steer clear of your eyes—direct exposure to IPL and lasers can cause eye trauma and, in some cases, blindness.
It's also important to note that IPL and laser technologies aren't as effective on lighter hair colors (especially blonde, red, and gray), which means this device unfortunately won't do much for lightly colored peach fuzz.
5
​Illuminage Touch Permanent Hair Reproduction System
Illuminage Touch Permanent Hair Reproduction System, $445
The Illuminage Touch offers high-power IPL technology, 120,000 pulses, and the ability to target blonde and red hair follicles, making it a force to be reckoned with.
For ultimate results, this gadget should be used only once a week for six to seven weeks. "Consistency is important—you will only see results if you continue to use these products regularly and as directed," says Dr. Nazarian. "Even though progress is slow, you will see results."
On that note, make sure to read the instructions thoroughly on whichever device you choose. Every device is a little different, but if actually follow the directions, we think you'll quickly get hooked on your smooth-as-hell skin.