Editors handpick every product that we feature. We may earn commission from the links on this page.
The Only At-Home Laser Hair Removal Devices That Work, According to Derms
The best of the best gadgets, according to dermatologists.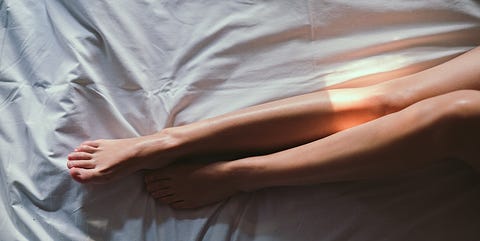 After experiencing the many pitfalls of shaving (ingrown hairs, redness, irritation, and speedy re-growth), we're contemplating alternative methods of hair removal this season. And since professional laser hair removal isn't the most budget-friendly option (initial sessions can cost upwards of $600), we're looking at the next best thing: at-home laser hair removal gadgets.
We need to reassert, before we go any further, that body hair is a completely natural, normal thing, and you should absolutely not feel compelled to remove it if you don't want to—it's a personal choice. (If you're a body hair, don't care kind of person, more power to you!) But if you're into the idea of laser hair removal, want to save some money, but are a little freaked about the idea of doing it at home, we've got you covered.
New York-based dermatologist Josh Zeichner, MD, considers at-home lasers a safe alternative. "Lasers work by emitting a beam of light that is absorbed by a specific target in the skin," Dr. Zeichner explains. "In this case, the light is absorbed by pigment in the hair follicle to heat it up and destroy it, so the hair does not grow back. At-home devices work similarly to professional treatments, but use lower energy levels. They are more time-consuming to use, but can help. They are also a great option to maintain improvements between professional treatments." (As an interesting FYI, Dr. Zeichner adds that, "Each treatment causes some degree of damage to the hair follicle resulting in thinner hair, and it often takes multiple treatments to completely remove hair. For this reason, the term laser hair removal is a bit of misnomer, and it should probably be called laser hair reduction.")

Along with Dr. Zeichner, we chatted with Howard Sobel, M.D., NYC dermatologist and founder of Sobel Skin, Rosemarie Ingleton, M.D., dermatologist and medical director of Ingleton Dermatology, and Rachel Nazarian, M.D., dermatologist at the Schweiger Dermatology Group, to tell us the best devices that really, truly work.
This Fast-Working Device
Remington IPL6000Q iLIGHT Pro Plus Quartz
Remington
amazon.com
$419.99
$297.21 (29% off)
According to Ingleton, the majority of at-home hair removal devices don't actually use lasers, but rather Intense Pulse Light (IPL), a technology that targets your hair's melanin to permanently destroy the hair follicle after repeated treatments.
Ingleton's favorite IPL device? The Remington iLight Pro Plus. "Not only does it give off a total of 30,000 pulses before it needs to be replaced, but its design allows for the easiest and fastest treatment of larger areas of skin," she says.

But, like many IPL and laser devices, the Remington iLight isn't safe for darker skin tones, she notes. "Most devices will actually block you from starting a treatment if your skin or hair color isn't the ideal mix," she explains. Darker skin tones are at a higher risk for burning, since the device can't differentiate between hair and skin.
This Customizable Device
Silk'n Infinity 400,000
Silk'n
amazon.com
$399.00
"The Silk'n Infinity also uses IPL light, but unlike the Remington, it's safe for all skin colors," says Dr. Ingleton. The petite, circular design allows for easy, all-over treatments, and it's also equipped with five energy-level settings for a genuinely customizable experience.
If the steep price tag turns you off, Dr. Ingleton adds that the Silk'n Infinity's lifespan makes it worth the investment to her. "It stores 400,000 pulses before it dies, so it's going to last significantly longer than most devices," she explains.

Zeichner is also a proponent of this device. "This laser emits a broad spectrum of light, rather than a single wavelength. The technology, known as intense pulsed light, can be used across a variety of skin types, even those with an olive complexion."
This Derm-Approved Device
Tria Beauty Hair Removal Laser 4X for Women and Men
Tria Beauty
amazon.com
$449.00
Just short of $450, the Tria will cost you a pretty penny—but seeing that it's the first and only FDA-approved laser for at-home use, it's become a favorite among derms and patients for legit, professional-level results. "I'm a fan of this device because it has high energy levels and it's super easy-to-use," says Nazarian.
With five energy-level settings and an LED display that guides you through each treatment, the Tria is pretty much the ideal introduction to at-home hair removal. "As with all laser hair removal devices, I recommend working with clean, freshly shaven skin. Make sure that you aren't able to see hair above skin level," Dr. Nazarian says.
This Safe Option
Remington iLIGHT Ultra Face & Body At-Home IPL Hair Removal
Remington
amazon.com
$345.95
"The best part about this device is that you can use it on your face," says Dr. Ingleton. Look to this gadget to target hair on you chin, neck, upper lip, and sideburns, but steer clear of your eyes—direct exposure to IPL and lasers can cause eye trauma and, in some cases, blindness.
It's also important to note that IPL and laser technologies aren't as effective on lighter hair colors (especially blonde, red, and gray), which means this device unfortunately won't do much for lightly colored peach fuzz.
This Skin-Tone Inclusive Device
Permanent Hair Reproduction System
​Illuminage Touch
skinstore.com
$449.00
The Illuminage Touch offers high-power IPL technology, 120,000 pulses, and the ability to target blonde and red hair follicles, making it a force to be reckoned with.
For ultimate results, this gadget should be used only once a week for six to seven weeks. "Consistency is important—you will only see results if you continue to use these products regularly and as directed," says Dr. Nazarian. "Even though progress is slow, you will see results."

Zeichner adds that this device uses intense pulse light to treat unwanted hair across a variety of skin types and hair color.

On that note, make sure to read the instructions thoroughly on whichever device you choose. Every device is a little different, but if follow the directions, we think you'll quickly get hooked on your smooth-as-hell skin.
This Hair Follicle Zapper
Hair Removal Laser 4X for Women and Men
Tria Beauty
amazon.com
$449.00
Dr. Zeichner is also a fan of the Tria. "This can be used both on dark and light hair, although it will not work on white hair," Zeichner explains. "It is a true laser as opposed to other devices that use a broad spectrum of light."
Dr. Sobel suggests trying the Tria laser as well. "The technology safely delivers over three times more hair-eliminating energy than other at-home hair removal devices, making it the most powerful at-home hair removal device," Dr. Sobel explains. "It targets and permanently disables the hair follicle to stop hair growth on the body for permanent results and is gentle enough to remove unwanted hair on the face for women. However, it's only designed to work on light brown to black body hair. Lighter hair colors such as white, blond, red, or gray will not absorb enough of the laser's energy to disable the hair follicle. For best results, treat the area once every 2 weeks until desired result has been reached. It's important to point out that at-home laser devices are not for everyone, make sure to speak with your dermatologist if you have any questions or concerns."
This Targeted Applicator for Hard-To-Reach Areas
Precision Hair Removal Laser for Women and Men
Tria Beauty
amazon.com
$299.00
This hand-held device has a pointed applicator to reduce hair in harder-to-get-to areas. "Because of its small size, this device is a good option to treat areas of the skin that have contours, like the upper lip," Dr. Zeichner confirms.
Dr. Sobel concurs: "This is a great option for smaller areas on the face or neck since it uses diode technology, which is similar to in-office technology for laser hair removal. Most other home devices typically use IPL technology, which does not always target the hair follicle as specifically as the diode wavelength." So if there's one spot bugging you, employ this guy.
This High-Tech Applicator
Flash&Go Compact Hair Removal Device
Silk'n
nordstrom.com
$199.00
This FDA-approved device is another compact-sized tool that packs a powerful punch when it comes to removing hair—fast. It glides over your skin accompanied by its 150,000 pulses per minute. Holding it down to target one hairy spot is super-easy. "This new compact version uses light-based technology, which is FDA-cleared for permanent hair reduction for the entire face and body," Dr. Sobel explains. "I like that it features a new high-tech applicator that allows you to properly target and zone in on smaller area such as the upper lip, arms, or bikini area."
To see long-lasting results, employ this device every other week for two months. "This device is ideal if you have dark hair and can be used both on the face and on the body," Zeichner adds.
This Cost-Efficient Option
Laser Hair Removal For Women
MiSMON
amazon.com
$189.99
Here, loyal readers, is an editor's pick that wouldn't be right not to include. Honesty moment: I'm really hairy and I've tried a lot of "hair removal" tactics that have failed me tremendously. This shiny rose gold device, on the other hand, did not and is worth giving a glowing review. First off, it's rather inexpensive compared to its counterparts. Secondly, thanks to the LCD screen you're able to monitor the number of flashes on the skin so you'll never go overboard, which is best for a beginner like me.
This Amazon Fan Favorite
Lumea IPL Hair Remover For Body, Face And Bikini
Philips
amazon.com
$499.00
Abe Ayesh of Eternal Hair & Esthetics is a big fan of the Phillips Lumea: "Philips is high quality, particularly their hair removal and grooming function. They have a 4.5 star rating on Amazon, too." Also, if you're worried about your hair growing back in .5 seconds, rest assured that the Salon IPL technology in this device, prevents hair regrowth overtime.
•••
For more stories like this, including celebrity news, beauty and fashion advice, savvy political commentary, and fascinating features, sign up for the Marie Claire newsletter.
This content is created and maintained by a third party, and imported onto this page to help users provide their email addresses. You may be able to find more information about this and similar content at piano.io