The 14 Best At-Home Laser Hair Removal Devices, Selected by Dermatologists and Editors
You've got time and hair, we've got expert-vetted suggestions.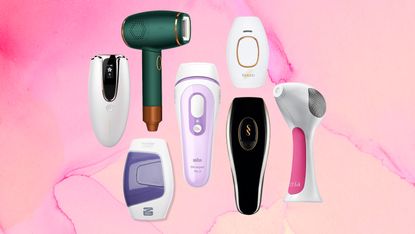 (Image credit: Jonelle Afurong; Future )
After experiencing the many pitfalls of shaving (ingrown hairs, redness, irritation, and speedy re-growth), we're contemplating alternative hair removal methods this season. Since professional laser hair removal isn't the most budget-friendly option (initial sessions can cost upwards of $600), we're looking at the next best thing: the best at-home laser hair removal devices.
We need to reassert, before we go any further, that body hair is a completely natural, normal thing, and you should absolutely not feel compelled to remove it if you don't want to—it's a personal choice. (If you're a body hair, don't care kind of person, more power to you!) But if you're into the idea of laser hair removal, are over trying to find the best razors, waxing kits, or epilators, want to save some money, but are a little freaked about the idea of doing laser hair removal at home, we've got you covered.
An Overview of the Best Laser Hair Removal Devices
Best Deals on Laser Hair Removal Devices
How Does Laser Hair Removal Work?
New York-based dermatologist Joshua Zeichner, MD explains: "Laser hair removal is a treatment where a laser is used to permanently destroy the hair follicle and remove the hair. A laser is a beam of light of a single wavelength that is absorbed by a specific target in the skin. In the case of hair removal, the light is absorbed by pigment within the hair follicle itself. As the laser destroys the follicle, it will not grow back, giving a permanent effect. This is true whether you are getting a professional or an at-home treatment."
IPL vs. Lasers
You'll see the acronym "IPL" on some of the devices on this list. While sometimes used together, IPL devices work a little differently from lasers. "IPL stands for intense pulsed light," says Dr. Zeichner. "This technically is not a laser since it emits multiple wavelengths of light. A laser, on the other hand, emits only a single wavelength."
Why the distinction? Since there are several ways to remove hair at the follicle, different devices (and light wavelengths) are used. "One is not necessarily better than another, and it really just depends on what type of technology a company chooses to use," Dr. Zeichner says.
How Long Does Laser Hair Removal Last?
"The term laser hair removal is a bit misleading, as it really should be called laser hair reduction," notes Dr. Zeichner. "In some cases it may be difficult to fully remove hair completely." He also says that "the lasers definitely decrease the density of hair and the thickness of each individual hair," and that "it takes multiple treatments to give the results most people are looking for"—so, as with most pricey beauty treatments, it's best to stay patient when waiting for your results.
"Each treatment will partially destroy the follicle, so repeated treatments are often needed for the full effects," he explains. "The difference between at-home and professional strength treatments is the energy level of the laser. At-home devices have much lower energy levels to make sure they are safe to use at home, unsupervised. As a result, these treatments are slower to work and require more sessions to give noticeable improvements."
Are At-Home Laser Hair Removal Devices Safe?
Dr. Zeichner considers at-home lasers a safe alternative to in-office treatments. "At-home devices work similarly to professional treatments, but use lower energy levels. They are more time-consuming to use, but can help. They are also a great option to maintain improvements between professional treatments."
Along with Dr. Zeichner, we chatted with Dr. Howard Sobel, M.D., NYC dermatologist and founder of Sobel Skin; Dr. Rosemarie Ingleton, M.D., dermatologist and medical director of Ingleton Dermatology; and Dr. Rachel Nazarian, M.D., dermatologist at the Schweiger Dermatology Group, to tell us the best laser hair removal devices that really, truly work. Dr. Gretchen W. Frieling, a Boston-based triple-board-certified dermatopathologist, and Dr. Anahita Mansouri, a cosmetic doctor at Kat & Co Aesthetics in the UK, about the very best at-home laser hair removal devices that you can use at home.
How We Chose the Best At-Home Laser Hair Removal Devices
When it comes to choosing at-home laser hair removal devices, generally speaking, there are a few key aspects to keep in mind: price point; the number of flashes each device uses; and whether or not a device will work for all skin types or tones. Ahead, I broke down exactly what our beauty team—specifically, our Beauty Director Deena Campbell, Beauty Editor Samantha Holender, and E-Commerce Editor Julia Marzovilla (a.k.a. me!)—looked for when reviewing and testing hair removal devices for this list.
Because laser hair removal devices work by identifying each hair's pigment in relation to your skin, the process doesn't work for everyone. Many of the devices below are marked as not suitable for those with deep or dark skin and darkly colored hair, as well as those with fair skin and gray, very blond, silver, or red hair.
Dr. Zeichner says that while the "best hair and skin combination for laser hair removal in general is dark hair and light skin," there have been advancements that allow them to work on a wider range of tones. "Unfortunately, no matter what device you are using, we cannot use lasers to get rid of light blonde or white hair because the lasers need the pigment in the hair itself to act as a target," Dr. Zeichner says. You should always defer to the package's directions or to your doctor if you have any questions.
When it comes to the number of flashes to look for, Dr. Zeichner says that "the number of flashes a device emits really depends on the device itself," and that "some devices offer a single flash, while others multiple." He also makes clear that "different devices use varying wavelengths of light, so it is hard to make generalizations." However, it's important to make one single pass over a specific area to avoid burns.
The items on this list are investments for a reason. Laser hair removal can be tricky to do at home, and using any of these devices comes with their own set of risks. With that in mind, many come with a stamp of approval from one or more dermatologists. If you're not willing to invest in an at-home device at this point, we recommend speaking to your dermatologist directly or paying a visit to a doctor's office to find the best laser hair removal solution for you. Hint: It may be worth it for a trained professional to do it for you.
The Best At-Home Laser Hair Removal Devices
Safety Tips From A Dermatologist
Be Careful Where You Use Your Device: While yes, you technically can perform laser hair removal anywhere on the body, it's important that you choose a device that's approved for the specific areas you're looking to treat. Some of the devices on this list are fine to use on the face or in the bikini line, for instance, while others are not. With that in mind, you should also not perform at-home laser hair removal anywhere where your skin or hair is light, as the devices target the pigment in the hair itself. "It's important to be cautious in lasering sensitive areas like the genitals, which commonly have more pigment than other areas of the body," says Dr. Zeichner.
Avoid Damaged, Burnt or Cracked Skin: If you find that you have irritation or cuts anywhere on your body, avoid performing laser hair removal in that area. "I do not recommend using a hair removal device on parts of the body, where the skin is irritated or broken," says Dr. Zeichner. "Lasering open or raw skin can lead to significant inflammation, and possibly put the skin at risk for an infection if the laser device itself is contaminated."
How To Prepare for At-Home Laser Hair Removal
Dr. Frieling says that you should actually shave a day ahead of when you plan to use your laser hair removal device.
Don't use self-tanning products for at least two weeks before you start.
Dr. Frieling says to "avoid potentially irritating products such as retinoids, retinal, or retinoic acids" prior to your treatment, as well as "brightening ingredients and acidic cleansers."
What Should You do After At-Home Laser Hair Removal?
Dr. Mansouri says to avoid exercising (or sweating, for that matter) for up to two days because the heat can cause "irritation on freshly treated skin after a session is completed."
Stay out of the sun for up to two weeks.
Wear loose-fitting clothes after you finish to keep skin cool.
She says to "avoid topicals, including makeup, except for aloe vera gel or calming and soothing creams," to allow your skin to heal correctly.
Hydrate the skin "After laser hair removal, it is important to apply moisturizer to the skin to hydrate and repair the skin barrier," says Dr. Zeichner, who recommends Eucerin's Original Healing Rich Lotion. "If any areas of the skin are particularly dry, or irritated, opt for an ointment to form a protective seal over the skin," he continues, siting Vaseline's petroleum jelly as a good option
Meet the Experts
Julia Marzovilla is the E-Commerce Editor at Marie Claire, where she covers everything from the latest beauty and fashion launches and sales to celebrity outfits and news. She also creates shopping guides that span every vertical on the site. Prior to joining the Marie Claire team, she contributed similar shopping stories to sites such as Bustle, InStyle, The Zoe Report, Who What Wear, and STYLECASTER. In her spare time, Julia can be found creating shopping guides for all of her friends, spending too much money on yet another pair of black boots, and cooking in her far-too-small kitchen.