Editors handpick every product that we feature. We may earn commission from the links on this page.
Charlotte Cho Swears By These Korean Beauty Products for Sensitive Skin
Fighters of inflammation, redness, and acne.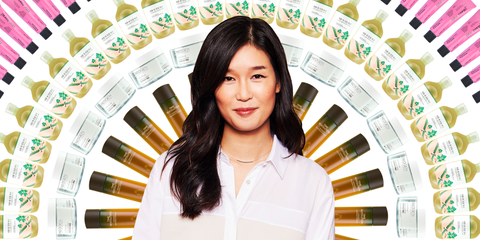 As the cofounder, esthetician, and curator behind Soko Glam and the skincare content site The Klog, I'm passionate about scouring Seoul for the latest and greatest innovations and bringing them to the U.S. so that your skin will see results.
No two skincare journeys are exactly the same and building a routine that is right for you is a very personal journey. K-beauty is all about tailoring skincare routines—whether one step or 10—to specific skin concerns, types, and goals. One skincare concern that plagues many of us is sensitive skin, and with so many products out there it's hard to tell what actually works.
Korea is a leader in sensitive skin-friendly products because many Korean women and men identify as having sensitive skin, especially due to high pollution levels in Korea, which exacerbate the issue. As a result, they've come out with the most innovative sensitive-skin friendly formulations, which include ingredients such as centella asiactica extract, mugwort, and ceramides to coat, soothe, and protect your skin. To help demystify this skincare concern, I've rounded up the best sensitive skin K-beauty products to help you see results.
These Revitalizing Pads
A-Clear Soothing Essence Pad
Neogen
sokoglam.com
$28.00
These pads are gentle yet pack a punch, targeting inflammation and irritated skin, while removing dead skin cells and impurities. Each pad features a three-layer cotton structure to boost efficacy and are soaked in a salicylic acid and allantoin-filled formula to clean pores, soothe, and condition skin.
This Skin-Soothing Toner
Mugwort Calming Toner
Round Lab
sokoglam.com
$27.00
The name says it all! This refreshing, skin-strengthening toner calms irritated skin with mugwort extract, which is packed with anti-inflammatory properties. The ingredient helps to heal skin sensitivities and acne, while madecassoside provides essential soothing benefits.
Back To Relax Soothing Gel Mask
Thank You Farmer's
sokoglam.com
$46.75
This gentle mask calms redness and irritation with a blend of botanical extracts like cica, fig, licorice, aloe vera leaf juice. The refreshing formula also contains vitamin C–rich pomegranate extract to repair and prevent damage.
This Redness-Reducing Moisturizer
MadeCera Cream
SkinRX
sokoglam.com
$36.00
This multi-tasking moisturizer fights inflammation and strengthens the skin barrier with madecassoside and ceramides. These two ingredients work together to instantly hydrate and plump the skin, while adenosine smooths out fine lines and niacinamide brightens a dull complexion. It's the perfect moisturizer to help reduce redness due to acne and other skin sensitivities.
This Addictive Facial Mist
Time Revolution Artemisia Treatment Essence
Missha
sokoglam.com
$55.00
Missha is a K-beauty favorite and this mist that hydrates, heals, and protects skin on the go will be yours too! The formula contains 100-percent artemisia extract, which is an herb that has powerful anti-inflammatory properties and is rich in antioxidants. To effectively extract the most active form of the ingredient, the brand used a unique double-fermentation process in both warm and cold environments.
...

For more stories like this, including celebrity news, beauty and fashion advice, savvy political commentary, and fascinating features, sign up for the Marie Claire newsletter.
subscribe here

This content is created and maintained by a third party, and imported onto this page to help users provide their email addresses. You may be able to find more information about this and similar content at piano.io