The 50 Best Hairstyles for Thin, Fine Hair That Never Fall Flat
Fake-it-'til-you-make-it volume.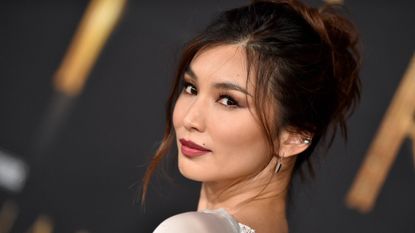 (Image credit: Getty)
The struggle is real when you have fine, thin hair. It refuses to hold a single curl, inevitably falls flat by midday, and gets greasy by 3 p.m. Your saving grace? The best dry shampoos and hair thickening shampoos the world has to offer. But having fine hair doesn't mean chic ponytails, updos, or cuts are out of the question. There are plenty of hairstyles that can create the illusion of texture and body with a little help from volumizing sprays and root lifters.
To get a little inspiration on the best hairstyles for fine hair types, we looked to stars like Halle Berry, Cameron Diaz, and Kristin Wiig, to name just a few. From beach waves to un-done chignons, they're constantly serving up fine hair inspiration on the red carpet—and we have the pictures to prove it. Here, we're sharing 50 of the best hairstyles for fine hair.
1/50
This Chic Chignon
This classy pulled-back look is one that will never go out of style. For some added face-framing elements like Keira Knightly has here, pull some shorter pieces out for an un-done but always chic touch.
2/50
This Bold Side Part
This chin-length chop enhances the jawline like no other. Lucy Liu's dramatic bob is styled with a deep side part, which also makes her cheekbones stand out. It looks amazing on women of every age.
3/50
This Mermaid-Esque Look
Dakota Fanning's beachy, mermaid-like waves beautifully accentuate her features. Opting for a side part with this look helps frame the face and adds dimension to the look.
4/50
This Sleek Wave
With the help of a curling iron or some rollers, adding a wave to long locks helps create the look of voluminous hair. Mindy Kaling's classic '50s wavy 'do adds a fullness to her hair that we love.
5/50
This Hair Accessory
Diane Kruger opted for a chignon with loose, face-framing sections for this amazing red carpet look. For an element of glam, she added a stunning hair accessory that completes the look.
6/50
This Slick, Easy 'Do
Camila Mendes' slicked hair falls down her back and makes the face the main event.
7/50
This Sleek Bun
If anyone knows how to pull off a chic updo, it's Natalie Portman. Her sleek, pulled-back look accentuates her dangling earrings.
8/50
This Half-Up Look
Leighton Meester completely nailed this fun and stylish half-up, half-down style. Her shoulder-grazing bob lends itself to this look, with face-framing strands left out to bring attention to her eyes and jawline.
9/50
This Super-Short Pixie
Zoë Kravitz has mastered the pixie cut, as evidenced here at the Saint Laurent show. Her cropped look makes her cheekbones stand out, and brings attention to her eyebrows as well. This short look is stunningly feminine, and is easy to style.
10/50
This Tucked-Behind-the-Ear Bob
Katie Holmes made a dramatic statement with this style. To recreate her look, pin back your hair with bobby pins to keep everything nice and tight.
11/50
This Wavy Ponytail with Bangs
Dakota Johnson's ponytail has anything you could ever need: the length, the waves, the wisps perfectly framing her face. Opting for a wavy ponytail instead of a straight one will make your hair seem thicker and longer.
12/50
This Wispy Updo
Halle Berry has been hair goals for years, and the way she rocks this wispy updo is *chefs kiss.* There's something about a little hair in your eyes that just adds mystery, romance, and glamour all at the same time. From weddings to the classic Sunday stroll, this hairstyle is perfect for any occasion.
13/50
This Flipped-Out Bob
When you're feeling a little dramatic, may we suggest a flipped-out bob? Channel your inner '60s and add some texturized waves to spice things up a little. Lucy Boynton did it here at the 2019 Golden Globes, and the results were red carpet-worthy.
14/50
This Deep Side Part
A deep side part instantly creates more volume. Just look at Kerry Washington here. If you're looking to channel this style, use the arch of your brow as a marker for where to start your part.
15/50
This Loose Topknot
Alexa Chung may be known for her signature wavy bob, but loose top knot is iconic. Not only does this style take a once-deemed messy hairstyle into something cute, but it'll help highlight your brows as well.
16/50
This Asymmetrical Short Cut
Of course Kristen Stewart, the queen of cool-girl styles, rocked this edgy short cut the best way. Her deep side part graced one side of her hair with so much volume. To trick the eye with faux volume, all you have to do is tuck the other side of your hair behind your ear, and take a flat-iron to recreate this fluttery texture.
17/50
This Braided Victorian Updo
This crown braid swept into an updo looks like it was made for Lucy Hale. She's a boho princess in this elegant style. And is that a flower I see peeking in the back? Gorgeous. Updos are not only photogenic if you have a fancy event on your calendar, but they're ideal for fine hair because the style adds so much shape and structure.
18/50
This Mis-Matched Length Bob
Asymmetrical cuts are in—and Nina Dobrev proves it. It basically allows one side of your hair to borrow more weight than the other, which in turn creates unmatched texture. For a beachy style like this, you need a salt texturizing spray. Then, style your front pieces with a flat iron and scrunch your ends for an effortless finish.
19/50
This Pulled-Back Style
Headbands will take your hair from pretty to absolutely regal. Exhibit A? The one and only Ruth Negga at the Academy Awards. The actress has naturally gorgeous curls, but adorning them with this bejeweled headband added such an elegant touch to her texture.
20/50
This Loose Braid
Cameron Diaz is completely owning this easy braided style. There's absolutely nothing wrong with taking things back to the basics with a good old-fashioned braid, but what truly elevates this style is the loose ends falling so perfectly in the front.
21/50
This Romantic Curl
If your hair is on the longer side, you can always go the classic route like Zoe Saldana and add glamorous curls. Face-framing layers will help add dimension.
22/50
This Full Bob With Bangs
This style makes it hard to believe that Julianne Hough naturally has fine hair. Bangs add dimension to any hairstyle, no matter your texture. To get your lob to look as spacious as this, simply take a rounded brush and tease your hair—focus on your roots to lift your hair as much as possible.
23/50
This Silver, Sleek Bob
There's nothing a cool color can't do for your hair. Coating your hair with a color of your choice is an easy distraction; everyone will be too busy complimenting you on your hair color, rather than your texture. Need inspo? Jourdan Dunn was a walking goddess at the Met Gala with this cool-toned, silver hue.
24/50
This Piecey Short Cut
Try to take your attention off of Ruby Rose's plum lipstick for one moment and focus on her hair. Slicking one side of her short cut down and styling the other side with feathery bends breathes a whole lot of life into her fine strands.
25/50
This Wet Look
The lovely Margot Robbie wore this stunning wet style on the red carpet, which illustrates how transforming your texture lends so much body to limp strands.
26/50
This Long and Sleek Style
This one's a classic mainstay look for fine hair. The only downside is that this look often gets boring— try parting your hair on different sides and blow-drying your hair upside down for some added volume at the roots.
27/50
This Lift and Curl
For an easy update to long strands, simply wrap your ends around a barrel iron for this swirling curl effect. This style works especially well on next day hair. Add some dry shampoo at the roots for extra lift.
28/50
This Half-Updo
A half-updo is an especially elegant way to break up long, fine hair and doesn't require much time or effort. To recreate this satiny effect, use shine-boosting products (or a great conditioner) and smooth over any fly-aways with a flat iron.
29/50
This Cropped Bob
One easy way to add texture to fine hair is a shorter cut. The bob is a classic face framing shape that you can subtly add lift to by round-brushing the ends. It's also the perfect length for going to town with a straightening iron or hot tool. It'll only take 10 minutes to create a head full of beachy waves.
30/50
This Rounded Lob
The rounded lob can be hit or miss depending on how you style it, because sometimes the length can fall flat. Lobs tend to look better on thicker, fuller hair with natural body and texture. To recreate more body, blow dry hair at the roots and round-brush the ends inward for greater volume, or wrap your strands loosely around a hot tool for a slightly wavy effect.
31/50
This Wispy Pixie Cut
One major perk of having fine hair? It looks killer in wispy, piece-y pixie cuts. The soft, light texture of fine hair gives it a gentle feathery quality, but beware of teeny fly-aways. Investing in a pliable wax product to style and keep your hair in place is crucial for maintaining an ultra-short cut on fine hair.
32/50
This Soft Wave
Fine haired people only dream of having this texture naturally. That said, recreating it only requires a little texturizing spray and some time with a hot tool. You'll probably need to use a higher temperature for your curls to hold, so spritz on a heat spray beforehand so your hair doesn't suffer any lasting damage.
33/50
This Lean Braid
If your greatest struggle every day is a limp ponytail, lean into your natural texture by trying a thin bubble ponytail instead. You can use the teeny clear elastic bands to section off hair like this look from Maria Menounos.
34/50
This Floating Ponytail
If you want a chunkier ponytail like Jessica Chastain, use a texturing product on your hair to give a little lift at the roots. To make the rest of your hair appear fuller, try wrapping the ends of your hair around a curling iron. It's also crucial to prop up your ponytail if it's prone to falling flat, so secure your ponytail with two elastic bands in a row.
35/50
This Layered Look
Jennifer Aniston is famous for her layered look (cough cough The Rachel). Why? Layers work super well on fine hair to give it shape and body.
36/50
This Asymmetrical Updo
For a slicked-back style that still frames the face, take a page out of Maude Apatow's playbook. The deep side part creates the illusion of thick hair, while the pulled-back ponytail ensures the style looks sleek and clean.
37/50
This Texturized Style
While a lifted root may not be the norm for fine hair types, there's nothing a little texturizer and hairspray can't achieve. For this rock & roll-inspired look, hairstylist Adir Abergel used Virtue Labs products (and a lot of teasing) to give Kristen Stewart some extra inches.
38/50
This Shaggy Side-Swept Look
Elisabeth Moss knows the power of a little zjush. Leaning into a messy, un-done waves is a great way to feign the appearance of fuller-looking locks.
39/50
This High Ponytail
A slicked-back style a la Cara Delevingne is a no-brainer for fine hair. You'll definitely want to have a root powder on standby to fill in any bare spots by the hairline. As for the ponytail? Clip-in extensions are your friend. Secure a topper (Hidden Crown has great ponytail-specific options!) for extra density.
40/50
This Ethereal Updo
Rather than fight against your new growth or tiny hairs along the hairline, embrace them. Look to Gemma Chan's expertly executed updo for reference. Give the front pieces a light curl or bend for added dimension. Just make sure you seal in the wave with a strong-hold hairspray.
41/50
This Retro Style
For a fun hairstyle that takes a nod from the '70s, recreate Delilah Hamlin's flipped out look. Not only does the slicked back upper-half work perfectly with fine hair, but the juxtaposition of the flipped edges creates the illusion of thicker strands.
42/50
This Messy Top Knot
Perfect for a night out or a chill day at home, Hailey Bieber's go-to bun is an amazing hairstyle to have in your rolodex. While a hair tie will get the job done, securing the pieces with a few bobby pins instead will let you create more dimension.
43/50
This Bendy Lob
If you're hair never, ever holds a curl, strive to achieve a loose bend instead like Leslie Mann. This can be accomplished with a two-inch curling iron or feeding chunks of hair through your flat iron.
44/50
This Deep Side Part
To create an appearance of thicker-looking hair, commit to a *deep* side part. Take Julianne Moore, for example. She drew all the attention to her part, while simply gathering the rest of her hair in a low pony.
45/50
This Glassy Vibe
If hiding unwanted grease is your main pain point, we recommend leaning into the shine by going for a glassy look like Jamie Chung. Coat the hair in a shine spray, like the ColorWow Extra Mist-ical Shine Spray, and then straighten every last strand.
46/50
This Slicked-Back Bun
Grab your favorite hair gel and boar bristle brush, because creating this Emma Chamberlain look is easy as can be. Coat each section of your hair with product before slicking it back. While you can bring all your hair back, we love leaving two face-framing tendrils out in the front.
47/50
This Natural Hair Look
Samira Wiley's top heavy hairstyle is the ultimate inspo for curly or coily hair. Just make sure you keep your strands extra-hydrated with a leave-in cream or oil.
48/50
This Blunt Chop
Clare Danes is far from the only actress with fine hair to opt for a side part—and for good reason. Gathering majority of the hair on one side is a great way to distract from the thin texture.
49/50
This Old Hollywood-Inspired Wave
Big, bouncy curls create body in an instant. Just look to Chloe Fineman for proof. Concerned about holding a curl? Make sure to prep your hair with a texturizer or styling balm and leave time for touch ups before heading out the door.
50/50
This Loose Chignon
Kaia Gerber's laidback updo works perfectly for fine hair types with a face-framing haircut. Leave the front pieces out and gather the rest of the hair into a low bun fastened at the nape of the neck.
Celebrity news, beauty, fashion advice, and fascinating features, delivered straight to your inbox!
Tatjana Freund is a Beauty Commerce Writer, covering makeup, skincare, and haircare products and trends. She's a fan of vodka tonics and creepy Wikipedia pages.