Gwyneth Paltrow Just Debuted a Brand New, More-Accessible Beauty Line
It's good. It's clean. And it's definitely goop.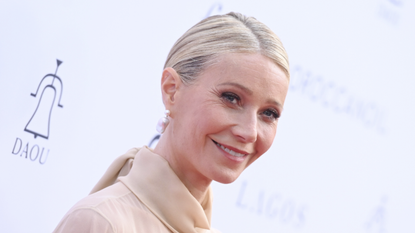 (Image credit: Getty)
Here's my truth: I'm a goop girl through and through. I'm all about whatever Gwyneth Paltrow and her team have cooking in that probably paleo, minimalist kitchen of theirs, so when news broke today that the brand is launching a new, accessible beauty line I almost spit out my mushroom coffee. (Just kidding, I don't drink caffeine. I'm a goop girl, remember?)
Dubbed good.clean.goop, the new line features a wide range of products that reflect some of goop Beauty's existing favorites. Priced from $19.99 to $39.99, the initial offerings promise to share the same philosophy as their big sister goop Beauty's products: clean (at goop, this means formulating without a long list of ingredients linked to potentially harmful health effects), high-performing, and luxurious.
"We've learned a lot along the way as we've built goop Beauty, and now we're thrilled to be able to launch a new brand—good.clean.goop—that meets our strict clean standards at an accessible price point. good.clean.goop takes an innovative approach to classic skin care, leaning into clean hero ingredients that really work," shared Paltrow in a press release. "I'm so excited for more people who are curious about clean beauty—or who simply appreciate a quality cream or a hardworking cleanser—to be able to try our new line of essentials."
Launching on October 22, the brand is divided into two, very goop-y categories: beauty and wellness. The 10-piece beauty collection includes your classic six skincare products—a cleanser, exfoliating scrub, toner, face serum, moisturizer, and eye serum—as well as three body care products and a detoxing, shampooing scalp scrub. On the wellness side, good.clean.goop will offer four supplement chews to tackle your immune system, brain function, pleasure, and skin, each priced at $29.99 for a 30-day supply.
Every product in the line utilizes the brand's new "Good 3" formulation strategy. In other words, you'll find cleanical (that's clean ingredients with clinical performance) ingredients, botanical (plant-derived actives) ingredients, and superfood (food-derived) ingredients. In a recent interview, Paltrow said that the line falls under the category of "masstige"—a mix of mass and prestige.
As for the Oscar-winner's favorite product? She's set on the green-juice inspired Daily Juice Cleanser ($19.99), because of course she is. "It's green and it smells really good and fresh and it's foamy," she said. "I've been using it every day."
good.clean.goop launched Friday, October 22 at Amazon and Target.
Celebrity news, beauty, fashion advice, and fascinating features, delivered straight to your inbox!