Editors handpick every product that we feature. We may earn commission from the links on this page.
The Best Dandruff Shampoos for Every Hair Type
Say goodbye to flakes for good.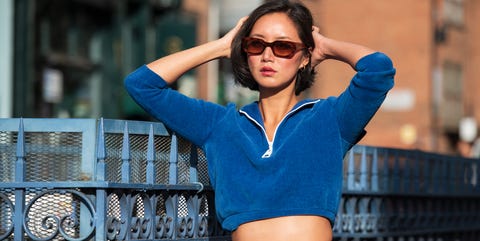 Kirstin Sinclair
Getty Images
I'm not totally clear on why dandruff is still considered embarrassing or taboo, considering that it affects up to fifty percent of adults. What I am clear on is that dandruff and an itchy scalp are annoying—but I'm happy to share that they're also treatable. But before you treat it, you need to determine whether you even have dandruff in the first place. A flaky scalp can be caused by many things: Heat styling, irritation caused by a product ingredient, or spending too much time in the sun. As such, if you do have a shedding scalp, first try avoiding stylers with alcohol, air-drying your hair, and slathering on a deep conditioning treatment to quench your follicles. You'll also want to rule out psoriasis, which is characterized by a lot more itching than run-of-the-mill dandruff. If after all of that, you're still experiencing flaking, you likely have the real deal. (Here's our complete guide on how to treat it.)
The cause of dandruff—or excess exfoliation of scalp skin cells—is an abundance of the fungus malassezia, a naturally occurring microspecies, explains S. Ranganathan, a doctor specializing in the condition based in Chennai, India. Happily, shampoos with the anti-fungal agents zinc pyrithione and selenium sulfide can zap the pesky malassezia almost immediately, restoring ideal scalp health. Other shampoos make use of ingredients like coal tar (!) and salicylic acid to address the exfoliation caused by the malassezia, and can also have excellent results. Like most things, you'll have to find what works best for you and your hair type.

For Salon Treatment
Scalpsync Anti-Dandruff Shampoo
Imagine a lush salon-like shampoo...that's also a great medicine for the white, flaky skin cells you're shedding. Here is your answer, which works almost immediately and feels downright luxurious.
For a Dry Scalp
Clinical Strength Dandruff Shampoo
Head & Shoulders
amazon.com
$17.94
The latest from the Head & Shoulders, a.k.a. the anti-dandruff OG, is no joke: Selenium sulfide and zinc pyrithione work as a dynamic duo to address the most stubborn cases, while manuka honey provides much-needed moisture.

For Dry Strands
Anti-Dandruff Shampoo
Sure, you have dandruff, but that doesn't mean you should leave your hair out to dry. Here, good old pyrithione zinc zaps dandruff-causing fungus while coconut and shea butter work to nourish parched strands.

For Itchy Scalps
Medicated Maximum Strength Dandruff Shampoo
Selsun Blue
walmart.com
$6.98
A classic is a classic for a reason. The one percent selenium in this old school queen minimizes flaking and itching, leaving behind only a satisfying menthol scent. Use just once or twice a week to control ultra-annoying cases.

For Damaged Hair
Dandruff Balancing Shampoo (Set of 2)
Jupiter
amazon.com
$49.00
Those of us with bleached strands, Brazilian blowouts, or other chemical treatments are often more prone to dandruff. And yet our strands need the most love—the irony! This brand-new formulation works to both zap malassezia while it wraps vulnerable hair shafts in a fortifying coconut oil and argan extract blend.
For Flaky Hair
Therapeutic Anti-Dandruff Shampoo
Neutrogena
walmart.com
$18.24
As discussed, coal tar extract—not a typo—doesn't address the malassezia fungus. Instead, it works to slow the cell turnover caused by the malassezia's proliferation. Whatever the mechanism, it seems to work on dandruff, dermatitis, and some psoriasis.
For Colored Hair
EverFresh Anti-Dandruff Shampoo
L'Oreal Paris
walmart.com
$10.00
If you spend who knows what on your color-treated hair, bombarding it with medicinal and stripping shampoos isn't likely high on your list of priorities. That's why this one percent zinc pyrithione product is sulfate-free and loaded with nourishing botanicals like neem and Indian lilac to halt flaking and preserve rich$$ pigments.
For Oily Hair
Anti-Dandruff Plus Shampoo
Yes, your scalp can be dry and your hair can be oily. (Just ask your dad...) Here, a combination of flake-fighting zinc pyrithione teams up with oil-adverse peppermint, sage, and tea tree oil for a potent yet pleasant suds.

For a Deep Wash
Anti-Dandruff Shampoo
This formulation makes use of a proprietary blend of guar BB18, niacinamide, and amino acids to deeply clean the scalp and limit excess exfoliation. The result is an effective treatment, an excellent wash, and the lingering smell of the delicate sakura flower.
For Sensitive Scalps
Gentle Anti-Dandruff Shampoo
LEONOR GREYL PARIS
nordstrom.com
$46.00
A delicate blend of botanicals and two lesser-known but equally effective anti-fungals work in synergy to create a gentle wash that feels more like a treat than a treatment.

For a Soothing Treatment
Scalp Relief Dandruff Control Shampoo
In this pleasant white bottle you'll find zinc pyrithione doing its thang, but also glycerin to hydrate a scaly scalp. Plus, a soothing, clarifying lavender extract.
For Stubborn Cases
Zinc Shampoo
With a whopping two percent concentration of zinc pyrithione, we recommend this near-prescription grade treatment when all else has failed. You (and your scalp) won't be disappointed.
This content is created and maintained by a third party, and imported onto this page to help users provide their email addresses. You may be able to find more information about this and similar content at piano.io