Beauty Around the Clock: Hilary Duff
The actress on her favorite season for getting in shape, Biologique Recherche products, and the importance of looking up to yourself.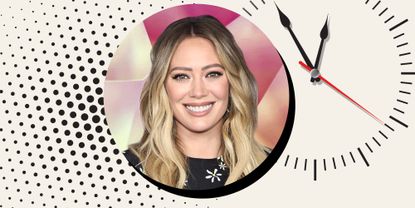 Welcome to Beauty Around the Clock, Marie Claire's weekly peek into the daily lives of some of the most game-changing men and women in their industries. Ever wonder how they get it all done in a day? Here's your answer.
Hilary Duff is in a good place. She's conquering motherhood—"with each kid you just give up a little more and it feels good," she tells me at a popular restaurant in New York City. She's finding inspiration within herself by doing things that work for her, like hiking with friends, watching an episode of Ted Lasso with her family, or just snuggling with a good book.
Part of her joy also lies within not shying away from doing the work. Acting aside, she's in the midst of preparing the release of her second children's book and serves as chief brand director for Below 60°. And through it all, the Texas native displays a larger-than-life energy, yet continues to be laid-back and calm. She attributes the remainder of her happiness to taking OLLY vitamins (Goodbye Stress and Hello, Happy are her favorites) multiple times a day. Unsurprisingly, she's the brand ambassador for the vitamin and supplement brand, but she tells me she's been a fan long before she accepted the role. One thing is clear about Duff: she's strategic about being at peace on the inside and outside.
During our time together, I hastened to ask how she keeps her skin so "happy." Her face is smooth and so supple. I was dying to know more. Here, the How I Met Your Father actress explains what finding joy for her skin looks like.
Rise & Shine
I wake up around 6:15am or 6:30am, and when I wake up, I usually brush my teeth. I don't typically do a beauty routine until I've gotten my kids packed for school and then I'll run upstairs and throw clothes on.
Morning Maintenance
In the morning I'll use toner instead of washing my face, and then I put on a serum and moisturizer.
I'm really into Biologique Recherche products right now, but I'm typically all over the map. I use different things. I like some oils from Joanna Vargas if I'm being a little gentler to my skin. Sometimes I use a balm instead of my typical day cream. I'm not always using the same stuff.
I like Jenni Kayne oat balm. I love sunscreen, too. Kosas has an amazing sunscreen right now that I love. Gives you a little bit of a glow. Next, I'll comb my brows up with a brow soap or boy brow. Then I'll add a bit of mascara and then I'm out the door.
Fitness Fix
After I drop my kids off at school, camp, or whatever they're doing that day, I usually work out with Tracy Anderson. I was working out with a trainer doing more specialty design workouts with weights and stuff, and I still do like to weight lift twice a week, but when I was working out with my trainer, I was missing the social aspect of it. I like grabbing a workout or a hike with a friend. For me, it's a little more social and more motivating to be in a room of people working out instead of constantly doing it by yourself.
I also have this habit of getting in really good shape in the winter, and then in the summer I let it all go. I really have to switch my mindset!
Self-Care Ritual
It's a lot of exercising. I really like to be active. I have a lot of energy that I need to burn off or else I'm like, "Blah!" so I feel better when I'm active. I've started playing tennis, which I love. I really love to read books, too. And cook!
I do love to take a bath. It's usually with bath toys—no space is mine anymore! But when I take a bath I use Odacité. They make amazing oils and bath salts.
Signature Look
I've been contouring for a really long time—I always joke that I have a five head instead of a forehead. I like to contour but I don't do anything that looks overdone. I usually do it with a big fat bronzer brush. Then I'll put a tinted moisturizer on, or even just sun drops. I'm just doing less and less at my age. It just feels better.
There are days when I wake up and I'm like, I need a smokey eye, but it never takes me a long time to create it. But, usually I wear mascara, a brow and a little light wash of something shimmery on my eye and a little overdrawn lip. And that's it!
Signature Scent
Moon Flower By Perfume Head. It smells very good!
Daily Playlist
I think the whole world is obsessed with Taylor Swift. She is lighting everyone on fire. So, I definitely play a lot of Taylor Swift. I listen to old stuff, too. I love Sam Cook, Fleetwood Mac, and Electric Light Orchestra. I love '90s hip hop. I am kind of all over the map. It just depends. I'm also into country right now.
Cheap-But-Chic
I love Palmer's cocoa butter lip balm. I don't leave the house without it. And, I use Neutrogena makeup removing wipes, but I don't use a ton of drugstore products just because I'm 35 years old and I'm basically a senior now. I've got to use the good stuff!
Beauty Icon
I really don't have one. There are so many beautiful people now, and I'm just like, it's so hard to tell what's real and what's not and what's filtered. And everything's so heavily edited and it sucks. It's really tough to be a girl right now. Especially young girls. It definitely scares me raising my daughters. I think that you have to look up to yourself.
P.M. Routine
It depends on if I've been working or not. If I'm working, I really need a bath to unwind or a glass of wine (a big-bodied smack you in the face red!) because usually my work doesn't end when I get home. When it does, I'll take a bath, and start my night routine.
I'm a freak about doing a whole routine before I go to bed at night! For night, I love Dennis Gross' LED Face Mask—it's so good. His vitamin C serum is also the best. I use both of them all the time and I think I instantly look great.
Lights Out
I'm usually in bed by 9:30 or 10pm. I like to read to unwind. I'm reading a book right now called Really, Good Actually by Monica Heisey. It's about a young girl who's 28 years old who gets a divorce two years after she gets married to the person that she's been with for a really long time. I don't really know where it's going, but I like the writer's voice a lot.
I have a couple books on my nightstand right now that I need to read. It takes me a really long time to read a book because of the kids. It drives me insane. I wish I was a speed reader back in the day, but now I'm like, it takes me months to get through one book.
Shop Hilary's Favorites:
Marie Claire email subscribers get intel on fashion and beauty trends, hot-off-the-press celebrity news, and more. Sign up here.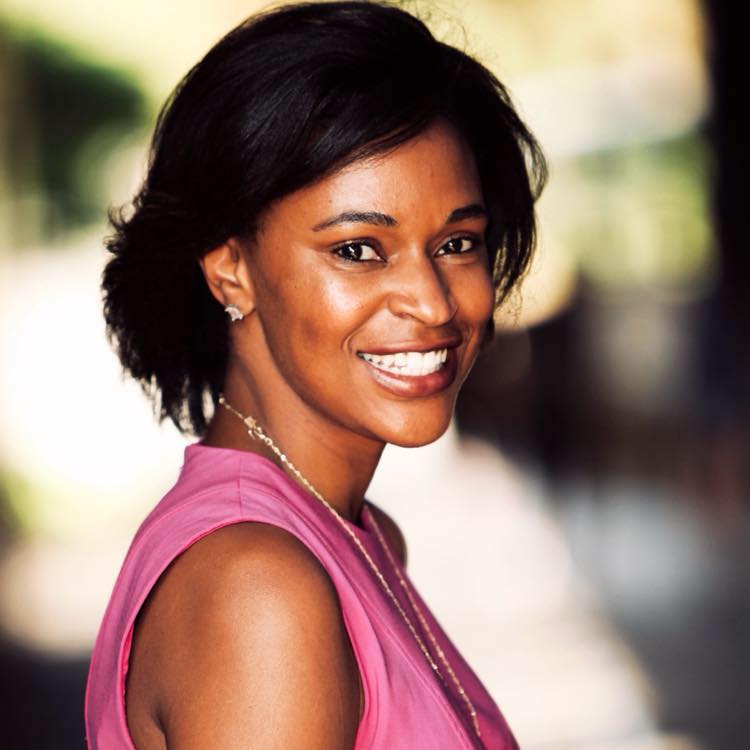 Deena Campbell is the Beauty Director of Marie Claire where she oversees beauty and health content on all platforms. Deena joined Marie Claire after a decade-long career as an editor in print and digital media. Before joining the brand, she managed editorial content for L'Oréal owned Makeup.com and Skincare.com. In 2015, she launched Essence.com's hair channel where she received Time Inc.'s Henry R. Luce Award, shortly before joining Allure.com's staff as Senior Beauty Editor. Along with her editorial positions, she also consulted on content and marketing strategies for beauty companies including DevaCurl and Dove, and has appeared at various speaking events and live television segments.