Halloween Makeup How-To: The Bat Mask
I'm Bat Girl.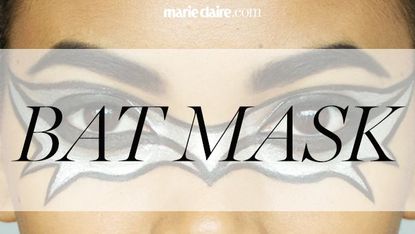 (Image credit: Kathryn Wirsing/Stephanie Stanley)
Marie Claire newsletter
Celebrity news, beauty, fashion advice, and fascinating features, delivered straight to your inbox!
Thank you for signing up to . You will receive a verification email shortly.
There was a problem. Please refresh the page and try again.
We love comics, Halloween, and not sacrificing our stylish ways (and we may potentially procrastinate on finding a costume). So when October 31 rolls around, we're likely up a creek without something to wear. We asked makeup artist Caitlin Wooters to intervene and help us create a makeup mask that we could very quickly pull together and pair with our leather skinnies, sneaks, and black crop top. This is every lazy girl's guide to a costume that looks totally planned.
Start with your regular concealer and foundation.
Step 1. Draw an exaggerated wing on the top lid using a gel or liquid eyeliner. (Doesn't need to be perfect.)
Step 2. Continue drawing a thick, black line underneath the eye by connecting from the outer corner of the top wing to inner corner of the eye.
Step 3. Fill in the bottom lashline wing.
Step 4. To really pull off a comic heroine look, exaggerate your brows with black eyeliner. We used Elizabeth Arden Smokey Eyes Pencil in Smoky Black (opens in new tab).
Step 5. Using the same black pencil start the outline of your mask in the center of your nose by drawing a "V" shape and connect to the inner corners of your eyes.
Step 6. Now, draw the outline of the bottom half of your mask on one side of the face with a fine eyeliner brush and NARS Eye Paint in Black Valley (opens in new tab). Continue line all the way to the hair line. Be sure to keep your points sharp.
Step 7. Replicate what you just drew on the other side. This may take a few cleanups to make it almost symmetrical! Just use Bioderma Sensibio Makeup Remover (opens in new tab) and MUJI Thin Cotton Swabs!
Step 8. Then, fill in the lower half of your mask with NARS Eye Paint in Intersteller (opens in new tab) with a flat angled brush like Anastasia Beverly Hills brush #7 (opens in new tab) so you can avoid messing up the black line you just create. You want to keep that black line bold.
Step 9. Now, take your black eyeliner and connect the outter corners by your hairline, by loosely following the shape of your brow and into a wide 'U' shape over your nose.
Step 10. Fill in the mask with the same eye paint from Step 8 and re-outline all the black lines with your fine eyeliner brush.
We love this look with no mascara and a nude lip. Editor's note: The eye paints are 18-hour wear and are best removed with an oily solvent like MAKE Dual Face Eye Makeup Remover (opens in new tab).
More HalloweenTutorials:
How to Create an Ice Queen Mask
The Ultimate Zombie Bride Makeup Tutorial
Photos by Kathryn Wirsing/Stephanie Stanley