Halloween Makeup How-To: Zombie Bride
Scary sexy.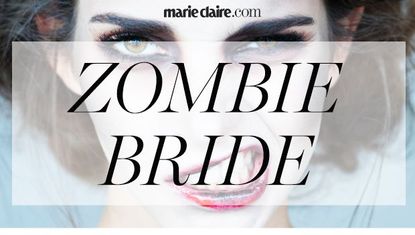 (Image credit: Kathryn Wirsing/Stephanie Stanley)
Marie Claire newsletter
Celebrity news, beauty, fashion advice, and fascinating features, delivered straight to your inbox!
Thank you for signing up to . You will receive a verification email shortly.
There was a problem. Please refresh the page and try again.
The scenario: It's October 30th and you just found out that a friend of a friend is throwing a Halloween party… and your entire group is going. Normally, you'd be overjoyed. But recently all you can think about is work, a slew of recent bad dates, two really great dates, and your early bedtime—so you definitely haven't gotten a proper costume together. On the one hand, you want to look good because there will inevitably be cute guys there, but on the other you don't really want to do the whole, "I'm a mouse, duh" joke in just lingerie and a fluffy tail. Have the best of both worlds with this totally seductive (yet comfortable) look which works best with a tattered veil and grecian-inspired white dress.
Note: Do not use your regular concealer (opens in new tab) or foundation (opens in new tab) application, as we're going to take full-on advantage of your undereye circles. (Finally, a good reason to have 'em).
Step 1. Apply white face makeup, like Ben Nye Cream Makeup (opens in new tab), all over with a sponge. Avoid applying to the eye area. Pro tip: Be sure to use white makeup that is specifically designed for the face so you don't break out after hours of wear.
Step 2. Lightly contour in your cheekbones and sides of your forehead using a charcoal grey eyeshadow or cream paint. Don't worry if it's not perfect, we'll go back in later to really bring out those cheekbones. We used a Bobbi Brown's Smoke (opens in new tab) eyeshadow to create the sunken eye, but you can also use a dark grey cream paint.
Step 3. With a raspberry/plum-color shadow, like Tarte Cosmetics Soft Sienna (opens in new tab), and a tapered blending brush, apply to your eye from the inner corner down, where you are naturally darkest. Be sure to get undereye and lower lash line, too. This creates a sick, tired look.
Step 4. Apply the same shadow to the upper inner crease basically creating a full C shape at the inner corners of the eyes and then dust over the lid.
Step 5. Mix black and brown shadow (we used Urban Decay Blackout and Busted Eyshadow (opens in new tab)) and apply under lash line, the inner corner into the crease, and in the under eye crease using an eye smudge brush (opens in new tab).
Step 6. Take the same black and brown colors and apply to the upper inner corner and into the front of the brow to add depth. Pro tip: Create a triangle shape with the front of your brow being the top corner of the triangle to easily apply the shadow.
Step 7. Now, go back in and fully contour your cheeks and forehead using the same eyeshadow you used in Step 2.
Step 8. Cover lips with more white cream paint using a sponge.
Step 9. Next dab your favorite red lipstick to the inside of your lips avoiding the edges, or if you want a more pretty look apply all the way to the edges.

Step 10. Finally, dab Obsessive Compulsive Cosmetics Little Black Dress Lip Tar stained gloss onto the center of the lips using a lip brush for added drama and gore.
More Makeup Tutorials:
How to Create a Perfect Black Winged Eye
How to Create an Ice Queen Mask
Makeup Mask Tutorial: Bat Girl
Photos by Kathryn Wirsing/Stephanie Stanley