The Surprising Beauty Benefits of a Russian Bathhouse
It's a one-stop shop for your body, inside and out.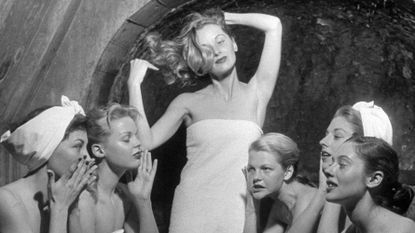 (Image credit: Getty Images)
Marie Claire Newsletter
Celebrity news, beauty, fashion advice, and fascinating features, delivered straight to your inbox!
Thank you for signing up to Marie Claire. You will receive a verification email shortly.
There was a problem. Please refresh the page and try again.
There are few things we will willingly get half-naked in public for, but a Russian bathhouse is definitely one of them. A "banya," which translates to public bathhouse, is an old-world tradition that relaxes and revitalizes your body, inside and out, with its communal showers and tubs (both hot and icy-cold).
Here, find out exactly why every inch of your body is in desperate need of a banya treatment. Or, if you can't find one locally, take notes to give yourself the same treatment at-home, with a portable, one-person sauna (because yes, they exist and can be yours for under-$300).
Think about it like this: the skin is the largest organ of your body. Sweating inside a sauna opens up the pores—releasing excess water and salt—and flushes out the toxins that age your body by preventing cell regeneration. A "schvitz" is the ultimate way to detoxify your entire body safely and naturally.
We make sure to cleanse our face daily, but our bodies hardly get the same treatment. A sweaty sauna session, followed by an icy-cold plunge in the banya's pool, cleanses your skin more thoroughly than your daily hop-in-and-out shower.
Physical stress causes tense muscles and sore limbs. The high temperature steam and humidity environment relaxes the muscles and diffuses the pain.
"Mind over body" is a notion that's much easier to put forth when your body actually feels good. The heat and humidity of a sauna has been shown to help release stress-caused tension, which reduces mental function.
Banyas increase the rate of blood circulation—which is important for your body's overall health—as blood moves through the heart, lungs, arteries, and veins to provide cells with oxygen and nutrients while removing waste. Plus, it also increases circulation in tricky areas such as sinuses, bone, and teeth. Bad circulation can lead to all kinds of unfavorable symptoms, from physical fatigue to a foggy mind, so you know, it's kind of worth it.
Lazy-girl hack enthusiasts, listen up! A sauna is comparable to mild exercise, as it can burn as much as 300 calories in one session. Along with a healthy diet and *moderate* exercise, it can help you stay fit and maintain a healthy weight. (Unfortunately, no sauna is going to replace the gym.)
A sauna essentially gives your body an artificial fever, which kicks your immune system into defense mode, fighting off illness.
Whether offered by the banya or you're going the B.Y.O.S. route (we love Lush Ocean Salt Face and Body Scrub, $21.95), you can lather your body with a deep exfoliating salt scrub that will buff off dead skin with ease thanks to your pore-penetrating pre-soak.
Many banyas offer facials, most commonly mud masks, but you can also go the D.I.Y. facial route and take advantage of all the free steam by bringing your own mask to try. We love, love, love the FarmHouse Fresh Splendid Dirt Nurient-Rich Mud Mask ($22).
After cleansing, detoxifying, and exfoliating your entire body, your skin will be baby-smooth and soft. Trust.
Editor's Note: Planning a trip to a Russian bathhouse? Be sure to get the "Platza," treatment in the sauna. Believe it or not, it involves getting whacked with an oak leaf broom, called a venik, that's filled with essential oils and will aid much of the above, including reducing stress, removing toxins, opening up pores, and exfoliation. You can see how silly it looks here. It's kind of worth the experience alone, no?
You should also check out:
Blurring: The Korean Beauty Trick That'll Give You the Best Skin Ever
Mastering the Art of the Afternoon Freshen-Up
Celebrity news, beauty, fashion advice, and fascinating features, delivered straight to your inbox!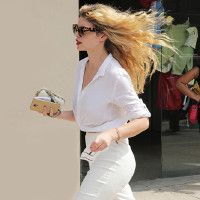 Lauren is the former beauty editor at Marie Claire. She love to while away the hours at coffee shops, hunt for vintage clothes, and bask in the rough-and-tumble beauty of NYC. She firmly believes that solitude can be a luxury if you've got the right soundtrack—that being the Rolling Stones, of course.