The 11 Craziest Nail Trends We've Seen This Year
Cue the mani that involves actual, living plants.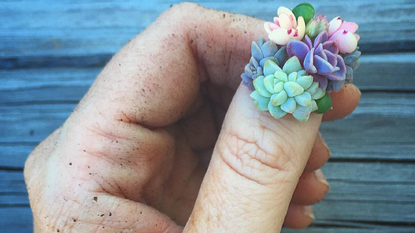 (Image credit: Instagram/Arozona)
Marie Claire Newsletter
Celebrity news, beauty, fashion advice, and fascinating features, delivered straight to your inbox!
Thank you for signing up to Marie Claire. You will receive a verification email shortly.
There was a problem. Please refresh the page and try again.
Here at the tail end of 2016, we're already petitioning for the MoMA to open up an exhibition next year dedicated to the next-level nail art that's been popping up everywhere. From the fur-adorned nails we saw on Libertine's fall 2016 runway to those Instagram-beloved mirrored talons, we are mesmerized—and these are our favorite to gawk at:
1. Furry Nails
Perhaps it was the chilly temps of winter that inspired Libertine to bust out the faux fur and decorate a slew of model talons in the furry stuff. The brainchild of Jan Arnold, style director and co-founder of CND nail polish, the artists painted each nail with their Rubble or Cream Puff shades, then used their Super Shiny High-Gloss Top Coat as glue.
2. Pom Pom Nails
The last time we played around with pom poms it was in tandem with popsicle sticks and glue guns at our 8th birthday party. Now as grown-ass women, we're dying to amp up our manicures with the cheeky, fuzzy balls we've been seeing all over Instagram. Personally, we love the one-pom-pom-on-a-statement-nail approach.
3. LED Nails
Libertine didn't limit their nail adornments to fur—they went electronic too. According to Modern Salon, one model's digits were decorated with beaded nail decals boasting 60 LED-lit Swarovski crystals. The designs took over 200 hours to make! See one LED manicure responding to light in-real-time below:
4. Mirrored Nails
Forget having to whip out a compact to check your teeth—you can now do so with fingernails. From foil decals to shiny silver polish, mirror-like finishes are cropping up all over Instagram and we're loving the disco-ready results.
5. Glass Nails
We were first introduced to glass nails last fall, but if NYFW is any indication, the trend is just getting started. The best part? K-beauty e-commerce site Glow Recipe has partnered with Unistella (the OG salon behind the technique) to create 3D, prismatic stickers you can use at home. You can make your nails as statement-making or pared down as you like.
Unistella Limited Edition Glass Nail Stickers, $8 per sheet; glowrecipe.com.
6. Nasty Nails
Hood by Air loves an unorthodox statement and they definitely made one with their signature "nasty nail" look for fall. Instead of a traditional manicure, the nail artists opted to make digits look dirty with a filthy wash of color and grime under the fingernails. We love an off-kilter approach, buuut we don't recommend this technique for date night.
7. Succulent Nails
That's right—live succulent plants on your nails. "I had been making real succulent jewelry and wanted to use the same application on something I had never seen baby succulents used on before," Roz Borg, the Australian artist behind the trend, told the Huffington Post. And succulent nails were born. Borg uses a floral adhesive to apply the baby succulents to a fake nail that she then attaches to her real nail to complete the manicure. Borg calls it a "temporary green thumb," and we'll call it a mani that definitely only lasts a few days.
8. Oil Spill Nails
If you thought this year's oil spill lip trend was the only BP-influenced beauty movement to hit the masses, you were just seeing the tip of the iceberg. Instagram was flooded with shots of iridescent "wet look" nails this year that are best seen in motion, where the sheen and colors shift based on the light (much like a technicolor rainbow on a petrol slick).
9. Aquarium Nails
Even though mermaid nails (AKA aquarium nails) first got its legs—so to speak—last August, the trend really hit its stride this year when Instagram took the trend and swam with it (I'll see myself out). The gist of the style is that a nail technician fills a double-paned acrylic nail with liquid and lots and lots of sparkly things. The effect? A swirling snow globe of glitter that's covered with even more sparkly things and glitter and crystals. We're calling it the Most Distracting Nail Trend of 2016.
10. Crystal Nails
Nail tips resembling talons may be passé by now (looking at you Elvira), but actual nails that look like they could kill? Okay, we're listening. Crystal tipped nails that resemble shattered glass entered our radar earlier this year and the results are straight-up deadly. Shiny holographic strips are glued mosaic-style (it's a souped-up version of the glass nails trend, in many ways) to jagged tips that you wouldn't want to get in an argument with.
11. Gold Bar Nails
Park Eunkyung (@nail_unistella), the brilliant artist behind glass nails and bracelet nails, has done it again. She is known for choosing designs you wouldn't think to consider for nail art, but the results are magical. With the jewel-like facets, these gold-bar nails could inspire lots of envy! (Better beef up security.)
Follow Marie Claire on Facebook for the latest celeb news, beauty tips, fascinating reads, livestream video, and more.
Celebrity news, beauty, fashion advice, and fascinating features, delivered straight to your inbox!