25 Spring Nail Art Ideas That'll Make Your Friends Say "OOH, Your Nails!"​
There's officially no need to be boring this season.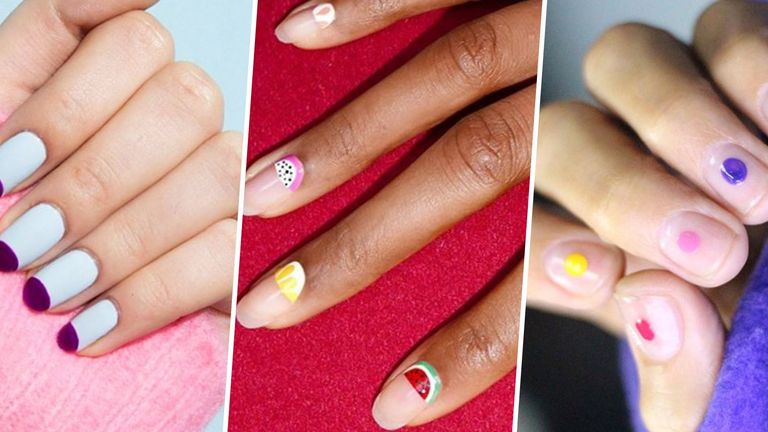 (Image credit: Instagram)
I'm going to go ahead and guess that your nail situation this winter has been been bleak—scraggly cuticles, monotone polishes in shades of burgundy and navy, and chips galore.
But the gloves are coming off (literally; spring is here, folks), and the race for the prettiest, most Instagrammable nail art is on. And thankfully, there are more cool nail designs to try this season than there are Kardashian-Jenner-Disick-West-Websters. Check them out below, then proceed to your nearest nail salon ASAP.
1. This Banded, Negative-Space Mani
2. These Gold Foiled Nails
3. These Fruity Cuticle Designs
4. This Reverse-Moon Mani
5. These Watercolor Geode Nails
6. These Minimalist Dotted Design
7. These Black-and-White Cuticles
8. This Jeweled and Studded Mani
9. These Sketched Roses
10. These Mint-Green Negative Nails
11. These Cut-Paper Nails
12. This White Grid Design
13. This Color-Stacked French Manicure
14. These Gilded Dry-Brush Nails
15. These Pink Glass Nails
16. This Wired Heart Mani
17. These Geometric, Barragán-Inspired Nails
18. These Pink Marble Nails
19. This Ports 1961 Striped Mani
20. These Bloom Accent Nails
21. This Color-Blocking Design
22. These Pastel Graffiti Nails
23. This Dotted-Tip Manicure
24. These Cobalt French Tips
25. These Double-Lined Nails