Lady Gaga Is Wandering Around Miami's Beaches in a Thong Like a True Hero
Applause, applause, applause.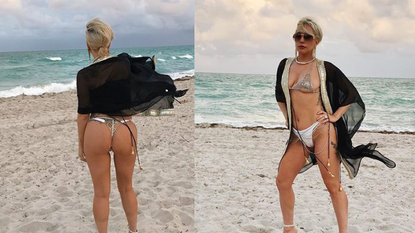 (Image credit: Instagram)
We live in a world full of men objectifying women, society telling us what they should and shouldn't wear, and way more judgement than is fair. Which is why the body positivity movement is so important. Which is a long-winded way of saying that Lady Gaga wore a thong bikini in Miami, posted a slew of photos on Instagram, and we're here for it because YAY for women looking amazing/knowing it/showing it.
¯\_(ツ)_/¯
The singer is on her world tour, and while her bikini is iconic, what's even more worthy of 🙌 is the fact that she's casually wearing stiletto heels on the beach.
Never change, Gaga.
Okay, bye, off to Miami to party in the city where the heat is on, all night, on the beach 'till the break of dawn.
RELATED STORY