The Surprising(ly Legitimate) Kardashian Takeover of Tech
While you were collecting K-stars, they were making moves.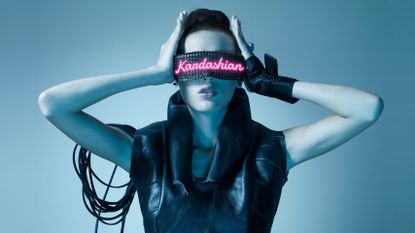 (Image credit: Getty Images)
Hating on the Kardashians is an American pastime, as is watching their show and following them on social media and being incredulous while also secretly wanting to try Kylie's miracle butt-inflating cream. Every day, they supply something new for us to consume, whether it's Squidward-blue hair or a pregnancy selfie in the nude. Your feelings on them may change depending on the ridiculousness of their latest exploits, but the undeniable bottom line is that the family laughs all the way to the bank.
These days, their biggest paychecks aren't necessarily coming from the sources you'd expect. It's not their long-term contract with E! or their Prince George-inspired kids' fashion line or their extensions or their appearance fees or their modeling contracts—though those businesses are nothing to sniff at. The Kardashians have been quietly expanding their sphere of influence in the technology industry, and they're actually having a giant impact in Silicon Valley.
We might have been collecting those damn K-stars the longest, but Kim isn't the only one dipping a nude-varnished toe in the San Francisco bay. Khloé Kardashian just launched BeGroupd, a messaging app that helps you make decisions with your friends. Instead of going back and forth about scheduling dates, times, and locales, it cuts to the chase with polling features. "I've always wanted to get involved in the tech industry, but hadn't come across anything that really clicked for me. When [CEO] Lindsey [Cummins] approached me with Begroupd I fell in love," Khloe said in a statement to Business Insider. "Messaging is such an integral part of our lives and Begroupd will help solve problems everyone can relate to."
But the family's tech endeavor is far more complex than just an app here, a $100 million mobile game there (more on that later). Kim has made a concerted effort to go directly into the belly of the beast, attending conferences (like Re/code in fall 2014) and networking with tech CEOs (like Kevin Systrom of Instagram). Just two weeks ago, she posted this Instagram:
https://instagram.com/p/5SxcbBuS4h/
The CEO she's referring to is Ben Horowitz, who leads the venture-capital firm Andreessen Horowitz. They've helped finance just a few tiny start-ups you might have heard of, such as Facebook, Twitter, Instagram, Pinterest, Groupon, Buzzfeed, Foursquare, Lyft, Skype, and Airbnb. If Kim's sharing hot dogs and lemonade in Silicon Valley with this crowd, you can guess she's playing the long game.
Now rewind to June 2014. Kim Kardashian: Hollywood launches, and, like everything except maybe that morning-sickness drug she had to delete from Instagram, it was a commercial success. (FYI, the game has earned an estimated $25–40 million every single quarter.) She put the publisher Glu Mobile on the map—even tech insiders know it as "the Kim Kardashian game company." A typical celebrity equity deal can range between 5 and 25 percent of the product, so this figure suggests that Kim is likely pulling in tens of millions a year from this thing.
Kim is also not the type to sit back and let them just use her name. Glu Mobile CEO Niccolo de Masi has said that she was involved with every step of the development process, and she's not done just because the game is out. Little by little, she has introduced other family members to the KKH universe, with husband Kanye West and daughter North West coming soon. In fact, adding Kourtney was a plot point this past season on Keeping Up with the Kardashians. Multiplatform marketing! Synergy! Kourt was the only one who refused to sign a contract for Glu to use her likeness in the game. After taking a look at the numbers, she might want to set aside the sisterly squabbles–Kim has got her retirement plan covered.
If you follow the family on social media (and since their total follower count approaches the population of Spain, you probably do), they often clearly pimp some endorsements. Some are even in the technological field. Remember Keek? The social-media app for sharing short videos has been eclipsed by Snapchat and Vine, but you've probably only heard of it because there was a time circa 2013 when the Kardashian-Jenners would regularly urge their followers to download the app. The CEO avoided confirming the financial relationship, but it seemed pretty obvious to anyone keeping up.
BeGroupd, which you might think of as a Keek redo, arrived in the App store just last week, so only time will tell if it can compete with messengers like WhatsApp. By now, though, anyone should know better than to bet against the Kardashians. They're on every device you own—and they won't stop until your home screens are as good as theirs.
Marie Claire email subscribers get intel on fashion and beauty trends, hot-off-the-press celebrity news, and more. Sign up here.
Jesse Draper is a technology personality and creator and host of Emmy-nominated "The Valley Girl Show", as well as CEO of Valley Girl, Inc. She has produced and distributed over 300 interviews with some of the greatest minds in business, entertainment, and technology, including Sheryl Sandberg, Supreme Court Justice Sandra Day O'Connor, Jessica Alba, Will.i.am, and former Google CEO Eric Schmidt. She will also appear as a regular mentor on ABC Family's new show Startup U, airing in August. She splits her time between Silicon Valley and Santa Monica and is a graduate of UCLA.