All the Celebs Who Have Influenced the Stock Market
Kylie isn't the only star who can cause a company to lose (or gain) billions.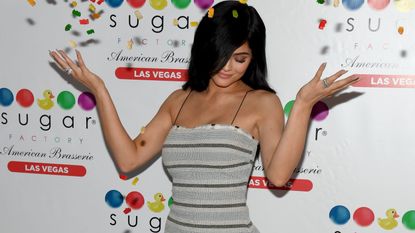 (Image credit: Getty Images)
Donald Trump may claim he's responsible for the stock market's recent historic highs, but as we learned last week, his are not the most powerful tweets. After Kylie Jenner posted on Twitter that she hadn't used Snapchat in a while, the company's stock took a tumble. Shares of Snapchat's parent company sank 6.1 percent, leading to a $1.3 billion loss in market value, all because of Jenner's rejection.
"Someone like Kylie Jenner is a significant social media influencer," said Chris McCannell, partner at the financial services lobbying firm, Eris Group. "People who trade in Snap look to see what the trends are going to be in the future. To them, Jenner became a source of information."
Brands have long known that celebrities can make or break their business—it's why they pay oodles of money to use their likenesses in ads. But the Kylie phenomenon proves that a star's association with a product, even an unofficial one, can do far more (for better or worse) than simply nudge sales. Here are seven more examples of celebs exerting major influence—often inadvertently—over the market:
1.
When longtime Subway spokesman Jared Fogle was indicted on child pornography charges, the company's saw a dramatic dip in sales, despite cutting ties with the criminal.
2.
Kendall Jenner's controversial Pepsi ad rankled audiences for making light of the Black Lives Matter movement and the commercial was pulled—but the stock stayed high. Surprisingly, it plunged following Jenner's public apology.
3.
In 2015, when then-candidate Hillary Clinton posted a tweet about pharmaceutical price-gouging, biotech stocks plummeted.
4.
Earlier this year, DJ Khaled signed on with Weight Watchers as their social media ambassador. As a result, the stock went up 7 percent. When Oprah signed with the company in 2015, the stock price doubled in a single day and has been rising ever since.
5.
After Jeremy Jordan, star of the short-lived music drama Smash, tweeted that he "almost died" of food poisoning from eating Chipotle, the company's stock fell to its lowest level in almost five years.
6.
Gangnam Style was a hit song, but it wasn't just Psy's dance moves that had lasting value. His popularity also boosted the stock price of his father's company, D I Corp, in South Korea.
7.
Former First Lady Michelle Obama didn't just influence fashion trends, she impacted the fashion business. According to Economic Times, shares in the European labels she wore during Barack's first year in office rose a collective 16 percent after she was spotted in the designs.
The issue with such celebrity power arises with intentions. As Matt Levine opines in his Bloomberg View column on the Jenner Snapchat tweet and subsequent stock fall, so long as Kylie didn't plan to drive the stock down for her own personal gain, then she's likely in safe territory:
Of course if Jenner had sold Snap stock short, drove its price down with a tweet, and then covered her shorts for a quick profit, that would probably rub some people the wrong way. It is not insider trading, but is it...a vague word that is often thrown around, particularly about short sellers, is "manipulation." Would it be illegal manipulation for Jenner to trash the stock when she's short? Again I do not think so, as long as her trashing is honest.
Snapchat, like other social media outlets, is only as strong as its users and influencers perceive it to be. Irrelevance is the worst fate that can be bestowed upon a social media commodity, and Jenner's tweet derides Snapchat as obsolete ("Sooo does anyone else not open Snapchat anymore? Or is it just me?"). Because of that, experts weren't surprised that the blowback came in the form of a stock price dive.
"Snap has changed around their format; that was one of the thing she was reacting to," says McCannell. As an social media influencer, her insight into the product was given extra weight. "She became an unwitting stock commentator," he adds. "She's someone outside of business with a line of sight into Snap and what they are doing, and she's giving insight into the user experience." Moral of the story: If you want your company to thrive, keep celebrity influencers happy.
RELATED STORIES
Celebrity news, beauty, fashion advice, and fascinating features, delivered straight to your inbox!
Rebecca Gale is an award-winning journalist covering the nexus of politics and people in Washington, D.C. She is currently a writer with the Better Life Lab at New America. Her work has appeared in The Washington Post, Roll Call, Marie Claire, Cosmopolitan, and Health Affairs, among other outlets. Follow her on Twitter @beckgale