Jenna Dewan Just Removed Channing Tatum's Name From Her Instagram
Jenna Dewan Tatum just removed Channing Tatum's last name from her Instagram profile, just a few weeks after the couple announced they're separating. Channing liked the Instagram Jenna posted of herself in Lingerie.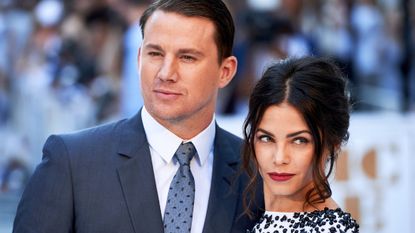 (Image credit: Getty Images)
Just a few weeks ago Jenna Dewan Tatum and Channing Tatum surprised everyone by announcing their breakup in a joint statement. "We have lovingly chosen to separate as a couple," they wrote. "We fell deeply in love so many years ago and have had a magical journey together. Absolutely nothing has changed about how much we love one another, but love is a beautiful adventure that is taking us on different paths for now." The two had been together for almost nine years.
Since then, fans have been losing their minds on Twitter, and watching both actors' social media to look for any signs of what's going on. And last night, they noticed something big: Jenna has officially removed Channing's last name from her Instagram.
Jenna posted her second Insta since the breakup announcement—a cute photo of herself in Danskin lingerie—and fans immediately spotted the name change.
But there's another notable thing about this name-changed, cute lingerie post: Channing Tatum "liked" it.
What does it mean? Probably just, as their joint statement read, that they're still "just two best-friends realizing it's time to take some space and help each other live the most joyous, fulfilled lives as possible," which means supporting each other and liking each other's social media.
It's hardly a surprise that Jenna chose to drop the last name Tatum. As she told Ryan Seacrest back in November, she only added the name on the end of her own because "Channing is very traditional." "He's still kind of miffed that I didn't just take Tatum," she said. "For some reason, it was really hard for me to let go of my given name."