Prince George Is a Giggling Rascal at Trooping the Colour Right Now
The royal ham strikes again.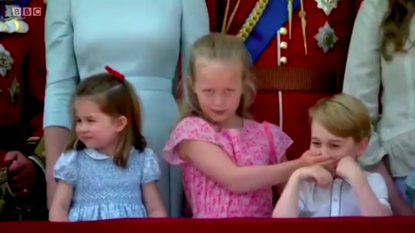 (Image credit: Twitter)
For those of you tuning into Trooping the Colour (opens in new tab) just for the sake of Prince George content (*raises hand*), you're in luck—the little royal has just supplied us with a slew of ridiculously cute new moments.
In honor of his great-grandmother's birthday, Prince George and the rest of his royal family have lined up to watch hours of festivities. In typical 4-year-old fashion, George is being is rascal self: He was spotted giggling alongside his sister, Princess Charlotte and cousin Savannah Phillips...
And Savannah appeared not to be a fan of Prince George's singing voice, covering his mouth as he sang the national anthem:
It comes as no surprise that the Duke and Duchess of Cambridge dressed their children in adorable ensembles (can we just with Charlotte's pretty blue dress?) for the outing—they're almost outshining the birthday girl, who is a style icon herself (opens in new tab).
Just last month, we were gifted with the greatness that was Prince George and Princess Charlotte at Harry and Meghan's wedding (opens in new tab). From Charlotte's epic performance as bridesmaid (opens in new tab) to George's straight-up cheesing during the official portraits (opens in new tab), the day offered a high dose of royal children cuteness.
Let us pray that our next Prince George spotting is in the near future.
RELATED STORIES