Princess Charlotte Is Already "Obsessed" With Pink and Loves Fashion
Her dad said he'll "never" be able to separate her from her new bag.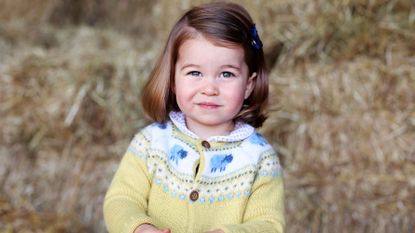 (Image credit: Getty Images)
In today's royal family news, the Duke of Cambridge just hinted to a group of Liverpool craftspeople that Princess Charlotte (opens in new tab) loves fashion. Prince William, who is celebrating his 36th birthday today, received a ridiculously sweet gift from Liverpool's Leather Satchel Company during his visit to the International Business Festival—three monogramed bags for George (opens in new tab), Charlotte, and Louis (opens in new tab).
The little princess' bag was made with pink leather (the three-year-old's favorite color)—and it immediately caught Prince William's eye. "Charlotte will be obsessed with that—I'll never be able to get it off her," the Duke of Cambridge said (opens in new tab) to the designers, Keith and Gail Hanshaw.
The Hanshaws—who appropriately named the bags the Mini-Windsors—said the leather was picked specifically for each of the royal children. "George's bag is in his school [colors]. Charlotte's mad about pink, he [the Duke] said it's her [favorite color]. And Louis's bag is a classic London tan," Keith explained (opens in new tab).
It really doesn't come as much of a surprise that Charlotte is into fashion—the three-year-old has already become a mini style icon (did you see her little blue dress at Trooping the Colour (opens in new tab)?! Or, my personal favorite, her red mary janes (opens in new tab)?!). Here's hoping Prince William continues to give us little quips about her personality—I, for one, am dying to know more about this fashion-obsessed tyke.
RELATED STORY
Ruby was the beauty editor at Cosmopolitan, where she covered beauty across print and digital. Her work has appeared on The Zoe Report, Fashionista, and StyleCaster. Follow her on Instagram.