Thomas Markle Drags the Queen for Agreeing to Meet With Trump—but Not Him
Thomas Markle strikes again.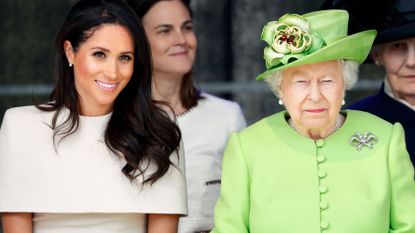 (Image credit: Getty Images)
In this week's dose of Thomas Markle Wants Attention, the Duchess of Sussex's father, Thomas Markle, (opens in new tab) has decided to drag the Queen for agreeing to meet Donald Trump before him. Confused? Same.
Let's back up: After Meghan's dad went on Good Morning Britain for a telling interview (opens in new tab) earlier this month (you know, the one where he talked about Meghan's desire to have children (opens in new tab), how it felt to miss his daughter's wedding (opens in new tab), and a slew of other private matters), Markle claims the royal family has since put him in a "penalty box." Markle told TMZ (opens in new tab) that he hasn't spoken with anyone from the palace (including Meghan) since the interview dropped—and he really doesn't like it.
Projecting his frustration onto the Queen (opens in new tab) (a decision that will definitely make the royal family happy), Markle says the matriarch's choice to meet Donald Trump—and not him—is a mistake. "If the Queen is willing to meet our arrogant and insensitive president she has no excuse not to meet me, I'm nowhere near as bad," he told TMZ (opens in new tab).
WORLD EXCLUSIVE: Thomas Markle talks about his heart surgery and the moment he told Meghan he couldn't attend the royal wedding #GMB pic.twitter.com/oIpPjPbd6uJune 18, 2018
See more
The Queen will reportedly meet Trump during his visit to the UK next month—and while details have yet to be released, one thing is for sure: There is no way in hell that Thomas Markle will have his moment with the Queen before then (and maybe ever).
RELATED STORY
Ruby was the beauty editor at Cosmopolitan, where she covered beauty across print and digital. Her work has appeared on The Zoe Report, Fashionista, and StyleCaster. Follow her on Instagram.