Prince Harry and Meghan Markle Shared an Understated PDA Moment at 'Hamilton'
Harry is clearly protective of her.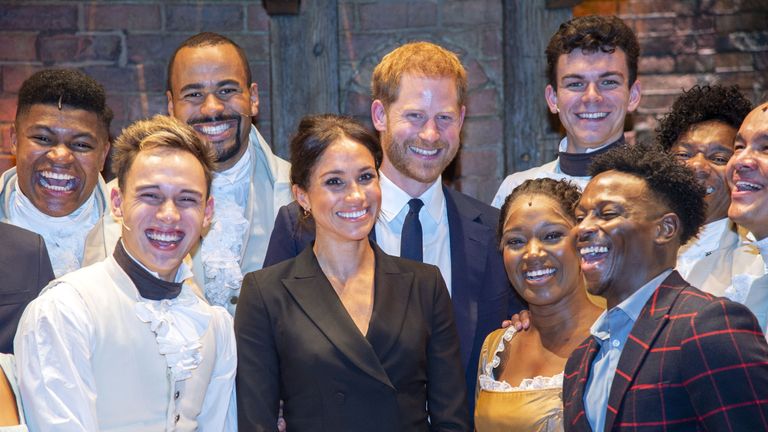 (Image credit: WPA Pool)
On Wednesday night, Prince Harry and Meghan Markle shared categorically the best date night of all time when they arrived at London's Victoria Palace Theatre for a gala performance of Hamilton in support of Harry's Sentebale charity. While it was technically the start of "back to work" season for the Duke and Duchess of Sussex, the evening wasn't strictly professional, given that Harry couldn't resist a cute and understated PDA moment with his wife. Can you blame him? She looked stunning in her black tuxedo dress from Judith and Charles.
Following the evening's performance—and an unexpected karaoke moment from Harry himself—he and Meghan joined the cast on stage to discuss the iconic, award-sweeping show and to pose for group photographs with the actors and actresses. Look closely enough at the couple in the crowd, and you'll spot the Duke keeping a sweet, protective hand on Meghan's waist throughout.
Anyone else swooning a little right now? It's a refreshingly normal and cute moment to see them sharing together, and it's great to see both Meghan and Harry still looking so happy amid what must be a tricky time behind the scenes, with her current family drama and an endless media frenzy following their relationship.
When it comes to royal couples, there's no official rules to state that any public displays of affection are strictly forbidden, but an underlying, unspoken restriction on PDA between royals and their spouses in public definitely exists. But ever since they first began dating, Meghan and Harry have pretty much thrown the rule book out of the window and seem to give zero effs.
Their public appearances such as this recent Hamilton theatre trip, the RAF Centenary event with its spicy arm-holding, and the Toronto Invictus Games with some raunchy head-kissing, have all included adorable, affectionate (but never OTT) moments. Their loved-up style usually contrasts significantly to Prince William and Kate Middleton who, while obviously very much in love, are rarely even seen holding hands in front of the cameras.
And, okay, it's not exactly steaming up in here like the Sentebale Polo Cup kiss all over again, but we'll take what we can get from these two.
RELATED STORY