Princess Eugenie's Zac Posen Second Wedding Dress Was a Totally Different Look
It was inspired by an "English rose."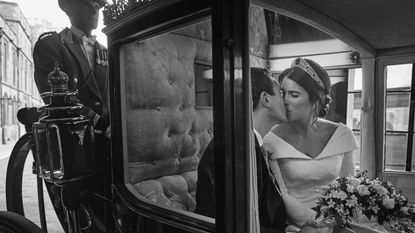 (Image credit: Handout/Alex Bramall)
Wow, wow, wow. As part of a handful of official portraits from yesterday's royal wedding that were released to the world Saturday afternoon, we got to see Princess Eugenie's second wedding dress, a Zac Posen masterpiece that was custom-designed for Eugenie in honor of her special day. Eugenie wore the dress to her wedding reception, and the photo released by the Palace (taken by royal photographer Alex Bramall) showed the gown in all its glory—from its sweeping skirt to its fitted waist and ribbed bodice.
Princess Eugenie and Jack Brooksbank's post-wedding festivities have been strictly under lock and key, with guests reportedly even being told to hand over their phones before entering the "fun fair slash festival" day in Eugenie's childhood home Saturday. So this is our first official glimpse of the Zac Posen gown that Eugenie changed into for her reception, having gotten married in a dress by Peter Piloto specially designed to reveal her scoliosis scar.
In a statement, Princess Eugenie and Jack Brooksbank said of the second gown:
Mr. Posen was inspired by the beauty of Windsor and the surrounding countryside. The choice of color reflects the blush of an English rose. Mr. Posen took his inspiration from the White Rose of York. The pin-tucked plissé is cut on the bias and mixed with signature drapes. The White Rose of York is subtlety embroidered on both the shoulder and back which hold together the cape. The silk for the gown comes from the British Mill, Biddle Sawyer Silk.
Gotta say, I'd quite like my own wedding dress to be inspired by me rather than by a field, but you do you, Eugenie.
Said Zac Posen himself in a statement: "It was an incredible honor to create this dress for Her Royal Highness Princess Eugenie on her wedding day."
In the photo, Eugenie is looking adoringly at her new husband, who looks thrilled as the couple walk towards the camera.
The dress is a very different style from her first wedding dress, although the two shared similar shoulder detailing and incorporated symbols that were important to the couple and to Eugenie. Here's her original wedding dress:
The original dress is more conservative, which is to be expected in any royal wedding. But its Zac Posen follow-up is simply stunning—a gorgeous ruched, fitted bodice; a flowing skirt; exquisite folded shoulder detailing; and long sleeves, in a tribute to the original gown.
For her reception, also ditched the emerald tiara she wore for her wedding, and by "ditched" I mean "probably politely returned to the Queen's jewelry closet."
REALTED STORY
REALTED STORY
Celebrity news, beauty, fashion advice, and fascinating features, delivered straight to your inbox!