This Week in Timothée Chalamet, October 26 Edition
Complete with some Timothée Chalamet-inspired Halloween costumes.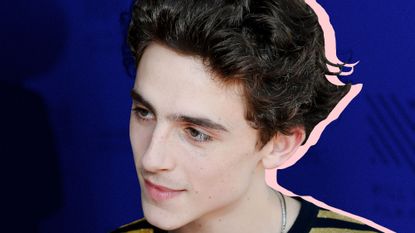 (Image credit: Getty Images)
Because being a person in the world is hard and you deserve something nice, this is MarieClaire.com's semiregular column on everything talented young man Timothée Chalamet did that week. You can catch up on last week's here.
Welcome, painted buntings, to another edition of This Week in Timothée Chalamet. Next week is Halloween, and I've been thinking about which Timmy I would go as. Beautiful Boy Timmy sounds rough, Lady Bird Timmy is a little too easy, Hostiles Timmy is just a cowboy with a French accent and no one remembers he was in that movie—no one but us.

No, the best Timmy to go as is the original. But which original? You could, for example, wear a bowl cut wig and go as Toronto International Film Festival Timmy. Here's an outfit idea:
Or you could, perhaps, go as Premiere of Beautiful Boy Timmy/Good Morning America Jamie Lee Curtis:
Or you could just buy anything by Raf Simons and call yourself Timothée Chalamet.
Heck, just wear his face and go as a really supportive fan?
IDK, I'm not creative!
Here are some other things that happéned this week:
Little Women is just a regular ol' Lady Bird reunion!
Next item in this column notwithstanding, I actually extremely 'ship Saoirse Ronan and Timmy. But because it's not up to me, I will settle for them both being routinely cast in Greta Gerwig-directed films. Little Women is shaping up to be the movie event of 2019 (at least to Timmy/Saoirse/Greta stans) and if I could put myself into a medically induced coma until the day it's released I would absolutely love that, to be honest? I'm not kidding, have you turned on the news lately? What a dream.
Anyway, Timmy posted a pic from the Little Women set:
Alright, only a year and change to go. We can do this! Please go vote!
He and Lily Rose have all but confirmed their romance!
As we previously reported, these two French-ish cuties with sharp, sharp bones are an item. But now they're even more of an item? See, they've been spotted galavanting around town, smooching all over the place—as is their RIGHT as ATTRACTIVE PEOPLE.
Frankly, I'm happy for my son, Timothée Chalamet. But there are a few possible reactions to this news and I am not going to judge you if you have one over the other. Tag yourself:
Are you like this?
Okay but Timothée Chalamet and Lily Rose Depp actually look like The Kiss by Gustav Klimpt and I'm admittedly slightly jealous, yet amazed pic.twitter.com/KRbQ9lsbyKOctober 18, 2018
See more
Or like this?
Am I obsessed with these two because they're adorable or angry because Timothee has a girlfriend? Who knows https://t.co/mClaOjEDxaOctober 20, 2018
See more
Maybe you're like that, except more like this?
Heck, you could also just be feeling a little mean about it:
Lol. Anyway, I'm here for you no matter how you feel, bbs!
It's been pretty slow in Timmy Land otherwise, but if I missed something vital, you know where to find me.
You better have a very spooky Halloween—or else! Just kidding, have a great weekend.
Celebrity news, beauty, fashion advice, and fascinating features, delivered straight to your inbox!
Cady Drell is a writer, editor, researcher and pet enthusiast from Brooklyn.