What Carrie Underwood Eats in a Day to Look as Fit as She Does Now
She may be (mostly) vegan, but she hates being hungry.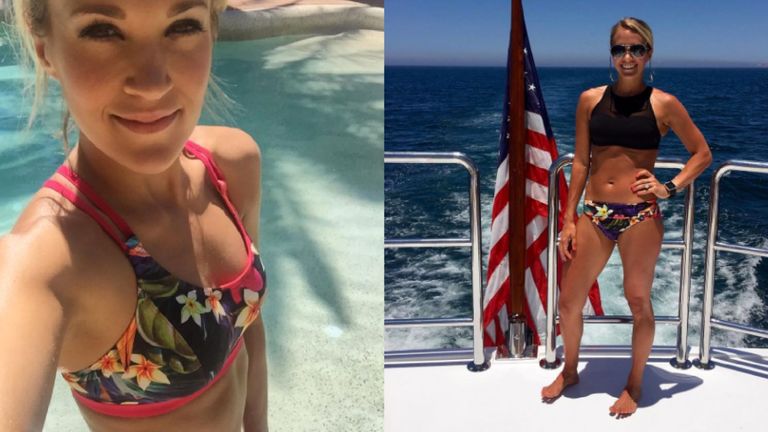 (Image credit: Archives)
Carrie Underwood, 33, has come a long way since winning American Idol in 2005.
You can't help but notice the singer's super-fit figure, from her sculpted arms...
...to her uber-toned legs:
Staying in such awesome shape is no small feat for any woman. New mom Carrie is constantly on the road doing concert tours, attending awards shows, and meeting with press.
Cosmopolitan.com recently sat down with the singer to see how she fills her days and fuels up to stay so freaking fit. So here they are: all her secrets.
7 A.M. There is no typical day for me, but if I'm not traveling and don't have any work things to wake up for, I'll sleep in until my son Isaiah, who's almost 2 years old, wakes up. Then I get up and make us breakfast.
There's always fruit floating around, plus oatmeal, cereal like Kashi Go Lean or Heart to Heart, which I've always eaten without milk. (I'm weird like that!) Sometimes I'll make a tofu scramble with chopped onions and peppers, which I keep in the fridge so I can throw them together quickly in a skillet.
I also stock up on frozen breakfast burritos just in case I'm making something for Isaiah and run out of steam before I can make something for myself. I like the ones from Amy's, and I recently tried a new vegan chorizo one I liked. I never eat meat and try to eat totally vegan, which is easiest when I cook for myself.
When I'm out, I don't go crazy about staying vegan—I wouldn't send a restaurant salad back if it came with something like feta cheese.
After breakfast, I record what I ate using the MyFitnessPal app. I've kept a food journal forever, since I'm a bottomless pit, and I can out-eat everyone I know—it's like there's no sensor between my stomach and brain that says, "Hey, you're full, stop eating!" Once I recognized that about myself, I started tracking my diet, which helps me make better choices and pay attention to what I'm eating. I also write down which exercises I'm going to do later on.
10 A.M. I drop Isaiah at his play group. I try to get him around other kids as much as possible when we're home because he's only exposed to adults while we're on the road.
Afterward, I'll stop by the grocery store. People are always surprised to see me there, but I'm like, 'I gotta eat too!' We hardly ever takeout or eat out because I don't like to. It's not that I'm an amazing chef—I stick to the basics, like roasted veggies and stir-fries—but I like knowing what's in my food, and it's hard to tell when someone else makes it for you.
After grocery shopping, I'll go home to work out. I have a gym at home with a treadmill, an elliptical, a cable machine, and free weights, plus a bunch of my husband Mike [Fisher]'s other equipment. Depending on the day, I try to spend 10 to 15 minutes warming up, then at least a solid hour working out.
I'll often use a deck of playing cards to make my workouts feel more fun, because I really like to mix things up and get bored easily. I'll assign one exercise to each suit, including one upper body move (like push-ups or pull-ups), one lower body move (like weighted squats), one abs move (often using an abs wheel) and one cardio move (like jumping rope). Then I pick one card at a time and do as many reps are listed on each card until I get through half the deck. Then I'll assign different exercises to each suit, and continue until I finish the deck.
When Mike is around, we'll work out together. One of us will run on the treadmill or hold a plank while the other does 50 push-ups, or one of us will do squats while the other runs a mile. You both hate your life at the time, but you try to finish quickly so your partner won't be tortured.
We're good about working out in the same space, but separate from each other as well. We don't talk a lot. We just get in the zone and get it done.
There are some days that I'm not feeling it, but even then I just try to do something, like get on the elliptical for 30 minutes. It helps that I'm never without something to wear that's cute and makes me feel good, since I have so much CALIA by Carrie Underwood fitness clothing—even though my closet is such a mess that I end up grabbing stuff off the top of piles and literally forget about all the clothes hiding underneath. It also helps to listen to music, like rock. If I don't hear what I'm doing, like my feet hitting the floor, it feels easier, although I never listen to my own music—ever, at all!
1 P.M. After my workout, I take a shower and have lunch. You can't beat a sandwich: I have Ezekiel bread with Tofurky, or a fourth of an avocado, a handful of mixed greens or sprouts, and mustard. I love mustard.
3 P.M. I rarely snack in the morning because I don't get hungry—there's no reason to feel hungry if you're eating healthy. I do have an afternoon snack while I'm getting things done, like making phone calls to sort out my schedule. I'm also always doing laundry, washing dishes, and trying to clean the house because it's always getting destroyed by my toddler.
If I'm home, I have an English muffin with peanut butter, but I always keep snacks in my purse when I'm out because I get brain fog when my blood sugar drops—my mouth moves but my sentences don't make sense. To avoid that, I carry around vegan protein No Cow Bars, which I started buying online after seeing a fitness blogger recommend them; seitan jerky; and a Ziploc bag of cereal, which my son snacks on too.
6 P.M. Once I pick up Isaiah and Mike gets home from practice, we try to eat dinner together before bedtime at 7 P.M. I typically make myself a vegan protein like tofu, beans, or a veggie burger with lots of veggies. Mike isn't vegan, and as an athlete, he needs to go heavy on carbs, so I also make something for him like salmon and mashed potatoes. I don't love the consistency of potatoes, so I eat whole wheat pasta or rice instead. I used to stay away from carbs, but lately I've been counting my macros, which means I try to balance my intake of protein, fat, and carbs rather than worry about calories.
That's not to say I never go overboard on any given food group. Like at Christmas, I ate everything my mother-in-law was offering. When there are so many yummy foods, I don't deprive myself, I just get back on the wagon the next day.
9 P.M. I'm not a big sweets person, but if I'm craving something sweet I have a square of dark chocolate, some vegan So Delicious Ice Cream, or coconut milk ice cream. Otherwise, I'll have an English muffin, some toast, or popcorn, since if I don't eat something after dinner, I wake up in the middle of the night when I hear Isaiah stir, and I'm like, 'Damn. I'm hungry!'
Follow Marie Claire on Facebook for the latest celeb news, beauty tips, fascinating reads, livestream video, and more.
Elizabeth Narins is a Brooklyn, NY-based writer and a former senior editor at Cosmopolitan.com, where she wrote about fitness, health, and more. Follow her at @ejnarins.