Literally Every Single Thing We Know About Katie Holmes and Jamie Foxx's Relationship
This is a case for the FBI.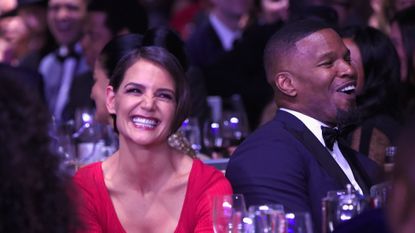 (Image credit: Kevin Mazur )
After a very public relationship with Tom Cruise that ended in divorce in 2012, Katie Holmes all but disappeared from the spotlight. Holmes chose to focus instead on her work as an actor, producer, and director, and her low-key life with daughter Suri in New York City. But in the last year we've gotten much more information about Holmes' relationship with Jamie Foxx, the man she's been quietly dating for over five years.
Last year, Holmes finally stepped out holding hands with Foxx, and they've since provided glimpses of casual get-togethers and even (gasp!) some PDA. Here's everything we know about one of the most private relationships in Hollywood, from how it all started to where they are today.
August 2013
It's believed that Holmes and Foxx began their relationship in 2013, a year or so after Holmes split from Cruise. The two had known each other as far back as 2006–here they are with Holmes' now-ex Cruise.
Apparently, Foxx and Holmes saw one another again at a benefit in the Hamptons in 2016, according to People, where they were seen dancing arm-in-arm. Once they officially got together, the couple reportedly went to extreme lengths—including disguises—to keep their relationship a secret, and we didn't hear a peep out of them for 18 whole months.
March 2015
Extremely blurry photos appear to show Holmes and Foxx holding hands, and Us Weekly unofficially confirms the relationship.
A source told People, "This is not some intense romance." The source added, "Jamie and Katie are friends and have been for a long time. They are two adults who are attractive and single, and so apparently conclusions will be drawn…But contrary to those conclusions, they're not about to run off and make some serious commitment."
December 2015
Holmes was a guest at Foxx's 48th birthday bash in New York City. Her presence at the surprise party, also attended by Jennifer Hudson and Alicia Keys, was the first sign in close to a year that the couple remained together (phew).
March 2016
Both Foxx and Holmes were spotted wearing rings on their wedding fingers. Jamie Foxx's rep shot down rumors that the pair are engaged or married to People—the first time a rep for either of the couple had alluded to their relationship.
August 2016
Holmes was in the audience at Barbra Streisand's concert in New York City to see Foxx be brought onstage, but Holmes and Foxx didn't sit together and no photographs were taken of the couple. We can assume that Holmes was there to cheer on her boyfriend, though.
May 2017
Holmes visited Foxx in Paris when he shot the Robin Hood remake (released in late 2018). "They're going to go out to dinner more often," a source tells Us. "They plan to start going public."
September 2017
A watershed moment! Holmes and Foxx held hands and walked along a beach together, proving to the world that the relationship was still going strong (despite continuing to be very tight-lipped about the whole thing, obviously).
January 2018
Finally! Katie attended Clive Davis' Pre-Grammys Gala in honor of Jay Z with Foxx on her arm, and the two looked happy and in love. The couple spent the entire time smiling and whispering to each other, according to photos (finally! photos!).
February 2018
Foxx literally walked off an interview with ESPN, as reported in Page Six, after being asked about his relationship with Holmes, thus confirming in no uncertain terms that he was not going to discuss the relationship.
April 2018
As has now become customary for the couple, they arrived and left separately for a date night in New York, this time at the high-end restaurant Nobu, according to People.
June 2018
A rumor began to spread that the couple had broken up, but Holmes' publicist was quick to shoot the story down to People. Of course, neither Holmes nor Foxx had ever confirmed their relationship to begin with, so this firm denial was very interesting.
Late 2018
Holmes and Foxx were spotted on a date in New Orleans, then they celebrated her birthday together in New York, and then they engaged in some steamy, sexy PDA while they were on a yacht in Miami.
And here's Jamie walking into Katie's 40th birthday party in New York:
These are big steps for the couple, who have presumably gotten very used to keeping their relationship behind closed doors. Five years on (!), even though they've still not confirmed their relationship, they've clearly gotten comfortable with everyone knowing about it.
February 2019
Well, somewhere along the line, things reportedly went wrong. Very wrong. Although the last public update on the relationship saw them indulging in endless romance, and even some very uncharacteristic PDA towards the end of 2018, the new year took a turn.
In February, it was speculated that the couple had quietly split and ended things for good, after Foxx was heard telling party-party-goers that he was "single."
During an evening at Byron Allen's annual Oscars celebration, HollywoodLife reported that the 51-year-old actor "told the crowd he's single", and "had a lot of women on stage and danced with them." Meanwhile, a second source for UsWeekly backed up the claims, adding: "It was very nonchalant, while he was referring to married and single couples, he just dropped the line, 'I'm single'."
Well, that was the unexpected plot twist that nobody asked for. How did this HAPPEN?
March 2019
Juuuuuust kidding! Either the pair have gotten back together, or they never split in the first place. Daily Mail spotted the couple walking casually down the street in Katie's home of New York, then the pair meandered through Central Park and into the Metropolitan Museum of Art together. (You can go to that link for the photos—intriguing choice of hat, Katie!)
It's worth noting that Jamie saying he's single might be something that the two actors had agreed upon to downplay their relationship (remember that Sex and the City episode when Samantha counseled her actor boyfriend Smith to say he was single in a public interview to better his brand?), but it ended up causing more drama rather than less. I think they might need to tweak their system a bit, is all I'm saying. OR they actually did take a brief break, and we saw a tiny sneak peek at their private life before they became tight-lipped about the situation again.
Amid the breakup rumors, Katie only added fuel to the fire by posting a very sexy photo of herself en route to the Neiman Marcus Hudson Yards grand opening.
April 2019
There was a seismic shift in Katie and Jamie's relationship this month, at least when it came to the couple's oh-so-rare public appearances. First, they were spotted with Jamie's daughter Corinne on a gelato trip in L.A., during which the couple laughed and held hands openly (and, I mean, holding hands with your boyfriend when you're with their daughter—that's a pretty committed relationship move, no?).
Then, the two walked the streets of New York in broad daylight (a bold move!) holding hands, with Katie wearing sweatpants, a trucker hat, and Adidas sneakers, and Jamie in ripped jeans and aviators. (I get the sense that Jamie is on his way somewhere, whereas Katie is going back to bed? I feel you, Katie.)
Look how happy they look! You two keep me young.
May 2019
In huge, huge news, Katie and Jamie attended their first major event together—the Met Gala. They didn't walk the red carpet together, although you can see him close by, just over to the left, while Katie poses with designer Zac Posen:
Then they actually posed together inside the venue. meeting Cardi B and then just chilling by the gorgeous pink backdrop together. They even gave us some of that rare PDA that is just so, so cute (and rare) for the private couple:
The best part, for me, might be the fact that Jamie literally coordinated his look to Katie's with matching shoes—that's a supportive boyfriend, right there. Per People, Katie wore a "Zac Posen gown, made of 300 yards of multi-layered hand sewn colored tulle, a Tyler Ellis clutch and Lorraine Schwartz jewelry." She looks amazing, he looks amazing in those shades, and they're clearly thrilled to be together. Heart eye emojis for everyone!
Later in the month, Jamie's 25-year-old daughter, Corrine, opened up about her dad's relationship and confirmed that he and Katie are "really great" together.
"They are so great and Katie is always so chic. They were wonderful. [It was] my dad's first Met Gala," Corinne told People when asked about the couple's appearance at the annual fashion event, where the couple made their carpet debut. "They're really good, really great."
June 2019
According to Page Six, Jamie was at a public event, Corkcicle's Rosé Day LA, updating a friend about his relationship with Katie. "[He said] things are going swimmingly," per the source. "They're making [long] distance work, and they are stronger than ever." Obviously, this wasn't Jamie talking publicly to a reporter—he never does that—but I love that he (reportedly) speaks with love about her when he's with companions. It's a big difference in language between public to private communication.
So, there's likely no plans that I can tell for the pair to move from California (Jamie) or New York (Katie). Both are still attending events regularly where they live locally, and are spotted traveling to see each other from time to time. While I certainly long for more events where they show up together, as with the Met Gala, I love love love the detail that they are stronger than ever, and that the fan-favorite couple shows no sign of slowing down. It's so sweet!
August 2019
Wait. WHAT?? The couple is over, according to E!, and it's been over since May. My heart just broke in half! But they attended a red carpet together in May! Their daughter talked about how sweet they were together! He said things were going great! What happened?? Neither of them are going to comment officially, but the couple had been going strong for years.
"This split news has emerged just days after Foxx was spotted holding hands with singer Sela Vave outside of a nightclub in West Hollywood. The duo, who have not commented on their relationship status, were photographed leaving Lil Pump's 19th birthday celebration together at Bootsy Bellows on Friday, Aug. 16," according to E!. Initially, it was just rumored that the two were supportive friends, but apparently that's not true.
Following reports of the breakup, neither camp issued a statement—which is telling, because you'll remember that they denied breaking up back in June (which, ironically, was the first time they'd confirmed they were actually together). So it feels as though the lack of denial might indicate that the rumors are true, and the two have gone their separate ways.
According to People's source, "It ran its course. This industry is very tough on relationships...Jamie thinks Katie is an incredible human being. They had a very, very deep connection. They brought each other a lot of joy and laughter."
Meanwhile, ET's source isn't ruling out the possibility of a reconciliation. "They never had a typical relationship...They have always been incredibly independent and their lives didn't revolve around each other." But Us Weekly's source has the most (potentially) juicy tidbit of all: the two were living "different lives" and "It has been many years of him stepping out with other women."
In the days following news of the split, Jamie was forced to address rumors that he'd moved in with Sela Vave, 21, a singer he'd been spotted holding hands with. The verdict, according to Jamie? They live together, but it's strictly a business arrangement. "We took her under our wing," Jamie said in a video posted to Instagram Live, saying that he would never cross the line into romance with Vave—"that girl's mom put her trust in me," Jamie added. He also addressed the hand-holding photos, saying: "I'm escorting her to my car, to put her in the car."

Vave shared the video on her own account, writing: "For the people who care… here is the TRUE story… for everyone else you can keep talking and calling me a whore, slut, home wrecker, thot, gold digger."
For more stories like this, including celebrity news, beauty and fashion advice, savvy political commentary, and fascinating features, sign up for the Marie Claire newsletter.
RELATED STORY
Celebrity news, beauty, fashion advice, and fascinating features, delivered straight to your inbox!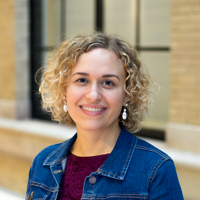 Katherine's a Boston-based contributor at Marie Claire who covers fashion, culture, and lifestyle—from "Clueless" to Everlane to news about Lizzo. She's been a freelancer for 11 years and has had roles with Cosmopolitan and Bustle, with bylines in Parents, Seventeen, and elsewhere. It's "I go to dinner," not "Her huge ego," but she responds to both.