A Body Language Expert Analyzes Meghan and Harry's Interview with Oprah
"She's trying to suppress the memories of that horrible time. When she cried, they were real tears."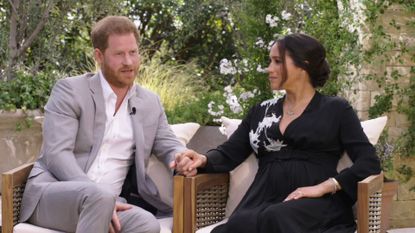 (Image credit: CBS)
In Sunday's tell-all interview with Oprah, Meghan and Harry opened up about the struggles they experienced during their time as working royals. While Meghan opened up about her mental health and the racism she had endured at the palace, Harry explained that he ultimately chose to leave the royal family to protect his wife and child. The couple announced earlier this year that they would be permanently resigning from their royal duties. In the frank primetime special, the Sussex's body language spoke just as loudly as their troubling–and sometimes disturbing–revelations.
Patti Wood, body language expert and author of Snap: Making the Most of First Impressions, Body Language, and Charisma, tells Marie Claire that despite Meghan's measured confessions, you could tell that she was still holding back.
"We see a mixture of emotions in her eyes. She's wistful. She's looking off, she's remembering. And there's a part of her that smiles as she remembers, but there's also tears in these eyes," Wood says. "So it tells me she's remembering all of it, all of the wedding, and there's parts that she thinks of fondly, but there's parts that make her cry. So it's a complex set of emotions. And overall, she wants to contain and suppress the complexity of these emotions."
Wood also mentions that Meghan wished to protect herself from the audience's judgement early on in the interview. "She crosses [her legs] away from the audience, the viewer in a protective manner." She continued, "Her hands are in her lap. That's protecting from a perceived attack on her identity and womanhood."
Not only did Meghan have a complex relationship with the audience, she had a complex relationship with the Queen. Although Meghan spoke about the matriarch fondly, Wood notes that her body language revealed something more complicated. "At the very beginning of the interview Oprah introduces the queen, and Meghan actually showed complex, negative vocal and gesture clusters about her."
"She kind of growled. And when she says that [the queen] was one of the first people I met, she looks down and she grimaces. She does a tongue thrust. It's a beautiful example of how the non-verbals revealed how she really felt and the stories that contradicted it."
In Meghan's harrowing description of her mental health struggles, her body language went from detached to one in the throes of painful recollection. "She's trying to suppress the memories of that horrible time. When she cried, they were real tears."
When discussing the palace's outrageous "concerns" about Archie's skin color, Meghan's posture noticeably changed. For Wood, this part of the interview was the scariest part for her, because the Duchess' body language suggested that she was truly in a state of fear. "It's a seat adjustment, it's symbolic of wanting to run away from the situation subconsciously."
"And then there's this look of pure fear that crops across her face...There was a moment when [Oprah's] trying to get her to pin down who said this about Archie skin color...And, she was so scared."
Harry, on the other hand, appeared resigned, saddened by the fact that he was unable to protect his family. Wood explains, "If you look at Harry, you'll see he has his hand and arm to protect his masculinity. You'll see how [the family's lack of support] made him feel all the way up and through his body, because of how slumped and planted, how collapsed, his body is."
Although the interview disclosed the trauma that Meghan underwent during her time in London, the couple's body language revealed their love and commitment to one another throughout the tough times. When Meghan revealed the gender of baby no. 2, Wood notes that her smile was quite genuine, and the Duchess appeared to be very comfortable and happy. She even giggled.
During tough conversations about Buckingham Palace's racism and desire to marginalize Meghan, the Sussexes held hands in support of one another.
"I've read hundreds of photos of them. Whenever he's talking, she is looking at him. If they can touch, they will touch. So if people are wondering, well, how are they doing now as a couple? They're there for each other, they're supportive of each other. They're used to gaining comfort from each other."
Marie Claire email subscribers get intel on fashion and beauty trends, hot-off-the-press celebrity news, and more. Sign up here.
Zoe Guy is the digital fellow at Marie Claire, where she covers pop culture, hot celebrity gossip, movies and TV. She's obsessed with Martin Scorsese's adaptation of The Age of Innocence, anything written by Jesmyn Ward and stan Twitter.