Keira Knightley: Keira the Conquerer
For an actress known for playing proper (if often doomed) period heroines, Keira Knightley is no damsel in distress, but a modern woman career on fire, cool fashion cred, rock star fiancé come into her own.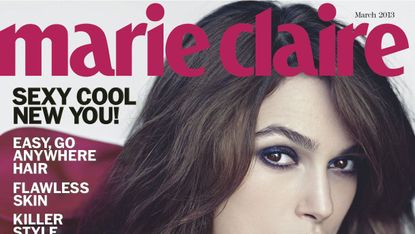 (Image credit: marie claire )
Marie Claire Newsletter
Celebrity news, beauty, fashion advice, and fascinating features, delivered straight to your inbox!
Thank you for signing up to Marie Claire. You will receive a verification email shortly.
There was a problem. Please refresh the page and try again.
"Oh my, that's quite sexual." Keira Knightley is studying a . . . what exactly is that? She bends toward a bulbous aquamarine glass flute with a sinewy neck and floral spout and squints to read the placard. "Of course, it's a rosewater sprinkler!" She says, laughing. "And to think, until now I've been just spraying my rosewater about carelessly. I was doing the wrong thing, wasn't I?"
We're at an exhibition of Islamic art at the Museum of Arts and Design on New York's Columbus Circle; the treasures are from the fabled Honolulu estate Shangri-la of tobacco heiress Doris Duke, who spent her life collecting art and men in equal measure. The curious nature of some of the objects has Knightley resorting to reading the placards, though "I get quite pissed off at being told what to think. Maybe I'm a savage dumb person, but I want to believe it is what I believe it is." As Knightley wanders through the show, she considers that the collection is drawn from just one of Duke's many pleasure domes — Duke also kept palaces in Newport, Rhode Island; Beverly Hills; and Hillsborough, New Jersey — and takes stock of just how far she herself is from settling down and building these sorts of statement houses.
"I'm still a traveler," says the actress, who recently moved from a loft to a reportedly $3.8 million house in London's East End with her fiancé, Klaxons keyboardist James Righton, 29. "We love it, but it's not the house. . . I don't have anything valuable. Everything in our house is designed so you can spill things on it."
She pauses before a case full of intricate jewelry encrusted with hundreds of diamonds, rubies, and emeralds. She starts to walk away and then turns back. "They're real, aren't they?" She points to a necklace with enough bling to propose to the borough of Manhattan. "Could you imagine dancing in that? If you lost it? I won't be defined by objects, I just won't." It takes walking amid a billionaire's baubles to realize that Knightley is about as practical and grounded as a 27-year-old international star can be. (The Sunday Times estimates her own fortune at more than $48 million.) "My mom [Sharman Macdonald] is a playwright — she was an actress — and my dad [Will Knightley] is an actor, and we managed to go on holidays, but there were periods when they were hugely out of work and wouldn't know if they could keep the house. It's a very insecure profession. I've always seen it for what it is. So when I started getting work, it's like this tiny space opened up and I needed to jump in and go with it. It could all go away tomorrow." Later on, she would say, "I'm not sure I can define success. I think if I get to the end of my life having hurt as few people as possible, I will be happy, making sure that the people who mean the most to me know they've been loved. Success in work, whatever work, will come and go."
With security guards and publicity minders in tow, she had arrived in a wasp-waisted purple- and-pink floral dress, dark tights, and loafers. "Can you read it?" she asks, holding up the back of her collar when asked about the designer. "I don't remember." Despite not knowing the label (it's Ganni, a Danish brand), she's been muse to a number of designers, including Karl Lagerfeld as the face of Chanel Coco Mademoiselle perfume. "I like the fantasy of fashion," she says. "Creating a different person and dressing up like her. Putting on a flowery dress when it's raining brightens up the world."
"The first thing that springs to mind is the 1940s," says actress and longtime friend Sienna Miller. "I think of her as glamorous in that kind of timeless movie star way, but she can be grungy in this very cool '90s way. You say this about people who have style, but it's true: She genuinely doesn't think about the way she looks or how she puts herself together. She could throw on a bin bag and look beautiful."
For the full article, pick up the March issue of Marie Claire when it hits newsstands on February 12.
Celebrity news, beauty, fashion advice, and fascinating features, delivered straight to your inbox!